Yesterday, I did a month by month review of 2009. Today, I post my predictions for 2010.
Part II: A Pivotal Year for No Kill
Back in January of 2009, I predicated success in Reno, NV and Indianapolis, IN. I was right on the first, and half right on the second, as Indianapolis came out swinging—beating BSL, ending the systematic killing of "Pit Bulls," having a record breaking day (153) on adoptions, and seeing declines in killing under new leadership. Sadly, it was short lived. The union fought back, and with the help of a corrupt government bureaucracy and the Humane Society of Indianapolis, conspired to fire the progressive director toward the end of 2009.
As to the final prediction, I declared a coin toss:
HSUS started the year championing killing but ended it proclaiming the moral superiority of and easy attainability of No Kill. Which Wayne Pacelle will emerge in 2009?
We now know the answer to that one: His actions in 2009 showed that the head of the nation's largest animal protection organization is a dog killer, an apologist for dog killers, an embracer of animal abusers, a thief, and a liar.
As for 2010 predictions: two winners, two losers, and two which remain a toss-up.
Winner: King County, WA
A cat goes without food, water or litter during the holiday weekend due to union protected shirkers, inept management, and a then-indifferent county executive.

It ain't over till it's over and the union which protects neglectful and abusive employees has fired back with a lawsuit against the county. But the writing is on the wall: King County announced it will close its cruel shelter. If a progressive organization takes over animal control services, lifesaving success will surely follow.
Winner: Animal Rescuers
Oreo's Law would end the killing of puppies and kittens, healthy and treatable animals, and feral cats, among others when rescue groups are able to save their lives, even in shelters with draconian and uncaring shelter directors. But only if the ASPCA and its hacks don't succeed in killing it—and therefore the animals.

If animal rescuers win, so do the animals. And if Oreo's Law—a new law introduced in New York State named after a dog killed by the ASPCA—passes, animal rescuers will win big—and thousands of animals across the state will be saved. As one reformer stated, "Where New York goes, so goes the nation." Will rescuers finally take the power they should have always had?
Loser: Ed Sayres
Ed Sayres told USA Today that killing is the moral equivalent of not killing: "There is no room for No Kill as morally superior."
Every time Ed Sayres of the ASPCA opens his mouth, he sticks his foot in it. He claims he supports No Kill, but his actions time and time again belie the claim. From saying killing was the moral equivalent of not killing, to opposing No Kill in San Francisco, to backing a killing oriented animal control director in Austin, TX (and then taking credit for the work of No Kill advocates there), calling dog killer Michael Vick's reinstatement into the NFL "thoughtful," to needlessly killing Oreo, Sayres may "talk the talk" on occasion, but he rarely "walks the walk." A new chairman of the ASPCA board, however, is an animal lover and if she gets the information she needs, Sayres may finally be held accountable. Regardless of what happens between the two, look for the ASPCA's No Kill-in-name-only Mission: Orange to continue its fade into oblivion.
Loser: Wayne Pacelle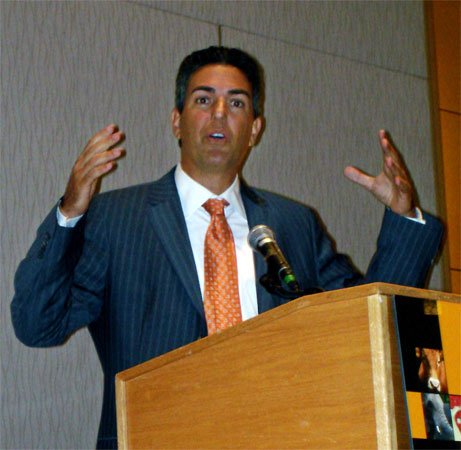 The head of the nation's largest animal protection organization is a dog killer, an apologist for dog killers, an embracer of animal abusers, a thief, and a liar.

He gave us plenty to criticize:
Need I say more?
Coin Toss: Austin, TX
They were ignored, they were attacked by reporters with axes to grind, and the ASPCA attempted to silence them, but they stuck to their principles and 2009 saw No Kill advocates spearhead a unanimous declaration by the Austin City Council to embrace the No Kill Equation model of sheltering. That achievement landed the head of Fix Austin with the Henry Bergh Leadership Award from the No Kill Advocacy Center as one of the top No Kill advocates of the year.
As 2009 closed, the pound director told the community that No Kill is "too hard" and not to expect her to achieve it. Will the Council follow through and demand accountability and new leadership who will do the job humanely? 2010 will prove a pivotal year in the fight for a No Kill Austin.
Coin Toss: Shelter Pet Project
In late 2008, Maddie's Fund announced a partnership with the Ad Council and HSUS to launch a nationwide advertising campaigning to increase adoptions from shelters. Released to much fanfare in September of 2009, the parties promised it would be a "game changer." The parties also promised to utilize the revolution in social media to spread the message. But the website was built on a high bandwith flash platform that made it inaccessible to smart phone users, and sacrificed function for visual appeal. And while the first ads were upbeat and entertaining, they failed to inspire. And then…silence. Will the Shelter Pet Project live up to the hype?
Part I: A Month by Month Look at 2009
It was the best of times and the worst of times. But 2009 will be remembered as a seminal year for the No Kill movement, as new victories combined with scandals on the part of the "catch and kill" establishment, to make "No Kill" a household word. The Humane Society of the United States and the ASPCA came off as the biggest losers, while No Kill advocates emerged to take center stage in the humane movement.
January Winner: Washoe County, NV
The New Year opened in Reno, Nevada as it did all over the country, with a key crucial difference. On January 1, while many shelters closed their doors for the New Year's Day holiday, the Nevada Humane Society stayed open for adoptions, and 49 animals found loving new homes. It was only the first day of the New Year but it turned out to be a harbinger of things to come. Combined with the retirement of the anti-No Kill director at Washoe County Regional Animal Services, the community finished with a 90% rate of lifesaving countywide, among the top in the nation.
January Loser: Philadelphia, PA
After increasing the save rate to 73%, from an 88% rate of killing just a few short years earlier, incompetence on the part of the Board and leadership of the Philadelphia Animal Care & Control Association caused Philadelphia to descend into chaos. The Department of Public Health conspired with the leadership of the Pennsylvania SPCA and closed down PACCA, giving the animal control contract back to the PSPCA. Just days later, the PSPCA CEO resigned amid turmoil within the agency. The numbers of dogs and cats needlessly killed in City shelters skyrocketed once more. Now with new leadership, will Philly succeed once more?
February Loser: Humane Society of the U.S.
At the end of 2008, Wayne Pacelle, the CEO of the Humane Society of the United States, stated that HSUS' goal has always been a No Kill nation, and that HSUS has always been the leader in helping make it happen. The claim was insupportable given HSUS' sordid history, and most questioned Pacelle's sincerity. But everyone held out hope that this signaled a shift in HSUS policies. Hope turned out to be short-lived. In February of 2009, Pacelle and his team at HSUS lobbied a court to kill each and every dog and puppy "rescued" from a dog fighter in Wilkes County, North Carolina.
Pacelle refused to spare even nursing puppies (including the one pictured to the left), forcing a foster parent to return two of them for slaughter. The "Wilkes County Massacre" sparked national outrage and calls for Pacelle's ouster.
Others met with Pacelle in Las Vegas to force HSUS to end its policy of automatic destruction of dogs seized in dog fighting cases, including friendly dogs and puppies. The April announcement of success turned out to be premature, however, as Pacelle subsequently stated that dogs seized just a few months later in a Missouri dog fighting bust should be killed. He is half-ignored, as some of the dogs are placed with rescue groups. The rest are killed, however, and are placed into garbage bags even though HSUS had the power to save them all.
February Loser: Animal Humane Society
The Animal Humane Society in the twin cities of Minnesota follows the Wilkes County Massacre with one of its own. Roughly 120 cats it claimed to rescue from a hoarder are systematically put to death, some within hours of arrival (including those above), even though they were not suffering and Minneapolis' largest No Kill shelter and scores of rescuers offered to help save them.
March Loser: People for the Ethical Treatment of Animals
In March, PETA reported its killing rates for the previous year: a staggering 95% of all animals it sought out. (The dog on the right was one of PETA's victims, his body unceremoniously thrown away in a supermarket dumpster.) As animal lovers condemned PETA, PETA fired back by threatening lawsuits against critics, saying all the animals they killed were hopelessly ill. The threat proved specious, however, as PETA founder Ingrid Newkirk admitted in a Canadian television interview that they "absolutely" kill adoptable animals.
March Loser: Los Angeles, CA
After Los Angeles passed a mandatory spay/neuter ordinance, city officials promised that the law would make it a No Kill community. But, consistent with results elsewhere, officers threatened low-income families with citations if they did not surrender their intact animals, which Los Angeles Animal Services then turned around and killed. For the first time in a decade, the number of animals impounded and killed increased—roughly 30% more animals lost their lives.
Adding insult to injury in March, the city suspended the low cost spay/neuter voucher program which allowed some poor people to comply with the law. It was reinstated following a public outcry but this latest in a long line of scandals resulted in a unanimous vote of "No Confidence" from the city council. The beleaguered head of Los Angeles Animal Services resigned shortly thereafter.
March Losers: Wayne Pacelle & Ed Sayres
In 2009, San Francisco began debate on a city law that would end the needless killing of savable animals in local shelters. Ed Sayres, the former President of the San Francisco SPCA and now head of the ASPCA, sent a representative to testify at the hearing in March, who called No Kill "radical" and asked the city to continue the status quo. Not to be outdone, Wayne Pacelle of HSUS also told the City to reject the No Kill legislation, and this allow the SPCA and animal control to continue killing.
April Winner: San Francisco Bay Area (East Bay)
While San Francisco—the birthplace of the modern No Kill movement—continued killing savable animals, No Kill finally came to the Bay Area. Four East Bay communities ended the killing of healthy and treatable animals, announcing a 93% rate of lifesaving.
April Winner & Loser: Indianapolis, IN
What were 2009's most progressive animal shelters in Indiana? If you guessed the ones in Indianapolis, you would be wrong. Indiana is the home of two No Kill communities, but Indianapolis isn't one of them.
To their credit, Indianapolis activists in April successfully derailed proposed breed discriminatory legislation that would have condemned dogs deemed "Pit Bulls" to death. Leading the opposition was a newly hired Indianapolis Animal Care & Control chief who also announced an overturning of the automatic Pit Bull killing policy he inherited.
Taking his cue from success elsewhere, the director also stood up to union-protected shirkers, taking an agency beset by neglect and cruelty to one that put the animals first. On July 4, when the shelter was historically closed, he stayed open until 10 pm for a holiday adoption campaign. The result: 153 animals who would have been killed in years past were adopted, a single day record for IACC.
But victory in Indianapolis turned out to be short-lived. The director's car was vandalized twice as the union fought back and won—which meant the animals lost. Recently uncovered documents show a conspiracy between city bureaucrats and the Humane Society of Indianapolis to undermine the progressive director. Following his ouster, killing resumed at IACC with a vengeance.
While Indianapolis animal shelters don't even come close to earning the label "progressive," they do have that car race: 500 laps of going around in circles. There's a metaphor in there somewhere.
May Winner: No Kill
While communities like Charlottesville continued their No Kill success, newcomers like the Nevada Humane Society joined the 90% club. Not to be outdone, other communities announced similar success including those in Utah, Kentucky, Kansas, Colorado, and elsewhere.
May Winner: No Kill Conference
Hosted by the No Kill Advocacy Center and the Animal Law Program at George Washington Law School, the No Kill Conference rocked the nation's capital. Featuring the country's most successful shelter directors, shelter reformers, and animal lawyers, the conference sold out two months in advance, spreading the No Kill message to representatives from over 30 states and six nations.
May Loser: Wayne Pacelle
Despite a series of scandals in 2009 that made No Kill advocates and animal lovers think he could not sink any lower, Wayne Pacelle stunned the nation by embracing the most notorious animal abuser of our time: Michael Vick.
While HSUS testified that the dogs Vick abused should not be given a second chance and should all be killed, Pacelle said that their abuser should be. Vick became a spokesman for HSUS. Or was it the other way around?
June Winner: Redemption
The bible of the No Kill movement, Redemption: The Myth of Pet Overpopulation & The No Kill Revolution in America, won its fifth national award and went into a second edition printing. It continued to send shockwaves through the movement and was once again credited with helping to transform communities in the U.S. and, in 2009, abroad.
June Winner: The Science of No Kill
Three national studies confirmed the claims of No Kill advocates: breed bans are costly and don't work, pet overpopulation is a myth, and success is defined not by how big a shelter's budget is, but the size of the shelter director's heart. Investing in leadership pays off big.
July Losers: Wayne Pacelle & Ed Sayres
Making yet another disturbing appearance on the worst of 2009, Sayres and Pacelle return for more ignominy. After his release from prison, Pacelle and HSUS help the most notorious animal abuser of our time get reinstated into the National Football League, erasing any punishment and making Vick a millionaire once more. Vick gets his life back, while the dogs he killed are still, well, dead. As dog lovers across the country cry foul, Ed Sayres of the ASPCA calls the NFL Commissioner's decision to reinstate Vick "thoughtful." Vick follows up by saying he wants dogs again: will HSUS help him with that also? And will the ASPCA call that result "thoughtful"?
July Loser: Wayne Pacelle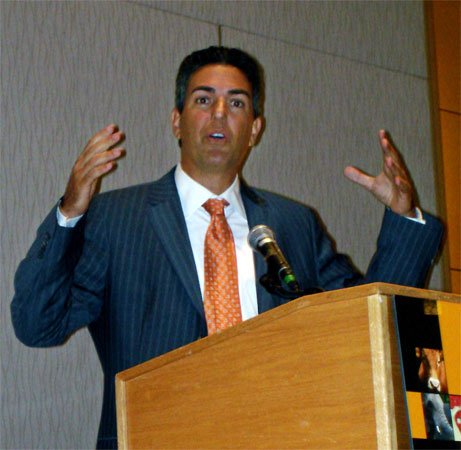 The largest raid against dog fighting in U.S. history occurs, with over 400 dogs seized by authorities in several states. Most of the dogs ended up in a Missouri humane society. While Wayne Pacelle said killing was the only recourse, hundreds instead went to rescue groups.
But after walking away from the dogs, HSUS then turned around and dishonestly fundraised off of one of the victims at the end of the year. Replete with misinformation and outright lies—including their failure to even get the spelling of the dog's name right—HSUS said it hoped to raise $1,000,000 from unsuspecting donors. After the humane community—and the dog's foster parent—cried foul, HSUS announced it would donate $5,000—only about ½ of 1% of the expected take—for the dog's surgery and pocket the rest. Even HSUS' false claim of a happy ending turned out to be premature: Fay died shortly thereafter.
July Winner: Pit Bulls and Dogs People Think Look Like Pit Bulls
A national study showed that shelters misidentify breeds as much as three-fourths of the time. Calls to end the needless killing of "Pit Bulls" and dogs mistakenly classified as "Pit Bulls" gained momentum in cities like Denver with regressive anti-dog breed bans. Some communities went a step further and repealed their bans.
August Loser: The Economy
With killing on the increase in some communities, shelters in those areas blamed the economy. But the truth was more sobering as the correlation between declining economic indicators and shelter killing rates didn't pan out.
Some communities, including those hardest hit by the recession, continued to increase rates of lifesaving when they were run by progressive shelter directors who followed the No Kill Equation model of sheltering. By contrast, those communities least impacted by the recession, nonetheless, saw killing increase, when their shelters were run by regressive directors who found killing easier than doing what it took to stop it.
September Winner: The No Kill Equation
The No Kill Equation goes global as the model is embraced by both Australia and New Zealand. A national Australian conference headlines the No Kill Equation and highlights two Australian communities saving 90% after following the model. The race is on to see which country—the USA, Australia or New Zealand—will become the first No Kill nation.
September Loser: San Francisco SPCA
The once mighty San Francisco SPCA is rocked by a series of scandals culminating in an expose showing the former crown jewel of the No Kill movement is a shell of its former self. The scandals are followed in November by the announcement that its beleaguered director will resign.
October Loser: Catch & Kill Sheltering
Scandals explode all over the country. In Memphis, TN, the shelter is found to starve animals to death. In Lucas County, OH, the director is found to kill animals even in the face of readily available alternatives. In King County, WA, a whistleblower confirms staggering levels of neglect and cruelty in the county shelter. HSUS' call for National Shelter Appreciation Week is ridiculed as out of touch.
November Winner: Irreconcilable Differences
Irreconcilable Differences: The Battle for the Heart & Soul of America's Animal Shelters, the long awaited follow-up to Redemption, is released to rave reviews. In response, Wayne Pacelle followed up with a temper tantrum proclaiming he is the leader of the No Kill movement, attempting to rewrite history and his agency's sordid history of fighting No Kill.
November Winner: No Kill
Bowing to public pressure, municipalities across the country acknowledged and condemned the neglect and killing by their own pounds/shelters. King County (WA) officials announced they will close their abusive shelter, while the Austin (TX) City Council unanimously embraced a No Kill resolution.
November Loser: ASPCA
An abused dog who survived being thrown from a sixth floor Brooklyn rooftop does not survive the "rescue" by the ASPCA. Ed Sayres, the President of the ASPCA, ordered a dog named "Oreo" killed despite the offer of guaranteed lifetime care by a No Kill sanctuary. Dog lovers across the country are outraged, prompting two New York State legislators to introduce "Oreo's Law" which would prevent shelters from killing animals when a rescue group offers to save that animal's life. Leadership of the No Kill movement, the nation's top animal law professors, rescuers and shelter reformers across New York State and the country immediately embraced the legislation. Only the ASPCA came out in opposition. A few weeks later in December, the ASPCA does it again, killing a dog named Max despite a sanctuary's offer of lifetime care.
December Winner: No Kill Advocates
As No Kill takes center stage all across the country in 2009, six recipients are given the No Kill Advocacy Center's Henry Bergh Leadership Award as the nation's top No Kill advocates.
Or, my family vacation to New York City
I just returned from our now annual family trip to New York City, my second favorite city in the United States. This is our third trip since we moved out of the state in 2004. It rained and gusted one day and one of the places on our "to do" list, a vegan ice cream shop named Lulu's Sweet Apothecary was closed for the holidays, a disappointment. But I love New York City: Christmas in Central Park (except the heartbreaking spectacle of the cruel carriage horse industry), Rockefeller Center, walking among all the people, and most of all, the food. We ate at Candle 79, Hangawi (quite possibly the best meal I've ever had), Blossom, GOBO, and new vegan chocolatier, CocoaV.
For the second time, we found ourselves at a table next to Alicia Silverstone. The first time was at Real Food Daily in Los Angeles a couple of years ago. This time it was Candle 79. Both times I wanted to go over and speak to her. Not just because Clueless was a fun rendition of Jane Austen's Emma or because I used to have a bit of a crush on her. Not just because Silverstone uses her fame to promote a vegan diet, including her new book on the topic: The Kind Diet. But because, aside from her veganism, her animal activism is misguided. I wanted to set her straight.
About a year or so ago, I developed a rapport with her mother. She read my first book Redemption and, like other animal lovers, it fundamentally changed her views about animal shelters, the needless and cruel killing of animals at their hands, as well as her views of PETA which defends the killing and kills thousands of animals every year themselves. As you can imagine, this was problematic in the Silverstone household because daughter Alicia is a spokesperson for PETA.
Her mother tried to get her to read my book, but apparently Ingrid Newkirk told her I was trying to destroy the animal rights movement and that was that. The idea is laughable: I'm vegan (and writing my own vegan cookbook), I used to volunteer for PETA before I learned the truth about them, and my goal is to make No Kill an animal rights issue.  As I write in Irreconcilable Differences:
The goals of the animal rights movement are in line with those of No Kill… Imagine what could be accomplished if [No Kill advocates and animal rights activists] came together around the goals they share. The voices championing No Kill would increase exponentially. Ultimately, we all seek to end the senseless killing of animals in shelters—especially those animals not suffering.
While I have never been one for being star struck, it did strike me that what the No Kill movement is missing is a big name promoter. If someone like Silverstone spoke about a passion for No Kill the way she does for veganism during media interviews and how groups like PETA and HSUS are thwarting it, the pressure to change would mount for the celebrity, media, and money hungry Wayne Pacelles of this movement.
And though some might be tempted to say that sitting next to her twice on two different coasts was "fate," I don't believe in supernatural forces of that ilk, or any kind for that matter, and because Alicia thinks I am trying to destroy the animal rights movement, rather than save the lives of four million animals, I passed on the opportunity for the second time. If her mother can't get her to read my book or to see the light, what chance have I?
Then came the highlight of the trip. On December 26, during a rainy and blustery day, the kind that turns your umbrellas inside out and soaks you to the bone, we took a subway ride to and then a walk through Green-Wood Cemetery in Brooklyn.  There are a lot of big names interned at Green-Wood, but we came to visit only one: Henry Bergh.
To those who read Redemption or have heard me speak, Henry Bergh needs no introduction. To those who haven't, Henry Bergh was a 19th Century animal advocate who launched the humane movement in North America. He gave the first speech on animal protection in the U.S., incorporated the nation's first humane society (the American Society for the Prevention of Cruelty to Animals), and succeeded in passing the nation's first anti-cruelty law. Every night, as President of the ASPCA, Bergh would patrol the streets of his native New York City looking for animals in need of protection.
Upon his death, the poet Henry Wadsworth Longfellow wrote of him:
Among the noblest of the land; Though he may count himself the least; That man I honor and revere; Who, without favor, without fear; In the great city dares to stand; The friend of every friendless beast.
And he truly was: After he succeeded in passing an anti-cruelty law, he put a copy in his pocket, and took to the streets that very night—and every single night thereafter for the remainder of his life—to help animals and punish violators. The annals of the ASPCA describe the first such encounter:
The driver of a cart laden with coal is whipping his horse. Passersby on the New York City street stop to gawk not so much at the weak, emaciated equine, but at the tall man, elegant in top hat and spats, who is explaining to the driver that it is now against the law to beat one's animal.
Aside from prosecuting animal cruelty cases, fighting city dogcatchers and protecting horses, among many other achievements, he even invented the clay pigeon to put an end to cruel pigeon shoots. Henry Bergh is my hero, the one person in history I would want to meet if I could.  If he were alive today, there is no doubt that Bergh would be the nation's most vociferous No Kill advocate and a fierce critic of the ASPCA he founded, as well as a harsh opponent of all the other pretenders in our cause, such as HSUS, the American Humane Association, and the animal killers at PETA.
It was his resoluteness that made him the subject of condemnation and ridicule, the way No Kill advocates today are at the hands of groups like HSUS. The political cartoons of his day often mocked him, saying he was divisive and enemy seeking and actually hindered progress.
Wayne Pacelle's recent blog post where he wrote about what he called "the shrill efforts of a few no-kill advocates whose work has retarded the progress of that cause by alienating so many people, especially within the sheltering community," may be little more than a temper tantrum—without our voices and the pressure we have caused, HSUS would still be opposing TNR, transfers to rescue groups, foster care programs, offsite adoptions, holiday adoptions, indeed, the concept of No Kill itself—but it is not unique. Aside from rewriting his and HSUS' sordid histories promoting killing, those were the very criticisms—if not the very words—defenders of the status quo—the Wayne Pacelles, dog catchers, and others of Bergh's day—wrote about Bergh himself. To those who opposed Bergh, he was simply known as the "Great Meddler." And meddle he did. I write about one such incident in Redemption:
One evening in February of 1871 during the evening rush hour, working people rushed for the cars, and the horses began to strain with heavy loads through snow and slush. As one overloaded car reached the corner near where Bergh stood, the driver was ready to give the horses another lash when the call came to "Stop!" and "Unload!" It was Bergh. "Who the hell are you?" came the reply from the driver. "Unload!" called the order again. When the driver refused, Bergh reportedly pitched him into a snow bank and unhitched the horses. Often, Bergh would completely stop traffic on the lines, causing traffic jams that would leave thousands of people stranded and cursing to no avail—because one man had stopped all the traffic to protect a single horse.
During these incidents, Bergh literally brought an entire City to a halt in order to protect animals from being abused: a 19th Century version of the man standing in front of the tanks at Tiananmen Square. And as much as the Wayne Pacelles of the time attacked him for doing so, he never failed to do what he knew was right, what he knew was necessary to stop cruel practices, in spite of the people he made angry as a result. And it was that tenacity that resulted in ridicule and condemnation from his detractors, but made him very effective and earned him the tremendous respect and regard evidenced by the gushing obituary from the very newspaper that was—more than once—one of his fiercest critics in the early days of his work.
Holding the doorknob to his mausoleum, I could imagine them closing it in 1888 forever. Some might call it creepy or macabre, but it was very profound. The animals lost a great friend that morning. But they lost so much more as his work remained unfinished. And while I was cold and wet and tired (it is a long, long walk from the 25th Street subway exit to the actual site of his mausoleum high on a hill on "Dawn Lane" as Green-Wood is nothing short of colossal), it was fitting. Standing in front of the site, I pictured Bergh out on the streets, in the cold, wet, sleet, and snow, seeking out animals to protect, day after day, night after night. And it made me respect him all the more.
The next day we visited 429 Fifth Avenue at 38th Street, the site of his home, where he died:
On March 12, 1888, as a storm whipped the city and gales tore the roofs off of houses, New York's overworked horses struggled to pull carloads of people through the snow. But for once, after two decades of policing the streets on their behalf, Bergh was not there to protect them. In the early hours of the morning, Henry Bergh had died.
At the time, the area was the heart of New York's high society, home to New York's most prominent families including the Astors, and provided the backdrop for Edith Wharton's 1920 Pulitzer Prize winning novel The Age of Innocence. Today, Bergh's Brownstone is gone, replaced by a Sleepy's mattress store in what is now New York's premier shopping district. We were sad to see his house gone, long ago demolished to make room for a storefront, with no marker of any kind. But, oddly, that it should be a mattress store seemed tragically fitting. Since his death, the ASPCA he founded has been asleep. As I write in Redemption,
The New York Post, in a prophetic statement, noted that: "His society was distinctly a one man power. The Society for the Prevention of Cruelty to Animals was Henry Bergh and Henry Bergh was the Society for the Prevention of Cruelty to Animals."
Indeed, Bergh himself had often lamented, "I hate to think what will become of this society when I am gone." It did not take long for the fears Bergh harbored about the future of his ASPCA to come to pass. Following his death—and contrary to Bergh's wishes—the ASPCA capitulated and accepted a contract from New York City to run the dog pound. It was a tragic mistake. In little more than a decade, animal sheltering became the ASPCA's primary role. By 1910, the ASPCA was doing little more than impounding dogs and cats on behalf of the city, with all but a small percentage put to death…
When the ASPCA took over the pound contract in New York City following Henry Bergh's death, it began a century of squandering not only his life work, but more significantly the ASPCA's vast potential. Bergh's ideal of a humane agency founded to save animals was replaced with shelters across the country whose primary purpose was—and remains—killing animals, whether or not they are suffering. And for most of the animals "rescued" by these agencies, death remains a totally unnecessary, but virtual certainty.
It was a great betrayal and would have hurt Henry deeply. Even today, the ASPCA remains mired in regressive practices and failed philosophies Bergh would have fought against. Moreover, true animal activists—who should find a ready and willing ally—are forced to spend their time fighting the ASPCA. Ryan Clinton of Fix Austin just received the No Kill Advocacy Center's Henry Bergh Leadership Award for his work to reform the shelter in Austin, Texas. Clinton was given an award named for Bergh and intended to honor those in our own day and age who exemplify the dedication to animals which Bergh exemplified. Ironically, Clinton was given an award for courage in fighting the very agency Bergh founded. Clinton's efforts included not only challenging the regressive director of Austin's pound, but challenging the ASPCA which continues to back the pound. That, too, would have hurt Bergh deeply. And it should go without saying that the very idea of current ASPCA President Ed Sayres—Oreo's killer, a man who once said killing is the moral equivalent of not killing, who opposes the types of laws Bergh would have championed, who destroyed what was once the crown jewel of the No Kill movement when he was the San Francisco SPCA President and then fought the efforts of reformers who tried to reclaim it—sitting in the chair once occupied by the great Henry Bergh is so obscene, it is simply beyond words.
There was so much more we wanted to see and do while in New York City. Because we ran out of time, this was our first trip to New York City where we were not able to visit a single museum. But visiting sights related to Bergh's life and death left us more inspired by greatness and possibility than any museum ever could.
ASPCA kills again; Then allegedly returns neglected dog to home; Some rescued Colorado dogs may be destined for death.
Ed Sayres, the President of the ASPCA, killed Oreo & Max despite offers to save them. He once told USA Today that killing is the moral equivalent of not killing: "There is no room for No Kill as morally superior."
As much of the nation endures one of the worst winter storms in history, the past few days have also brought an avalanche of bad news for abused dogs, who face additional betrayal at the hands of those who are supposed to protect them.
Just a few short weeks ago, Ed Sayres, the beleaguered president of the ASPCA, ordered the killing of the abused dog Oreo, despite the offer of a rescue group to save her life. The unnecessary killing of Oreo, who survived being thrown off of a sixth floor Brooklyn rooftop, but could not survive the "rescue" by the ASPCA, sparked national outrage and led to the introduction of "Oreo's Law," pending New York State legislation which would make it illegal for shelters like the ASPCA to kill animals when bona fide rescue groups are willing to save their lives.
Some groups have questioned the need for Oreo's Law, but any debate as to the pressing need for such legislation should be put to rest once and for all because Sayres has done it again. Mariah's Promise, a No Kill shelter and sanctuary in Colorado, offered to save Max, a Pit Bull-type dog the ASPCA was determined to kill. Like Oreo, the ASPCA deemed Max "aggressive." Mariah's Promise has rescued dogs like Max from shelters in New York City in the past. Last Thanksgiving, they saved a dog deemed vicious from animal control in the City. According to Toni Phillips, the director of Mariah's Promise, that dog is now a favorite at the sanctuary.
Ed Sayres was personally informed by the representative from Mariah's Promise that a space was available for Max in the Colorado sanctuary, and that transport of the dog to Colorado had already been arranged. The Behavior Department at the ASPCA was also informed of this fact. Despite this, the ASPCA killed Max anyway.
Mariah's Promise is a well known sanctuary in Colorado and has saved over 500 Pit Bull-type dogs at danger of being killed from places like Denver, where regressive bans result in mass killing of dogs deemed Pit Bulls, including healthy, friendly puppies. It is also currently caring for nine of the 100 "sled dogs" rescued from an abusive home in Colorado, a case that has made national headlines.
While some of the Colorado dogs have gone to killing shelters, such as Pikes Peak Humane Society and Denver Dumb Friends League, only Mariah's Promise has ensured that none of the dogs will be killed. Pikes Peak Humane Society has stated that only four of the 10 dogs it received "will likely make a full recovery" and "time will only tell for the rest." Given that Pikes Peak is a killing shelter (over 9,000 in 2008) and has dubbed itself a "no suffering" shelter, a euphemism for killing designed to respond to the public's demand for No Kill solutions, it is not clear what this means.
Blind and malnourished, this dog is one of 100 seized from an abusive home. He is being rehabilitated by Mariah's Promise.

Mariah's Promise indicates that all nine of the dogs it received—though severely malnourished, including one blind dog—will be saved. "They need medical care which they will get, and all of them will be nursed back to health." These are the types of assurances the dogs deserve and animal lovers should expect from every agency who took in these abused dogs. If they refuse to save them, Mariah's Promise has also offered to take the others. It is not clear whether the other shelters will take them up on the offer, if they refuse to save the dogs themselves.
At the same time that Sayres killed both Oreo and Max, despite offers to save them by No Kill sanctuaries, there are also reports being circulated that the ASPCA has returned a dog named "Justice" to his "owners" despite the fact that the dog clearly showed signs of neglect. Justice was "underweight, suffering from extreme mange and has bite marks on his neck." Justice is a chained dog, living outdoors, with little to no fur. The weather in the area will dip into the teens this week. (I am still trying confirm specific facts about this case.)
Enough is enough. Not only is it time to stop Ed Sayres before he kills again, it is time for all groups who claim to speak on behalf of animals to support Oreo's Law. And we need these laws, not just in New York, but in Colorado and all over the country.
Learn more about Justice by clicking here.
You can make a donation to Mariah's Promise by clicking here.
You can help pass Oreo's Law by clicking here.
The nation's top No Kill advocates were awarded the No Kill Advocacy Center's 2009 Henry Bergh Leadership Award, for unwavering commitment to ending the systematic killing of animals in U.S. shelters. Six recipients nationwide share the honor.
The recipients include:
Bonney Brown helped lead the Washoe County (Reno) Nevada community to one of the highest save rates for animals in the nation. Combined, the county's two open admission shelters saved nine out of ten dogs and cats, despite a per capita intake over twice the national average. During her tenure at the helm of the Nevada Humane Society – and despite an economic downturn that hit the community particularly hard – she has increased adoptions over 80%, cut the death rate by more than half, and virtually eliminated the deficit she inherited.
Susanne Kogut repeated a similar achievement for the third year in a row in Charlottesville, Virginia. As head of the open admission Charlottesville SPCA, she has not only created a No Kill community, but she has repeated that achievement every year during her tenure. And she secured the agency's finances ensuring stability and success for years to come.
Ryan Clinton put lifesaving on the Austin City Council agenda, made No Kill a campaign issue during recent elections, and helped achieve the victory of pro-No Kill candidates culminating in a unanimous resolution to embrace the No Kill Equation model of sheltering. Clinton is not only working diligently to reform his local shelter, he is helping reformers across the country do the same.
Mike Fry and Beth Nelson of Animal Wise Radio promoted the No Kill philosophy to a national radio audience, helping to redefine sheltering across the country, in addition to running Minneapolis' largest No Kill shelter.
Joan Schaffner hosted the national No Kill Conference, which brought in hundreds of shelter volunteers, staff, Board members, officers and advocates from over 30 states and six nations and spread No Kill success across the globe. In 2009, her book on litigating animal disputes was published as well.
And Claire Davis succeeded in putting the spotlight—and a reform agenda—on one of the cruelest shelters in the country. Her diligent efforts are helping to give the animals of King County, Washington the care and opportunities they so richly deserve, but have been denied by a system built on a lack of accountability.
The announcements were made in a special two-hour Animal Wise Radio program that included interviews with all the recipients about the groundbreaking work they are doing. You can hear a podcast of the program by clicking here (Dec. 20, 2009 show). You can also listen to the show on iTunes or at animalwiseradio.com.
Read the press release by clicking here.
About Henry Bergh: Henry Bergh was a 19th Century animal advocate who launched the humane movement in North America. He gave the first speech on animal protection in the U.S., founded the nation's first humane society, and succeeded in passing the nation's first anti-cruelty law. Every night, Bergh would patrol the streets of his native New York City looking for animals in need of protection.
Upon his death, the poet Henry Wadsworth Longfellow wrote of him:
Among the noblest of the land;
Though he may count himself the least;
That man I honor and revere;
Who, without favor, without fear;
In the great city dares to stand;
The friend of every friendless beast.
To those who opposed Bergh's attempts at saving the lives of animals, he was known as "The Great Meddler." The recipients epitomize the unwavering commitment of Bergh to save lives, even in the face of criticism and opposition.
About the No Kill Advocacy Center: The No Kill Advocacy Center is the nation's premier organization working to end the systematic killing of animals in U.S. shelters. It is also the only national organization staffed by individuals who have created and worked in No Kill communities.
No Kill Advocacy Center to Announce Recipients of the Henry Bergh Leadership Award
The national No Kill Advocacy Center will announce the recipients of the 2009 Henry Bergh Leadership Award, for unwavering commitment to ending the systematic killing of animals in U.S. shelters. The announcement will be made in a special December 20 edition of Animal Wise Radio. Six recipients across the country will share the honor.
When: December 20, 2009, 12 pm to 2 pm CST.
Where: Go to animalwiseradio.com for your local radio affiliate or listen live online.
What: Special edition of Animal Wise Radio to announce and interview 2009 recipients of the No Kill Advocacy Center's Henry Bergh Leadership Awards.
About Henry Bergh: Henry Bergh was a 19th Century animal advocate who launched the humane movement in North America. He gave the first speech on animal protection in the U.S., incorporated the nation's first humane society, and succeeded in passing the nation's first anti-cruelty law. Every night, Bergh would patrol the streets of his native New York City looking for animals in need of protection. Upon his death, the poet Henry Wadsworth Longfellow wrote of him:
Among the noblest of the land;
Though he may count himself the least;
That man I honor and revere;
Who, without favor, without fear;
In the great city dares to stand;
The friend of every friendless beast.
To those who opposed Bergh's attempts at saving the lives of animals, he was known as "The Great Meddler." The recipients epitomize the unwavering commitment of Bergh to save lives, even in the face of criticism and opposition.
About the No Kill Advocacy Center: The No Kill Advocacy Center is the nation's premier organization working to end the systematic killing of animals in U.S. shelters. It is also the only national organization staffed by individuals who have created and worked in No Kill communities.
About Animal Wise Radio: Mike Fry, Beth Nelson, and a great lineup of expert contributors combine for a two-hour weekly radio program featuring cutting edge, engaging discussion of issues that affect people and animals.
What would it take to build a No Kill community? Let me tell and show you.
After the New Year, if you are a shelter or rescue group, I am willing to fly to most cities in the U.S. and give a two-hour seminar on Building a No Kill Community. The seminar has been called "a prerequisite for rescue groups and organizations that are serious about changing their communities to No Kill."
All I ask in return is reimbursement for travel costs and your agreement to buy and then sell my book(s) to attendees.
Are you interested? Contact me and include your mailing address and I'll send you the full details.
Statement to NYS Legislature in Support of Oreo's Law
By Professor Taimie L. Bryant, Ph.D., J.D.
UCLA School of Law
I am a professor at UCLA Law School where I teach courses on animal law and tax exempt organizations. In the fall of 1997, then State Senator Tom Hayden asked me for legal research and legislative drafting assistance for a comprehensive shelter reform bill that he would introduce to the California legislature in 1998. That law, now known as the Hayden Law, was ultimately passed with overwhelming bipartisan support and signed into law.  I am writing to you on the basis of 10 years of experience with the Hayden Law and 20 years of experience working with various types of animal rescue and adoption groups, as those experiences pertain to Oreo's Law.
Among other shelter reform provisions, the Hayden Law created the right of access to shelter animals for animal rescue and adoption groups with Internal Revenue Code (IRC) section 501(c)(3) status. That aspect of the Hayden Law has had very positive effects, many of which were unanticipated at the time of enactment. I am writing to thank you for carrying similar legislation in New York, to provide you with some information about the opposition we encountered in enacting the Hayden Law, to allay some concerns about predicted unintended consequences of Oreo's Law, and to encourage you to persevere despite opposition. Oreo's Law is well worth the fight for enactment because a right of access for rescue groups is crucial to reduce unnecessary killing of animals in shelters.
When the Hayden Law was introduced, it met intense criticism from public animal control directors who perceived the law as an affront to their authority to manage animal shelters. We expected that criticism. We did not expect criticism from animal advocacy groups such as the shelter division of the Humane Society of the United States. Many of the same arguments that I hear with regard to Oreo's Law also formed the basis of strenuous opposition to Hayden's Law generally and to the right of access provision specifically. Listening to the criticisms, one would have thought that access by animal rescue and adoption groups was tantamount to handing the keys to the animal shelters to drug dealers, dog fighters, hoarders, and other animal abusers.
I think the vehemence of the opposition was related to several factors. One was defensiveness in the face of evidence that our shelters could be doing so much more to save animals' lives and to save the public the expense of killing them. Giving rescue groups the ability to take and find homes for shelter animals seemed like one of many straightforward approaches to reduce the killing in our shelters that shelter managers should be implementing on their own without the need for regulation. Indeed, one legislator asked explicitly why shelter managers would not already be engaging in such life-saving strategies simply as a matter of good shelter practices. Legislators assumed that shelter managers behaved as rational business managers who would attempt wherever possible to reduce the costs of killing.
From some respects, shelter managers were behaving rationally when they chose killing over other alternatives. California shelter budgets were calculated on the basis of killing and disposing of animal bodies and not on the basis of saving lives. This basis for establishing shelter budgets created a perverse incentive that encouraged killing over lifesaving. Unfortunately, this problem still remains.
Shelter managers also emphasized killing because of their negative attitudes about the public, attitudes that had developed, ironically, from their own ways of doing business. To the majority of shelter managers at the time, the "public" had become one indistinguishable mass of irresponsible owners who turned in their healthy pets for trivial reasons. Their experiences with the public led shelter managers and workers to predict that there are too few truly good potential pet owners in the public to make it worth their while to emphasize adoption. Yet, it was their own hours of operation that contributed to their pessimism. Many of our shelters were not open for adoption during the hours that working people could access shelters in order to adopt. Those same shelters were open for relinquishment at virtually all hours because, they argued, not to take in animals would mean that those animals would be abandoned on the street. Thus, a self-reinforcing spiral of increasing mistrust of the public and justification for killing continued unabated.
Since most shelter managers truly believed that high levels of killing were unavoidable, they did not, on their own, seek solutions to a "problem" (i.e., the extent of killing) they did not believe existed. Moreover, shelter directors were skeptical of rescue groups' ability to do better at adoption. Since shelter managers were not seeing many viable adoptions take place in their own shelters, how is it that rescue groups could adopt out the animals they were taking from shelters? In fact, rescue groups used many creative means of making animals available for adoption, including weekend adoption shows at places people who like pets would go. Rescue groups had sufficient experience with the fostered animals that they could more effectively match pets with people, and rescue groups knew the veterinary medical history of their fosters, which is valuable information to adopters. In some cases, rescue groups provided socialization and basic training to animals so that they could be adopted. My point is that, instead of educating themselves about rescue group foster and adoption practices or improving their own shelter practices, many shelter managers developed the view that rescue groups must be hoarding the animals or adopting them out irresponsibly.
There was very little collaboration between rescue groups and shelters which would have allowed shelter managers to truly understand the dynamics of local adoption patterns. Indeed, there was little basis for a positive relationship at all. By virtue of their very name—rescue group—shelters perceived criticism. Animals have to be "rescued" from a "shelter"? Rescue groups' belief in the life-saving potential for animals flew in the face of everything traditional shelter managers believed about the lack of adoptability of animals and the lack of available homes. Shelter managers did not like to be criticized by rescue group members who believed that more could be done to protect and save animals, and some shelter managers reacted vindictively in the face of such criticism.
Here is just one example of vindictive treatment: A rescue group member sought to save a healthy mother cat and her four healthy kittens impounded  in a local shelter. The shelter manager told her to choose one kitten and that he was going to kill the rest, including the mother, because another member of the same group had sent a critical letter about the shelter to the governmental body responsible for overseeing shelters. That manager knew the increased pain he would cause by forcing a choice rather than simply denying access to any of the kittens and their mother altogether. How does a conscientious rescuer dedicated to saving lives choose one of four healthy kittens, knowing that the others are going to be summarily killed?
In sum, the situation before the Hayden Law was enacted was that shelter managers were resistant both to changing their own practices and to working with rescue groups to promote life-saving opportunities for animals. In addition to caring about the needless loss of animals' lives, California legislators decided that it was bad business to deny rescue groups the ability to save animals who would be killed at taxpayer expense. Legislators were convinced that shelter managers would not reach that conclusion on their own, and so, with overwhelming bipartisan support, they enacted the Hayden Law.
Right of access legislation, like Oreo's Law, breaks the self-reinforcing cycle of belief systems that undermine society's interest in saving animals' lives. It does that in a number of ways.
As anticipated, right of access legislation provided greater ability of existing rescuers to save animals at risk of killing. As to those existing rescuers and rescue groups, the greater stability of access resulted in greater success in attracting additional volunteers and donors to support the groups' mission. Imagine how difficult it was to attract volunteers psychologically hardy enough to withstand the type of encounter with a shelter manager I described earlier in this letter.
The right of access legislation also promoted expansion in the number of groups. At the time the Hayden Law was introduced, there were some rescue groups holding adoption events in some pet food/supply locations. Now, at least in Los Angeles, there are adoption events at all pet supply locations. Even before a new store opens, rescue groups contact store management to secure a time slot and place for adoptions. Some stores have put in permanent cat care facilities where rescued cats can be seen throughout the week. Rescue group volunteers keep the facilities clean and change the cats frequently so that a variety of cats can be shown.
Rescue groups often provide superior adoption opportunities for animals. When animals are fostered in group members' homes, those animals' preferences and personalities can be discerned such that they can be better matched with appropriate homes. Fostered cats can be trained to use scratching posts, and fostered dogs can be trained not to dig or bark inappropriately. In those and many other situations, foster care provided in homes results in more people-accommodating animals who have better retention prospects when placed in new homes.
In addition to expanding the opportunities for animal adoption, rescue groups have opportunities at adoption events to educate members of the public about various animal-related topics such as development of local dog parks or  where to find low-cost spay/neuter services. Rescue group presence in pet supply stores greatly increases public access to information that can reduce relinquishment to shelters. Group members regularly provide information about solutions to common problems such as inappropriate barking or urinating.
Finally, the greater confidence rescue groups have in their continued existence to perform their mission has resulted in increased networking among groups to solve problems or share such information as good deals on pet food and supplies, experiences with veterinarians, and proposed laws that affect rescue group activity. For instance, recently members of different cat rescue groups in California have shared information about and written letters in support of proposed laws to ban non-therapeutic declawing of cats and other animals. Those groups know firsthand the terrible consequences of cat declawing, and their input has been helpful to legislators considering bans.
Now, ten years after it went into effect, it is possible to say that the right of access provision in the Hayden Law was very important to the development of a vibrant network of animal rescue and adoption groups that function more efficiently and optimistically than they could when their ability to rescue animals from shelters was insecure. Animals have benefited directly from their life-saving activities and indirectly from the education and other services they provide.
These are all very positive features of a law that met vehement opposition while going through the legislative process. The stated bases for opposition are similar to those expressed by those who oppose Oreo's Law: the risk of hoarding of shelter animals, the risk of dogs ending up in dog fighting circles, and increased risks to the public due to irresponsible release of unsuitable dogs to adopters. Despite such dire predictions of increased incidence of public harm and cruelty to animals as a result of passing the right of access provision in the Hayden Law, there is no evidence of increased incidence of either.
As to public safety issues, it is important to point out that rescuers who provide foster care for animals can more easily and accurately assess animals' behavior than can most institutional shelter employees. Animals in foster care have a longer time to adjust than they do in shelter environments, and they can receive attention that they do not normally receive in shelter environments. Rescue groups often have among their members (or ready access to) behavior specialists who can provide better evaluation and rehabilitation options for dogs than can most shelters at this time in history. In the case of animals with true behavioral problems that make them less suitable for most adoption opportunities, rescue groups work collaboratively to seek the best possible circumstances for each animal. There is no evidence that rescue groups take undue risks by adopting out dogs that pose a safety risk. Rescue groups are well aware that doing so would risk continuity of their ability to rescue and find homes for animals. They are careful to preserve their right of access and their goodwill with the public.
As far as dog-fighting rings or hoarders go, the sad truth of the matter is that there are far too many free sources of animals to worry about the prospect of either occurring as a result of providing a right of access to IRC section 501(c)(3) animal rescue and adoption organizations. Moreover, over the past 5 years, the Internal Revenue Service has tightened the requirements for applying for 501(c)(3) status. The rules for acquiring that status are also required for continuity of the status. Such organizations must supply information about their board members and about their sources of public support. Complaints about nonprofit organizations can be filed not only with the IRS but also with the state's charitable organization enforcement division.
Besides enforcement mechanisms associated with rescue groups' status as IRC section 501(c)(3) organizations, there are also prosecutorial entities that enforce anticruelty statutes. Both dog fighting and hoarding violate those statutes. Shelter managers who suspect that animal cruelty is occurring have the ability to investigate and seek appropriate enforcement of anticruelty statutes. It is unlikely that the groups choosing to work with the shelter are among those abusing animals. Given the free and anonymous supply of animals elsewhere, why would animal abusers make themselves known to the very agencies with enforcement powers against them?
Since shelter managers already have the power to initiate anticruelty statutory enforcement mechanisms, it is not necessary to limit access to shelter animals due to predictions that some groups will engage in cruelty. The existing legal infrastructure to address suspected acts of cruelty can be utilized if there is probable cause that such acts are occurring. Presuming likelihood to commit crimes of cruelty as a basis for denying IRC section 501(c)(3) animal rescue groups' the right of access is antithetical to American legal values that require the presumption of innocence until guilt is established.
The origin of Oreo's Law is grounded in an unfortunate series of events involving the ASPCA, which is the oldest humane society in North America, and, therefore, a well known animal protection organization. Nevertheless, Oreo's Law is important for two reasons. One is that animals deserve a chance to live if a reputable rescue group wants to provide that chance, whether or not another reputable rescue group would make the same decision. Appropriately named, Oreo's Law focuses on the animals themselves—animals who stand to lose their lives for the sad reason of an organization's unnecessary assertion of territorial ownership.
The second reason Oreo's Law is important is that it will provide benefits to animals who are held in a variety of public and private shelter settings, not just well-known nonprofit shelters like the ASPCA. If Oreo's Law is enacted, rescue groups can provide life-saving opportunities to animals in even the most poorly run shelters in the state. Oreo's Law is less about the ASPCA than it is about providing a life-affirming safety net to all animals wherever they may be sheltered in New York.
For a PDF copy of this statement, click here.
To learn more about Oreo's Law, click here.
Wayne Pacelle's rewriting of history adds another to his growing list of disturbing titles
Wayne Pacelle, the CEO of the Humane Society of the United States, is many things: a dog killer such as when he lobbied the court to kill puppies and other dogs in Wilkes County, NC. He is an embracer of dog killers such as when he made the most notorious animal abuser of our generation a spokesman for HSUS, without asking for anything substantive in return such as the names and locations of other dog fighters. He is an apologist for killing who has referred to No Kill as hoarding in Newsweek, attacked No Kill on the pages of USA Today, and steadfastly defended shelters that kill against reformers trying to save lives, as he did in King County (WA). He is a thief, stealing the money that belongs to other groups by fundraising off of their work and success and trying to pass it off as his own as he recently did with the "Faye Fundraising Debacle." Thanks to his latest blog, add "revisionist historian" to his growing list of disturbing titles. For those who prefer plain speaking, it means Wayne Pacelle is also a liar.
His recent blog post on the issue of No Kill is nothing less than a fanciful depiction of the World According to Pacelle (WAP), a work of fiction that is only rivaled in its sheer magnitude of truth avoidance by "Going Rogue," Sarah Palin's excursion into the absurd.
In the WAP, Wayne Pacelle says that the "trend [toward lifesaving] is moving in the right direction, with the pro-sterilization campaigns launched by The HSUS and others in the 1970s" being responsible for the drop in U.S. pound killing rates. In fact, the drop in killing is the result of the implementation of many programs—all of which HSUS opposed. They even opposed the "pro-sterilization campaigns" Pacelle cites as the primary reason for the decline.
As I document in my book, Redemption, the so-called "leaders" of the companion animal protection movement met in 1974 to discuss solutions to what they called the "surplus dog and cat problem," a full three years after a local group in Los Angeles had launched the first municipally funded low cost spay/neuter clinic in the U.S. for the companion animals of low income households. At the 1974 meeting that included representatives from HSUS, ASPCA, the American Humane Association, the American Veterinary Medical Association, and the American Kennel Club, HSUS put out a statement opposing municipally funded and shelter run low cost spay/neuter clinics, siding with veterinarians who did not want any threat to their profits (ignoring that the clinics were being used by poor people who would not otherwise sterilize their animals).
Tragically, after the "leaders" met again in 1976, and despite the report from a representative of the Los Angeles clinics that they were having great success at reducing impounds and killing, HSUS once again sided with the AVMA and opposed low-cost spay/neuter programs.
Until 2006, HSUS also opposed feral cat Trap-Neuter-Release programs, arguing that it was tantamount to "subsidized abandonment," and that caretakers should be arrested and prosecuted for violating anti-cruelty laws, they opposed offsite adoptions calling them "sidewalk giveaways," and they opposed working with rescue groups, arguing in the 1990s that killing was preferable because animals get "stressed" when they are transferred to rescue groups.
In the WAP, Pacelle also says that when No Kill is achieved, "among the celebrants will be the leaders of shelters." There are many problems with this fictional statement. First of all, we would be No Kill today, but for "the leaders of shelters" who find killing easier than doing what is necessary to stop it. Second, it makes it seem that No Kill will be achieved by others and then "the leaders of shelters" can just celebrate. In fact, to be a No Kill nation requires "the leaders of shelters" to stop killing, a power they now have if they implement the programs and services of the No Kill Equation, programs HSUS has historically opposed and which many of "the leaders of shelters" oppose to this very day. Third, to be a No Kill nation, "the leaders of shelters" will no longer be "the leaders of shelters" because they are the roadblocks to success and they will have been removed.
With all due respect to Robin Starr, his focus on the Richmond, VA experience, which is working toward No Kill but is not there yet, shows that Pacelle is also not willing to admit that No Kill has been achieved. Tompkins County (NY), under my leadership, was the first in 2002—it has saved at least 92% of all animals every year since. Charlottesville (VA) and other communities across the country have also since achieved No Kill success. But in WAP, it is like No Kill has not been achieved. It is like the keys to ending the killing have not been discovered. To this very day, Pacelle wants to intentionally mislead his readers into thinking that No Kill is something only for the future, rather than what it is: something any community can achieve today precisely because many community have already done so. Because if he tells the truth, the reality is that I have to be added to his list of No Kill "pioneers."
This isn't an exercise in self-indulgence, it is a reality. I was, after all, the first animal control director in history who ever achieved it. In 2002, despite animal control contracts that made Tompkins the proverbial open door shelter, we saved 93% of all Tompkins animals: 100% of all healthy animals (dogs, cats, rabbits, birds, hamsters, gerbils, mice, even chickens, horses and "exotic" animals) treatable animals, and healthy and treatable feral cats, the first community in the nation to do so.  [I might also mention that when the Richmond SPCA was transitioning from animal control to private shelter, I was their primary contact at the San Francisco SPCA and spent hours on the telephone with Robin Starr's staff giving them the advice and information needed to successfully embrace the No Kill philosophy.]
But in WAP, Pacelle can't give me any credit, or credit for causing him to write the blog in the first-place, because to do so would be to acknowledge me and my contributions to the movement, to admit he was and is wrong, and to tell his kill-oriented "leaders of shelters" that No Kill can be achieved and it can be achieved in open admission animal control shelters, but for their own untoward practices and intentional failure—none of which Pacelle has the constitution or integrity to do.
What his blog post shows he can do—and is so easily and quick to do—is to change facts and rewrite history so that he, his organization, and his colleagues are not held accountable. In other words, he is willing to lie. And the timing could not be more transparent: It comes on the heel of yet another major HSUS scandal, "The Faye Fundraising Debacle," and the recent release of my new book, which calls HSUS to the carpet once again for their killing orientation despite lip service to the No Kill movement. And once again, Pacelle proves me right.
But despite these deficits, there is a silver lining. In 2004, Pacelle and others created the "Asilomar Accords," a statement of principles and guidelines that he billed as the future of the movement: the ground rules in the WAP. In that future, the term "No Kill" is not allowed by any groups as "divisive." In fact, HSUS' Vice-President for Companion Animals traveled the country telling groups they could no longer use the term. How did that work out for Pacelle? As Jon Stewart from the Daily Show likes to say, "Not so much."
Not only does his blog post show that the Asilomar Accords are officially acknowledged to be dead (they were actually D.O.A., showing that Pacelle has a hard time seeing the obvious), it shows that he is under tremendous pressure from the grassroots. It shows that despite the size, wealth, and media presence of HSUS, we have the power to bring Pacelle to his knees. It shows that the No Kill movement, despite his attempts, is making such tremendous progress he has no choice but to modify his language, again.
He doesn't say that No Kill is warehousing as he did to Newsweek earlier this year. He doesn't say that No Kill is succeeding because of HSUS' disastrous legislative approach, as he did the last time he blogged about No Kill. And, for the first time ever, he doesn't rely on the fiction of "pet overpopulation." In fact, the term "pet overpopulation" doesn't appear once in the blog.
But there is little reason to celebrate that HSUS is changing. We've heard this before, just last year, which was quickly followed by the embrace of killing in Tangipahoa Parish, LA, Wilkes County, NC, and elsewhere.  Recognizing that his language is changing is not even real progress. This is nothing more than an attempt at self-preservation.
When Wayne Pacelle took over as head of the Humane Society of the United States, he was given a trust that he has violated again and again and again and again. Try as he might to rewrite his own sordid history with one blog post, it is too little, too late, and too insincere. Right now, the head of the nation's largest animal protection organization is a dog killer, an apologist for dog killers, an embracer of animal abusers, a thief, and a liar. Don't we and the animals deserve better?
Wayne Pacelle must go.
"Hat tip," to kcdogblog.com once again.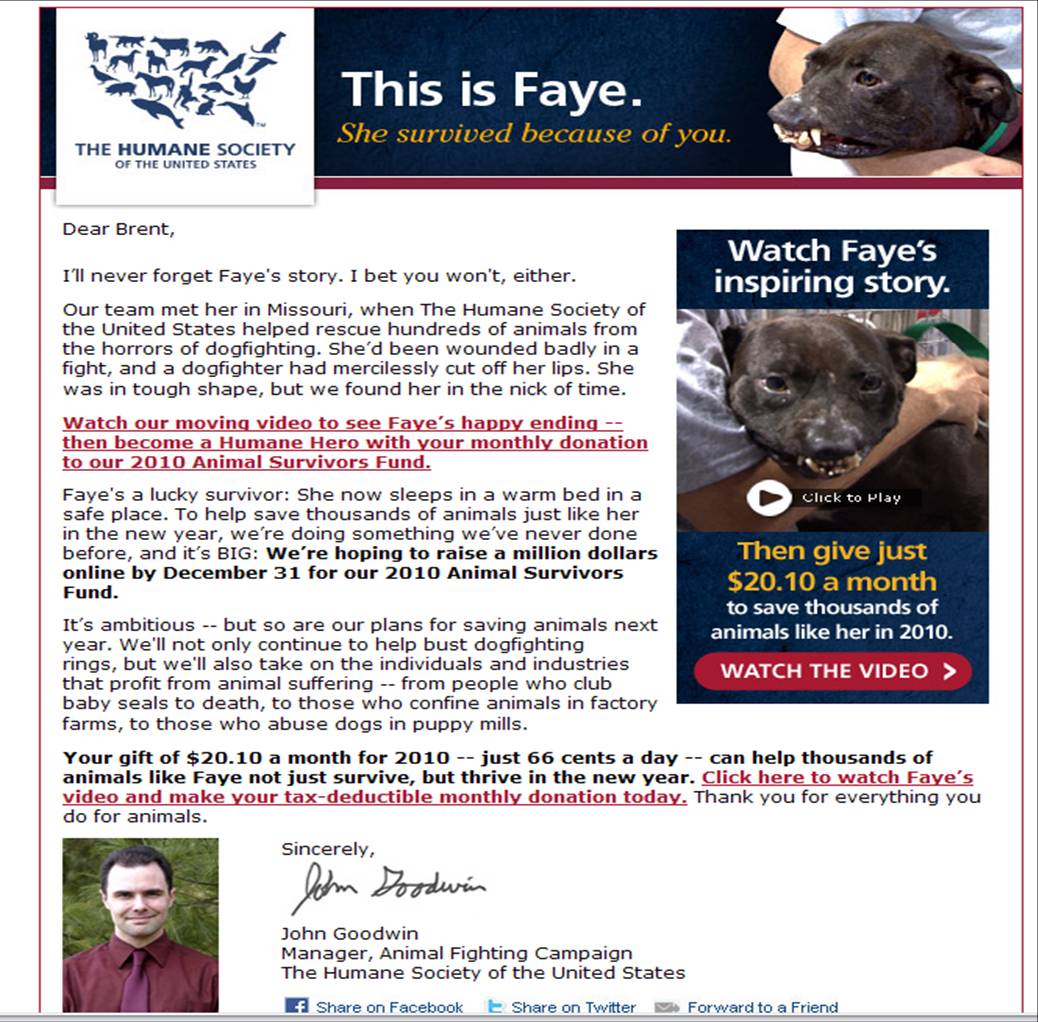 Photo courtesy of kcdogblog.com
The fundraising appeal from John Goodwin of the Humane Society of the United States was ambitious. The goal was to raise one million dollars by month's end for dogs like "Faye," an abused fighting dog rescued in the largest bust of a dog fighting ring in U.S. history. According to Goodwin, "Faye" is now safe, in a loving home, recovering thanks to HSUS.
But none of it was true: the fundraising appeal was deliberately designed to mislead donors. HSUS was not involved in caring for "Faye." HSUS, in fact, predicted and suggested that dogs like "Faye" should be killed. In further fact, they could not even get her name right. And while Fay was being cared for, and needed surgery, the costs and care were being provided by someone else.
Kcdogblog.com was the first to break the story:
Here's the rub. They're not caring for the vast majority (or any?) of the dogs that were rescued from the dog fighting ring bust from this summer…
It appears as if HSUS is trying to use the publicity from the Time Magazine article which referred to [one of the groups involved] as "the Humane Society" to raise money for dogs that aren't even in their care. This would not be the first time HSUS has pulled shenanigans in such a regard. Just two years ago, HSUS asked for money to care for the dogs rescued from Mike Vick's Bad Newz Kennels—when they as an organization were lobbying to have all the dogs killed.
Petconnection.com detailed the deceit even further:
The HSUS hasn't given one thin dime to help Fay (not Faye), according to her foster mom, who noted in the comments yesterday:
I am rather sad that HSUS has chosen to use Fay (not Faye) in their fund drive. Fay has never received a dime from HSUS. How do I know? Because I am the one that is fostering Fay. Fay is currently going through expensive surgeries to recreate medically need lips so her teeth do not fall out, her jaw bone stops deteriorating, and she can live a normal life. HSUS never contacted us regarding Fay. In the video John states she is in a loving home…really…thanks for the compliment but Fay is looking for her forever home.
Petconnection.com went on to say that the deceit was deliberate:
The HSUS knew.  One figures they had a little pow-wow—lawyers, fund-raisers and accountants—and then did the math, figuring any howls of protest  would be more than offset by the sight of a dog with her lips cut off by a dogfighter, and the number of people who'd click on that link and give, give, give.
In response to the criticism—on blogs, on twitter, including calls for a criminal investigation of HSUS—and with the memory of an investigation for fraud by the Louisiana and Mississippi Attorneys General for Hurricane Katrina fundraising still fresh, HSUS announced that they were going to give $5,000 for Fay's surgery, ½ of 1% of what they hoped and expected to raise from the appeal. The effort was designed to quell some of the controversy, and while the money was needed, kcdogblog.com correctly condemned it as too little in an open letter to HSUS:
It is not enough to break up dog fighting rings and then leave the rehabilitation of the dogs to other organizations. The dogs need your help long after the fighting ring is broken up. And it is certainly not acceptable for you to raise money from people by making them think the money is going to the help "Animal Survivors" (it is even called the "Animal Survivor's Fund") when you're not caring for the animals—and when other organizations really need that money to help them.  It is not enough to give money to one dog from the fight bust when hundreds of others need help.
And certainly, the other 99.5% of the goal—the $995,000 they hope to raise off of "Faye"—should not go into HSUS coffers to pay for beachfront properties for HSUS executives, or any other historical HSUS spending patterns. But into the coffers of the nation's richest humane organization and—according to Forbe's Magazine—one of the nation's wealthiest charities, it will go.
Following the multi-state dog fighting bust in which Fay was rescued, I called on HSUS to cover the costs of the rescue, take over subsequent rehabilitation and care of the dogs, and ensure their subsequent placement. I suggested HSUS put out the following statement:
The Humane Society of the United States wants to assure everyone concerned over the fate of these dogs that we are doing everything in our power to provide unconditional love and the best care possible for the victims of these crimes. Their welfare is our utmost concern, and every action we take on their behalf will be guided by compassion for their plight, respect for the lives, and an unwavering commitment to ensuring we find them a safe, loving environment, in which to spend the rest of their lives. We know that rescue groups often have stretched resources. We know that shelters, like the Humane Society of Missouri, also have to care for the daily influx of dogs and cats in their shelter. So as the nation's largest, richest and most powerful animal protection organization, we are stepping up to the plate. If any rescue groups have the capacity to help, we'll welcome it. But rest assured: we will not allow a single one of these dogs to lose their lives. However long it takes, however much it costs, we will save all the puppies. We will save all the dogs. And if any are aggressive, we will undertake a comprehensive rehabilitation. That is our pledge to them. And that is our pledge to you.
That is what we all should have been told. That is what the dogs deserved. They didn't say this, of course. And they didn't do it. But they should have, instead of walking away. Instead of Pacelle saying what he did in fact say: that it was pretty clear most of the dogs should be killed. They did not go so far as they have in other cases, such as the Vick dogs and the Wilkes County, North Carolina massacre, in which HSUS lobbied the court to kill savable dogs. But after the initial publicity subsided, and except for some token efforts disproportionate to the need, HSUS walked away and left local groups in the lurch. To then turn around and try to raise $1,000,000 off of their work through an intentionally misleading fundraising campaign that followed Time Magazine's coverage of the issue is, in my opinion, tantamount to fraud.
The Michael Vick Dog Fundraising Scam
But the rabbit hole of deceit actually goes deeper, as kcdogblog reminded us over HSUS' unconscionable fundraising by deceiving donors about the dogs abused by Michael Vick, even as Pacelle was lobbying the court to kill them all. Petconnection.com also suggested that HSUS knew this current incident would draw protests but could be mollified by a small payout to quell the unrest. This type of dubious cost-benefit analysis should come as no surprise to anyone. This is a part of Wayne Pacelle's deliberate strategy to raise money for HSUS. And he has a long sordid history of high profile deceit of the public in order to separate them from their hard earned dollars.
As I reported in a blog, "Dubious Deals at the HSUS," back in 2008:
There is perhaps no better example of this then the misleading tactics used by HSUS to fundraise off of the Michael Vick dog fighting case. Shortly after the case broke, HSUS contacted the U.S. Attorney prosecuting Vick and asked if they could be "involved" and see the dogs (then being held at six animal control shelters in Virginia). The U.S. Attorney agreed but only on condition that they take no photographs and not publicly talk about the dogs (citing fears of compromising the case, sensitivities involved in the prosecution, and issues surrounding rules of evidence). HSUS agreed and then promptly violated that agreement. HSUS staffers took photographs of the dogs with people wearing "HSUS" shirts to make it appear that HSUS was directly involved in the case and their care.
They then sent out an appeal for money containing a photograph of someone wearing an HSUS shirt with one of the dogs. In the appeal, HSUS asks for money "to help The Humane Society of the United States care for the dogs seized in the Michael Vick case" and promises to take the money and "put [it] to use right away to care for these dogs." A caption underneath the photograph states: "This dog was one of 52 pit bulls seized from Michael Vick's property—dogs now being cared for by The HSUS…"
Wayne Pacelle himself reiterated this in his July 18, 2007 blog in which he stated that HSUS was "working with federal authorities from the start, and assisting with the care of 52 dogs taken from Vick's property."
The only problem with the appeal is that it wasn't really true. HSUS was not caring for the dogs as they claimed, they were not primarily looking for money to care for the dogs, and the money raised was not primarily going to be "put to use right away to care for these dogs."
And while the Federal Mail Fraud Statute (the oldest federal consumer protection statute in the United States) defines fraud as a scheme which uses the U.S. mail to obtain money by means of false or fraudulent representations, HSUS was careful to avoid it. Beneath the photograph with the dog and a person wearing an HSUS shirt is the statement that the dogs were being cared for by HSUS "and other shelters." In fact, it was "the other shelters" doing all the day-to-day caring.
The appeal also asked (twice) for money to help them care for the Vick dogs, but also "to support other… programs." In fact, aside from a few thousand dollars given to the shelters caring for the dogs out of the large sum purportedly raised, the funds raised from this appeal went ostensibly to these "other" programs. The Vick dog photograph, the talk of the Vick dogs, the part about caring for the Vick dogs was all part of the elaborate distraction. In reality, it was the "other" programs part that was operative…
Taking people's money under suspect pretenses is bad enough. Doing so at the expense of the dogs is simply unforgivable. Because HSUS violated the agreement with the U.S. Attorney, relations between the government agencies involved in the Vick prosecution and the humane movement were soured. According to humane participants in the case, HSUS's actions made it more difficult to work with the federal agencies, which now had reason to distrust these organizations. The outcome could have been disastrous for the dogs had the government refused to work with all humane groups as a result.
No one—including Pacelle himself—would have likely lost any sleep over this because, in the end, HSUS itself lobbied the court to have all the dogs killed. According to Wayne Pacelle himself: "we have recommended to the [government], and believe, the [dogs] will be eventually put down."
The Hurricane Gustav Fundraising Scam
As the "Faye" appeal, the Vick dog appeal was also not an isolated incident, but part of a recurring pattern designed to misrepresent the truth and raise money off of the work of others. In 2008, MuttShack Rescue completed a large-scale rescue of animals in New Orleans because of Hurricane Gustav. Instead of supporting the effort, HSUS claimed the rescue as their own. According to MuttShack:
[We] just completed the largest animal evacuation in the history of New Orleans. After its completion, HSUS drove their trucks up in front of the whole deal, shot some footage and has posted it [on their website] as their own rescue.
HSUS then sent out another deceitful fundraiser asking people to donate to them because of another organization's rescue.
Keeping Donors in the Dark
Kcdogblog.com was insightful when suggesting that HSUS was trying to capitalize by raising $1,000,000 for a dog and dogs not even in their care after a Time Magazine article about the dogs hit newsstands, because the magazine referred to the local humane society simply as "the humane society." In fact, that is exactly what HSUS does to divert money people intend to go to their local shelter to HSUS' Washington D.C. coffers. (It is no coincidence that HSUS has chosen the name "humanesociety" rather than "HSUS" for their twitter name.) For a not insignificant fee, HSUS sells its donor list for one time use by shelters, but the list comes with caveats. In addition to others (such as not mailing it out until HSUS sent their appeal to those donors), the one primary stipulation is that:
In order to rent the list, you would need to submit the complete mail piece to the list owner for approval.
Over the years, the Nevada Humane Society has learned that people are often confused by fundraising appeals from HSUS. Local residents think they are donating to the local humane society when they give money to HSUS. In fact, NHS has been told by local residents that they have already donated to them, when in fact they gave to HSUS. This confusion goes beyond fundraising: NHS was publicly criticized for "embracing Michael Vick"—which they did not—because people thought HSUS ("the humane society") was NHS. In order to clarify the confusion and to help raise funds for local programs, they tried to buy a list from HSUS to do so. And they submitted their proposed mailing for HSUS approval which included the statement that:
Nevada Humane Society is a nonprofit organization. We rely upon donations to make our lifesaving work possible. We do not receive funding from national groups or the government. Your contribution is tax-deductible. Please return this reply slip in the enclosed envelope to Nevada Humane Society. Thank you.
After doing so, HSUS denied the request, stating that unless NHS "remove[d] 'national groups' from this copy," they could not use the list.
In other words, HSUS did not want NHS informing these individuals that when they give to groups like HSUS, they are not giving money to local lifesaving efforts. Put simply, HSUS was committed to keeping its supporters in the dark as to where their money was going. Surprised, the leadership at NHS sent the following message to the HSUS representative:
Is HSUS really… deterring us from clarifying for donors how funds are used?
Does HSUS really wish to use the sale of their mailing list to control the messages of smaller humane organizations—those that are doing the work on the ground and struggling under the public misperception that if they give to a large national group that they are helping animals locally?
The answer was "yes." Notwithstanding the take it or leave it response, NHS decided to remove the offending message and resubmit the fundraising appeal. But that was not enough. It did not matter if it was just on the appeal being used with the HSUS list, HSUS was insistent that this factually clarifying language had to be removed from all NHS mailings, even to those not involving HSUS mailing lists. Furthermore, NHS was told they had to agree to refrain from using it in any future communications to anybody, something NHS would not agree to do:
Are you are asking us not to mail factual information that we are not funded by large national organizations to our own supporters?
Once again, the answer was "yes." Conferring with HSUS officials, the HSUS list manager replied that it did not matter if the appeal involved HSUS lists or not, of if the appeals were "going to our names or otherwise—because you are mailing language that we do not approve, [HSUS] will not approve you.  For that reason, NVHS has been denied."
The Truth about HSUS Doesn't Sell
While HSUS raises the bulk of its donations on the backs of saving dogs and cats even though it does not operate shelters for dogs and cats or engage in rescue and placement of dogs and cats, it appears that it is willing to suggest to donors that it does and, as a condition for buying its mailing list, refuses to allow local organizations to clarify the misrepresentation. And they are not alone in suggesting this. The local humane society in Seattle cried foul when representatives of the ASPCA, a New York City-based organization, allegedly went door to door fundraising in their community with dogs wearing "adopt me" vests, designed to confuse people to think:  the dogs were available for adoption and the ASPCA was involved in finding homes for dogs locally.
Why do they do this? In contrast to their own steadfast defense of killing and even while they work to undermine lifesaving efforts in local communities across the country, they know that these local groups are making a lifesaving difference for animals and that people love animals and would want to support it. And so they intentionally mislead the public into thinking that they are the ones saving these animals and, in the case of HSUS, they refuse to allow local shelters to clarify the misrepresentation. Because, in the end, if either Wayne Pacelle or Ed Sayres, the head of the ASPCA, had to rely on the truth: the needless killing of Oreo, the Wilkes County massacre, the embrace of the most notorious dog abuser of our generation, the opposition to No Kill in San Francisco, undermining reform activists in Austin, Texas, and other anti-animal practices, they would not be some of the wealthiest charities in the U.S.—the ASPCA also made the Forbe's list—they would be destitute. And neither Pacelle nor Sayres is willing to be truthful at that cost.