August 31 Update: New York State Assembly Member Micah Kellner has called on the Mayor and Health Commissioner to rescind the policy of intimidation. You can read a copy of his letter and the No Kill Advocacy Center's response by clicking here.
See No Evil, Hear No Evil, Speak No Evil: Ed Sayres, Julie Bank, & Jane Hoffman continue to pursue policies that advance their own power at the expense of the animals.
They already donate their time, doing what they do to help animals out of sheer love and against both difficult odds and a hostile working environment. They do the job the staff is supposed to do: clean cages, provide food and water, socialize and otherwise care for the animals. And they don't get paid. Now, New York City's Animal Care & Control (NYCACC) is asking volunteers to pay for the privilege and check their constitutional rights at the door.
Several months ago, the city pound suspended the volunteer program at the height of the busy summer season, when intakes were at their highest and the animals needed them the most. As a result, animals were left to languish in their cages, go extended periods of time without food and water, wallow in their own waste, and in some cases, remain in pain untreated. In one cases, a dog ate off half his own tail. Why? Those who truly care, those who go to the one place that is the hardest for them to go to, a neglectful pound that allows animals to suffer, were not there in sufficient numbers to be the eyes and ears (and hands) of the animals. And, if they spoke the truth in order to help the animals, they were fired.
Despite the neglect, NYCACC promised the community they would reinstate the program after they developed new policies (there was no rationale why they couldn't implement the existing program and adjust when the new policies were written). In a recent series of meetings with volunteers, the new policies were unveiled and they demonstrate that conscience, independent thought, constructive criticism, and compassion for animals will not be tolerated. It also defines the killing of healthy and treatable animals as a service to those animals, and threatens to expel any person who disagrees with that, or any of NYCACC "philosophies."
Moreover, new volunteers—who already work for free and do the job paid staff is supposed to do—will also have to pay for the privilege of doing so. A fee of $25 is now required for new volunteers (NYCACC promises a t-shirt in return).
Among the highlights of the new program:
Volunteers who disagree with any action taken by NYCACC will be terminated.
Volunteers must illegally waive their First Amendment rights by agreeing not to say anything about NYCACC without permission.
Any photographs taken by volunteers are the property of NYCACC.
These new policies are not only regressive and draconian, designed to ensure that NYCACC operates without any accountability, but they are illegal and expose NYCACC, its officers, and City taxpayers to a Section 1983 lawsuit for violating the civil rights of volunteers if they are terminated for petitioning their government for a redress of grievances or exercising their First Amendment rights. The fiction that NYCACC is a private-not-profit, rather than a city agency, will not shield it from liability.
While the Big Three—Ed Sayres of the ASPCA, Jane Hoffman of the Mayor's Alliance, and Julie Bank of NYCACC—continue their charade that New York City is a national model of compassionate care, things continue to go from bad to worse for the animals.
As reported earlier, in addition to claiming they do not have enough food to feed the animals right down the street from the nation's wealthiest SPCA (the ASPCA took in over $120,000,000 in one year alone), cats and kittens in the "maternity wards" are left without food or water, animals are left wallowing in their own waste, animals are not getting any socialization, and sick animals are not getting the care they need. In fact, the shelter is withholding pain medications from injured animals.
Hundreds of millions of dollars flow into the coffers of New York City's large "animal protection" organizations, including the ASPCA.  Yet the neediest animals in New York City's badly mismanaged pound:
Go without basic care;
Languish in filth;
Are being denied needed medical treatment;
Healthy and treatable animals are put to death; and,
The shelter has warned it is running out of food to feed them.
And those who want to do something about it are prevented from doing so: anyone who expresses concern about conditions is summarily terminated.
Welcome to New York City (ACC) volunteers: Now pay up and shut up, or go home.
On October 9, I will be joined in South Florida by some of the leading names in the No Kill movement for a seminar on building a No Kill community, including:
Bonney Brown and Mitch Schneider.

Washoe County, NV takes in seven times the per capita rate of animals of New York City, four times the Los Angeles rate, and over two times the national average, but they are returning 65% of stray animals to their homes, adopting out over 1,000 animals per month, and saving 92% of animals year to date. Learn how they do it.

Mike Fry and Dr. Linda Wolf.

Under Fry's leadership, Prescott, Wisconsin and Hastings, Minnesota have become No Kill communities. Fry will talk about saving community cats and Wolf, Animal Ark's dog behavior expert, will focus on saving dogs.
The day-long conference includes brunch. Copies of my books will be available for purchase and signing. For more information and/or to register, click here.
——————————————–
P.S. After three years of traveling (Over 50 communities across the U.S., as well as New Zealand and Australia), I am going to take some time off the road. There are only four dates left on the Building a No Kill Community tour. Please join me either in Austin, TX, Raleigh, NC, Farmington, NM, or Ft. Lauderdale, FL. Click here for more information.
If you missed the national No Kill Conference in Washington D.C., you still have an opportunity to hear some of the speakers. On September 28, they will join me for a day-long conference on building No Kill communities in Austin, Texas including:
Bonney Brown and Mitch Schneider

. Washoe County, NV takes in seven times the per capita rate of animals of New York City, four times the Los Angeles rate, and over two times the national average, but they are returning 65% of stray animals to their homes, adopting out over 1,000 animals per month, and saving 92% of animals year to date. Learn how they do it.

Michael Mountain

. Mountain took a small sanctuary in the Utah desert and made it one of the best-funded organizations in the nation, with revenues of tens of millions per year. Learn how to talk to donors and raise needed revenues.

Mike Fry

and

Dr. Linda Wolf

. Under Fry's leadership, Prescott, Wisconsin and Hastings, Minnesota have become No Kill communities. Fry will talk about saving community cats and Wolf, Animal Ark's dog behavior expert, will focus on saving dogs.

Dr. Ellen Jefferson

. Under her leadership, Austin Pets Alive is helping lead a lifesaving initiative that has reduced deaths to all-time lows. She'll show you how to implement creative outside the shelter adoption programs that save lives.

Susanne Kogut

. Kogut runs the Charlottesville SPCA, animal control for Charlottesville and Albemarle County in Virginia. Charlottesville has been a No Kill community for over four years under her leadership. Kogut and her team foster over 1,700 animals per year. She'll show you how you can too.
The day-long conference includes lunch and one-on-one time with the speakers at the No Host Bar reception following the presentations. In addition, all attendees will receive a free signed copy of Irreconcilable Differences: The Battle for the Heart and Soul of America's Animal Shelters; as well as the No Kill Advocacy Center's Building a No Kill Community packet CD which includes roughly 200 documents including policies and procedures, animal care guidelines, how-to guides, and more to help you succeed.*
The next 20 people who register will also received a signed copy of Redemption's new edition, the award-winning book that has helped revolutionize sheltering around the world.*
The day-long conference is almost sold-out so register soon by clicking here.
————
* Must be present to receive.
He was found on the streets of Oakland by himself, at barely ten days old. He is at my house, sleeping snugly, and will be available for adoption in about eight weeks through the Feral Cat Foundation.
And though we have fostered hundreds of "bottle feeders" over the years, the singletons just really get to me. And his name (thanks to my daughter) reflects it. Ladies & gentlemen, meet "The Amazing Kenny":
The Amazing Kenny sleeping.
The Amazing Kenny waking up.
Who wants the baba? The Amazing Kenny does.
The Amazing Kenny says "All you need is love, bottle feeding, and a heating pad."
FixAustin's recent blog describes the "desperate last stand of Austin's status quo," a dishonest effort to undermine the recently enacted No Kill plan in Austin which has led to a significant increase in adoptions and a corresponding decline in killing at Town Lake Animal Center, Austin's pound. The most recent salvo was fired this week when the Austin Humane Society announced that "No Kill" is responsible for killing kittens, a malicious and false claim that is contradicted by the facts: 48% more cats and kittens are being adopted and 59% more are going to rescue groups. In fact, Austin is safer now for kittens than it has been in its history.
The second salvo is expected to come later this week, and was put into motion during the last few months of Dorinda Pulliam's tenure as the director of TLAC. Although the writing on the wall was clear—that the killing paradigm she embraced was coming to an end—Pulliam was not going down without a fight. And she enlisted the help of the ASPCA to do so. At the behest of Pulliam, the ASPCA has hired Dr. Sandra Newbury to do an assessment of TLAC. As much as Austin's animal lovers want to forget Pulliam, it is hard to do so. Pulliam is the disgraced, forcibly-removed director who:
After the City Council had had enough and voted unanimously to put a moratorium on killing healthy and treatable animals when there were empty cages available for them, she failed to provide care to sick cats causing them to suffer, and thus allow her and the ASPCA to falsely claim that No Kill equals hoarding. It was that final act that cost Pulliam her job, a loss that has meant a world of difference for the animals: Adoptions are increasing and deaths are declining.
Austin has never been safer for homeless dogs and cats than it is today. So why does the ASPCA appear intent on undermining that? After all, even if ASPCA leadership doesn't care about the animals, they can (and mark my words, will) take credit for that success by claiming it was their dysfunctional "Mission: Orange" program that is responsible, even as they fought those reforms every step of the way.
Long Standing Problems
For years, the ASPCA refused to do an assessment of the shelter when requested (naively) by No Kill advocates saying they did not do them. In reality, to do so would have—to the extent they were honest—led to findings of poor and hostile treatment of the animals by the Pulliam team, along with dilapidated conditions and needless killing. But now that Pulliam is gone, the ASPCA is "assessing" the shelter and they apparently have contacted the press to set up a discussion of their "findings" even before the "findings" are completed or presented to the City for review. Some reform advocates are concerned that Newbury's "assessment" is part of a larger game plan of attack concocted by her employer, the ASPCA. The target: the No Kill plan which includes a moratorium on convenience killing. And they have a right to be concerned: Aside from Pulliam, the biggest roadblock to No Kill in Austin has been the ASPCA. And Newbury's history suggests she is philosophically aligned with their way of thinking.
There is little doubt that there are problems at TLAC; they have been festering for as long as Pulliam was the director. The physical shelter is in a state of disrepair, disinfection is difficult due to crumbling infrastructure, and staff is both ignorant of and fails to follow proper medical protocols, leading to disease and killing. In fact, these are exactly the conditions shelter reformers have long complained about. But as long as Pulliam was in charge, the ASPCA was content to look the other way and, in fact, attacked anyone who criticized those conditions. Any talk of poor care, of needless killing, of criticism of the status quo got you kicked out of the coalition and barred you from receiving the ASPCA's largesse.
There is also little doubt that Pulliam's legacy of poor and hostile treatment and dilapidated conditions will take some time to undo, unless a new director (the search continues) is given the authority and latitude to fix the problems which includes firing any holdouts from the underperforming, kill-oriented team she left behind.
But to blame the No Kill plan, which seeks to ensure that animals are vaccinated on intake, that rescue groups are given full access to the animals, that prohibits convenience killing, that puts a premium on adoption, and after being given an additional $800,000 in funding to an already generous budget by comparative standards (when most cities in America are looking to cut expenses) to further save lives, is not only dishonest, it is nothing short of reprehensible. But that has not stopped Pulliam, the Austin Humane Society, and of course, the ASPCA from doing so.
Dr. Jekyll and Mr. Hyde
As I said, there is no doubt that there are long-standing problems at the shelter and they need to be fixed. The million dollar question is whether Newbury will state what the problems inherited from Pulliam are in an objective manner; Or, as she has done in other places, whether she will use those long-standing problems to attack the No Kill philosophy, thus blaming years-old problems in Austin on a No Kill plan that was recently approved by the City Council and which was designed to fix those problems.
And that depends on which Newbury emerges. The one who recommends that:
Foster care programs be curtailed by suggesting that it needlessly turns shelters into sanctuaries (decrying what she calls a "sanctuary rate");
Every other cage be kept empty (arguing in the past that this was necessary for disease control in a shelter that had never experienced a serious disease outbreak);
The number of animals who should be made available for adoption be limited (fear mongering about too much consumer choice and a "market saturation index");
Healthy and treatable animals be killed by blaming the "irresponsible public" (her "community overpopulation index"); and,
No Kill leads to suffering in shelters ("hoarding").
Or, the one who sticks to medicine and identifies problems in an objective manner and suggests medical protocols to fix them, without getting into large policy and philosophical discussions she is grossly biased against? In other words, will we get a report from Mr. Hyde or from Dr. Jekyll?
She is capable of both. Her assessment of the neglectful and abusive King County Animal Care & Control was an example of the latter, focusing on medicine and medical protocols, a welcome departure from other shelters and other cities where her "analysis and recommendations" were more policy driven by an anti-No Kill political agenda with disastrous outcomes.
Read an expose called "Better Off Dead?" by a Madison newspaper about her regressive recommendations which caused cats to lose their lives at the Dane County Humane Society and reversed a multi-year decline in killing by clicking here.
Then read my 2007 blog that describes her other attacks against No Kill which appears below.
The ASPCA's Last Stand?
Regardless of which Newbury emerges, the third and most vicious salvo by the ASPCA may yet be to come. And that one involves the influence on city officials by the ASPCA's Karen Medicus, an anti-No Kill crusader who has been one of the biggest roadblocks to the emerging success in Austin. Medicus is the former director of the Austin Humane Society who once promised Austinites lifesaving success but failed miserably, despite a multi-million dollar Maddie's Fund grant. Since that time, she has argued for the relocation of TLAC away from its central location conducive to adoptions to an out-of-sight, out-of-mind remote location in order to give shelter administrators bigger offices, even while curtailing available kennel and cage space for the animals.
Medicus claimed the shelter's location did not matter, and that having adequate cages and kennels was irrelevent, arguing that "the problem is not getting adopters to the shelter, but rather, having enough desirable and placeable animals to choose from." According to Medicus, why would you need more cages and kennels when the animals are not desirable? In other words, Pulliam's failure to save more lives was not because TLAC failed to utilize the proven programs of the No Kill Equation, but because the animals themselves were not "desirable" or "placeable." Unfortunately, Medicus' relationship with city officials responsible for hiring TLAC's next director has the potential to derail efforts to make Austin a model City of caring and compassion.
Leadership is the most important element of the No Kill Equation, without which all other efforts may fail. What TLAC needs is a hard working, passionate animal control director who is not content to continue killing, while regurgitating tired clichés about public irresponsibility and/or the myth of too many animals and not enough homes. It is the defining issue which largely determines whether lifesaving succeeds or fails in a community.
Will the ASPCA allow the will of the people determined to end the killing in Austin to reign supreme? Or will they try to use their influence to sabotage the hiring of a progressive director committed to saving lives and in the process sacrifice the animals to their own nefarious political agenda of power, greed, and control?
If history is any guide, the Austin Humane Society's despicable claim that No Kill is killing kittens and the Newbury report may be nothing more than an effort by the ASPCA to soften the ground for the real fight over the next director that they seem determined to bring to Austin; compassion, democracy, good government, taxpayer accountability, and the lives of the animals be damned.
♦♦♦
Can You Kill Your Way to No Kill?
Dr. Hurley, Dr. Newbury, Dr. Semmelweis, and Death at a Midwest Humane Society
In February 2007, the Lied Animal Shelter in Las Vegas was forcibly closed down due to filthy conditions and dreadful treatment of animals. According to reports, sick animals were left to die in their cages, disease was rampant, and dogs were starving because of lack of food. The animals were not vaccinated on intake, sick animals were not treated, healthy animals were subsequently made sick, there was no isolation for sick animals, and there was a complete breakdown of basic principles of animal care and husbandry. The Lied Animal Shelter is a story of incompetent leadership, uncaring staff, a board of directors which failed to meet its oversight mandate, and a system which refused to put in place the programs and services that save the lives of animals. What happened at Lied Animal Shelter is one side of the worst kinds of animal sheltering.
The other side of the same coin (uncaring, incompetent shelter directors who oversee an equally uncaring and incompetent staff) are shelters that recklessly kill the vast majority of animals in their care in the face of responsible, proven lifesaving alternatives which they refuse to implement—In other words, run-of-the-mill high kill shelters such as those that can be found in many cities and towns across America. While the mechanics are different—Lied didn't kill but left the animals to suffer and die on their own, the others simply kill them out of expediency—the underlying dynamic is the same: both shelters are outdated relics that refuse to modernize and put into place progressive programs and services which allow sheltering to be done humanely, responsibly, while saving the vast majority of dogs and cats. That the Lied Animal Shelter claimed it was "No Kill" is irrelevant. In the final analysis, it had more in common with high kill shelters and the leadership and staff who run them.
The Lied Animal Shelter—comprised of starving dogs, rampant disease, filth, animals suffering with no care—is not what the No Kill movement represents. In fact, No Kill is the opposite of hoarding, filth, and lack of veterinary care. The philosophical underpinning of the No Kill movement is to put actions behind the words of every shelter's mission statement: "All life is precious." No Kill is about valuing animals, which not only means saving their lives, but means good quality care. It means vaccination on intake, nutritious food, daily socialization and exercise, fresh and clean water, medical care, and a system built to find them all loving, new homes as soon as possible.
No Kill does not mean business as usual (poor care, hostile and abusive treatment of animals, warehousing) minus the intentional killing. It means modernizing shelter operations so that animals are well cared for and keep moving through the system efficiently and effectively and into loving, new homes. At the open admission No Kill shelter I ran, the average length of stay for animals was eight days, we had a return rate of approximately 2%, we reduced the disease rate by nearly 90% from the prior administration, we reduced the intentional killing rate by 75%, no animal ever celebrated an anniversary in the facility, and we saved 93% of all impounded animals. In short, from 2001-2004, we brought sheltering into the 21st Century.
Personal Agendas
But there are those who have seized upon the Lied Animal Shelter fiasco to promote their own agenda of defending an antiquated model of sheltering developed in the 19th Century which is based on killing, sweeping animals under the rug (more accurately, into the back room to be killed), based on archaic notions of "adoptability," turning volunteers away and other regressive and obsolete practices. They are using the Lied Animal Shelter to denounce the No Kill paradigm by intimating—sometimes directly, more often indirectly—that Lied is the natural outcome of trying to end the killing of savable dogs and cats in shelters today. And two of the leading voices of this point of view are Dr. Kate Hurley and Dr. Sandra Newbury, veterinarians for the University of California at Davis Shelter Medicine program.
This is a betrayal of the worst kind. Even the Humane Society of the United States called Lied "one of the worst its ever seen." It was extreme even in the eyes of an agency which accepts staggering high levels of killing as the norm. Therefore, using such an extreme situation as an example of No Kill, of what the natural alternative to ending the killing today would be, is egregious.
By denigrating No Kill as akin to warehousing and ignoring the protocols of shelters which have truly achieved No Kill, Drs. Hurley and Newbury appear to be arguing for nothing more than a nation of shelters firmly grounded in killing—a defeatist mentality that is inherently unethical and antithetical to animal welfare. To imply that No Kill means warehousing, therefore, is a cynicism which has only one purpose: to defend those who are failing at saving lives from public criticism and public accountability by painting a picture of the alternative as even darker.
At the Las Vegas shelter, a wholly incompetent and uncaring shelter director refused to vaccinate animals on intake, failed to practice basic husbandry, refused to treat sick animals, failed to isolate sick from healthy animals, failed to clean and sanitize, allowed animals to languish with illnesses and injuries, and failed to put in place the programs and procedures which vastly increase adoptions and lifesaving. This is not No Kill. This is animal cruelty, but HSUS—with Drs. Hurley and Newbury in tow—came in with needles blazing and oversaw the killing of 1,000 animals. (The Lied Animal Shelter is now killing dogs and cats after only 72 hours and officials there claim they are doing so based on the recommendation of the HSUS team. This not only replaces one "evil" with another, it even violates HSUS' own longstanding recommendation that shelters should hold animals for at least five days.)
But if the No Kill model should be rejected, what do they recommend? For Dr. Newbury, the answer is simple and can be found right in the shelter of her hometown of Madison, Wisconsin—at the Dane County Humane Society (where both she and Dr. Hurley used to work, a shelter she currently consults with, and where her own model of sheltering is currently being practiced). Let's see what the Newbury model means for the cats of the Dane County Humane Society.
Life and Death at the Dane County Humane Society
This year, over a period of several weeks, one by one, seventy-three cats were taken off of the adoption floor of the Dane County Humane Society in Madison, WI, to a room outside of public view. One by one, each was injected with poison from a bottle marked "fatal-plus" (or similar barbiturate). One by one, their bodies went limp and slumped to the table. One by one, each was put to death. Why were these 73 cats killed?
They were killed, according to recent reports, because the shelter decided it was going to keep every other cage empty and curtail other lifesaving programs, reducing the number of cages on its adoption floor by half. But since cats occupied those cages or were under the "care" of those other programs, they needed to be slaughtered first. This was necessary in order to "save more cats." That's right. According to shelter bureaucrats, by killing cats, by cutting the capacity of the shelter in half, they were professing the Orwellian logic that more cats would be saved…
At this shelter, every other cage is intentionally kept empty despite the fact that disease can be reduced by fostering sick animals, by isolating sick animals, by reducing disease rates through vaccination, proper handling, good cleaning and sanitizing protocols, and by reducing animal stress through daily interaction and socialization by volunteers. At the same time that the number of cages was reduced by half, however, the shelter restricted adoption hours and eviscerated its foster care program.
In response to a public backlash, the architect of this mass carnage claimed: "I am not in any way advocating for more euthanasia," which is more double-speak since this is exactly what is being advocated. What else is the option when the number of cages is reduced by half, while the shelter is scaling back other opportunities—like adoption days and foster care programs—to save them?
According to Dr. Newbury, by killing the cats and then intentionally cutting shelter capacity in half, more animals will be saved over the course of the year or the next. If your head is spinning from the lack of logic, you are not alone. This argument was also lost on a reporter who noted that in fact, by killing more cats and cutting shelter capacity in half, more cats are likely to die, a fact confirmed by the rising death toll for cats at Dane County Humane Society. Since Dr. Newbury started with the Dane County Humane Society in 2003, the death toll for cats has been steadily rising. In 2003, the year she began, the cat save rate was on a mult-year rise culminating at about 80%. It has been declining every year since. Even while the Society is getting richer (its revenue is growing by the millions), it is killing more cats than in recent history.
According to a recently published report, the Dane County Humane Society's "[killing] rate for cats reached 40% in October of this year, up from 29% in October 2006," and this, despite falling intake rates. Despite the promise of more lifesaving, in fact:
The [kill] rate has not gone down. The shelter still kills about one-third of the nearly 7,000 animals it receives annually. And the numbers for cats are the worst. The shelter is actually taking in fewer felines – 3,000 so far this year, compared to 3,800 in 2006 – but is killing more of them. In 2003, the Humane Society [killed] 600 cats a year. By 2006, it was killing more than 1,200. And it's on track to kill an even higher number this year.
On top of this, the Dane County Humane Society's new rules:
Decreed that old or sick cats–even those with treatable conditions–would be [killed]. Kittens that arrive needing to be bottle fed would also generally be killed, since the Humane Society limited the number of foster families available to care for them to just 10.
As more progressive shelters have demonstrated, disease can be reduced by more adoptions (which is undermined when Dane County cuts back adoption hours), sending animals to foster care (which is undermined when Dane County emasculates the program), using volunteers to socialize the animals (which is undermined when volunteers are turned away or leave in frustration), and practicing good husbandry (vaccination on intake, careful handling, thorough sanitizing and cleaning protocols).
This has not been lost on the cat loving public. According to volunteers, any respiratory infections at the shelter were not the result of having cats in all the cages, it was the result of shelter staff "ignoring basic protocols, like washing their hands in-between handling animals." Moreover, the shelter's director publicly admitted under a reporter's questioning that they have never had an epidemic of a serious disease!
Rejecting the Status Quo
While Drs. Hurley and Newbury continue to dig trenches to the past, the rest of us are building bridges to our inevitable No Kill future—A future that promises more life, more compassion, more success, more programs to save the lives of animals. In doing so, we are rejecting the consensus of killing and rejecting the "model" of empty cages, lack of foster care, and killing because the animals do not meet draconian definitions of objective beauty or based on regressive and obsolete notions of "adoptability."
For in the end, our movement is about more than seeking shelters which simply label themselves as "No Kill" and proceed with business as usual, as the Lied Animal Shelter did. Our movement is about action and results, not mere words and promises. What we seek is a modernization and transformation of our shelters, exchanging century-old obsolete forms of doing business which recklessly embrace killing as a morally ethical means to an end, with shelters that uphold the life and welfare of animals as paramount, and adjust their operations accordingly.
What we demand, and what the animals deserve, are shelter directors and shelter "experts" who value life, and keep pace with progress and innovation, and with the new and exciting methods of animal shelter protocols developed over the last decade to keep animals clean, healthy, and well cared for, while finding homes for all but hopelessly vicious dogs and irremediably suffering animals. These are the only models which veterinarians at one of the nation's most prestigious veterinary college should be using to train the next generation of veterinarians and to guide the current generation of shelter directors forward.
As a university and as a training ground for new veterinarians, the U.C. Davis program should be at the forefront of progressive shelter practices and of the dynamic and exciting changes occurring in the field of animal sheltering as a result of the No Kill movement. Instead, Drs. Hurley and Newbury irresponsibly cling to the past by promoting methods of sheltering that are antiquated, inhumane, and lead to unnecessary killing. This would be the equivalent of a medical school continuing to teach its students that leeches, bloodletting and magical incantations are a valid treatment for pneumonia, in the face of proven alternatives like antibiotics, fluid therapy and rest. It is nothing short of bad medicine—and a textbook example of the "Semmelweis Reflex," the reaction so-called "experts" often exhibit when the status quo, which they represent, is challenged.
The Semmelweis Reflex
Historians have coined the term the "Semmelweis Reflex" to describe "mob behavior in which a discovery of important scientific fact is punished rather than rewarded." In the nineteenth century, Dr. Ignac Semmelweis observed a higher incidence of deaths due to puerperal fever in maternity wards associated with teaching hospitals than in births attended by midwives. In trying to figure out why puerperal fever was a hazard of giving birth in a hospital rather than at home, Semmelweis opined that students and doctors might be carrying the diseases from autopsies they performed, while midwives who did not perform such procedures were not. Semmelweis also found that rigorous instrument cleaning and hand washing could bring the fever rate down to zero. Had doctors known at the time that germs caused disease, this finding would have been unremarkable.
Unfortunately, Semmelweis' discovery predated the germ theory of disease. At the time, no one knew that asepsis was important. According to Semmelweis' critics, hand washing wasn't needed when they could clearly see that their hands had nothing on them. And, tragically, they ignored his recommendations and continued with business as usual, with deadly results for their patients. Once germ theory became known and established, however, Semmelweis was vindicated for his foresight. Of course, sterility through instrument cleaning and hand washing has since become the norm.
The housing, socialization, adoption, foster care, cleaning and vaccination protocols, medical and behavior rehabilitation and other efforts pioneered in communities like San Francisco and copied elsewhere provide a life-affirming model of sheltering which provides high quality care, reduced disease rates, even while keeping cages and kennels full as necessary and in foster care, while finding the vast majority of shelter animals loving new homes. These models were developed by caring and compassionate individuals, professionals, and in conjunction with veterinary institutions like Cornell University.
Rather than attack Semmelweis, doctors should have simply washed their hands, since Semmelweis pointed out that this eliminated deaths, even though, at the time, no one could explain why. Similarly, rather than attack the methods of sheltering which allow the vast majority of animals to be saved, even while operating at capacity-plus fostering, shelter administrators likewise should copy its precepts because it has been shown to work in other communities. But the vast majority of shelter directors refuse to innovate in this way.
But something more nefarious was at work in Semmelweis' time than a failure of understanding about germs, and it is the same "Reflex" which is at work in sheltering today. In fact, what occurred was that Semmelweis was fired because doctors felt he was criticizing the superiority of hospital births over home births, something that threatened their position in the social hierarchy. And therein lies the rub. The archaic voices of tradition in sheltering are acting the same way as the doctors who put their own positions above their patients. They refuse to innovate and modernize precisely because they are threatened by the growing hegemony of the No Kill movement and what this means for their own stature in this movement.
As a movement and as a nation, we have a choice. We can embrace the No Kill philosophy, and the programs and services which make it possible, and end the unnecessary killing of 4.5 of the five million dogs and cats slaughtered each year in our nation's dog and cat pounds. Or we can adopt the model that will perpetuate it. The same model that caused 73 cats at the Dane County Humane Society to be killed for one reason and one reason only: They happened to enter a shelter, run by a director, who erroneously believed that sheltering "experts" like Dr. Hurley and Dr. Newbury actually had something to teach her.
Dear Friends,
Please consider a small gift to my favorite charity: The No Kill Advocacy Center. A lot of hard, important work has been done, and a lot of hard, important work lies ahead.
Nathan
We're celebrating a birthday…. Ours!
This month, the No Kill Advocacy Center turns six. In many ways, we are still a young, new organization. But as the only national organization actually staffed by people who have succeeded in creating a No Kill community and working solely to end the systematic killing of animals in U.S. shelters, we have accomplished a lot in a very short period of time.
Despite a fraction of the budget of the large national organizations, we have done what they have not: ended the killing in communities across the country. In fact, we are the only national organization that has successfully done that. We helped Reno, NV achieve No Kill. We helped Charlottesville, VA achieve No Kill. We helped Shelby County, KY achieve No Kill. Using our model, communities and shelters in California, Indiana, Kansas, Utah, Virginia, New York, Kentucky and elsewhere achieved No Kill. In fact, our efforts have helped create No Kill communities as far away as New Zealand, with Canadian, Australian, and other U.S. shelters working to do the same.
We have written pioneering model legislation that sets the standard for humane care: The Companion Animal Protection Act; model legislation that resulted in the most progressive shelter reform legislation being passed in the state of Delaware and efforts to legislate similar reforms in New York, California, and Arizona.
Our No Kill Conference, the only national conference that says we can end the killing and we can do it today, brings together people from all the U.S. and world to learn how to create No Kill communities in their own communities, and our ground-breaking studies eliminate the excuses regressive shelters and their large national allies use to continue killing.
We have filed lawsuits demanding humane care and treatment for animals in shelters. Indeed, wherever animals are harmed in shelters, the No Kill Advocacy Center is there to intervene. And we are winning. But there is more to do and we cannot do it without your help.
Help us build an alternative consensus to traditional sheltering models—one which is oriented toward promoting and preserving life; an alternative which seeks to create a future where every animal will be respected and cherished, and where every individual life will be protected and revered.
A No Kill nation is within our reach—and you can help us make it happen.
Please consider a birthday gift to the No Kill Advocacy Center today. In celebration of our sixth birthday, we are asking for just six dollars.
Of course, we'd be ecstatic with sixteen dollars, sixty dollars, or six hundred dollars. But if you can spare six dollars, we'll put it to use saving lives today. Without you, the animals don't stand a chance.
To make a donation in any amount, click here.
If you prefer to mail a check, please send to:
The No Kill Advocacy Center
6114 La Salle Ave. #837
Oakland CA 94611
The failed Los Angeles-based architects behind many attempts to legislate mandatory spay/neuter in California, have gone on the offensive, attacking me for what they claim is a "web of corruption." (The allegations are silly and hardly worth an answer, but they are here for the overly curious.)
Their latest salvo is the result of the appointment of Brenda Barnette, a successful shelter director committed to the No Kill philosophy and opposed to mandatory sterilization, as the new General Manager of Los Angeles Animal Services. This appointment means mandatory spay/neuter supporters will no longer have access to the halls of power or an ally for their failed agenda. It threatens to end any hope of mandatory sterilization becoming California law because to the extent Barnette is forthright (compared to her predecessor, Ed Boks, who was not), she will have no choice but to disclose just what a failure it has been in Los Angeles: more impounds, more killing, more backyard breeding as I discuss below. And this threatens them to their core.
These are the last surviving passengers of a rapidly sinking ship. Their latest attempts to denigrate No Kill and salvage their failed agenda of killing apologia and mandatory spay/neuter by attacking me looks, smells, and feels about four years too late. The whole country has realized that the Titanic of Mandatory Sterilization and its sister ship the RMS Opposition to No Kill weren't even sea worthy, let alone unsinkable, despite their continued assurances to the contrary.
As the ASPCA and HSUS who once captained those vessels jump into lifeboats, mandatory spay/neuter advocates sit on the deck clinging to life with the same level of self-deception that the medieval Church clung to an Earth-As-The-Center-Of-The-Universe theory even as moons orbiting Jupiter could be seen with clarity through the end of Galileo's telescope. In the latest salvo, they have even created a silly website that asks people to condemn "Winograd's No Kill agenda" because I am allegedly caught in a "web of corruption."
They can attack me all they want, accuse me of all the corruption they want, but it doesn't make a bit of difference. The No Kill movement is much bigger than me. It is no longer about personalities, but about a set of principles that transcends any of us individually. That was one of the central lessons from the No Kill Conference this past weekend.
No Kill Conference 2010 was an army of lawyers, legislators, members of the media, rescuers, shelter directors, and other professionals—a multi-headed hydra for good that cannot be stopped by anyone or by any means. Cut my head off, and ten more are there to replace me, in communities across the U.S. and countries around the world, with the same powerful message and commitment to the future of lifesaving; all of them preaching a sanctity of life and the tools to preserve it.
No one understands this better than the three blind mice that drove Best Friends headlong into a brick wall. Gregory Castle, Julie Castle, and Francis Battista thought they were invincible. They thought Best Friends was deified. And they thought they could sacrifice the animals of New York State in order to gain access to the dollars of New York City by opposing Oreo's Law and no one would hold them accountable. After all, they were the revered leaders of the revered Best Friends. How monumentally they learned otherwise when they took a severe beating from the rescue community after it was revealed that they betrayed the animals for personal relationships and naked self-interest. Almost everyone who learned what they did put allegiance to the animals first, rather than to an insular, out-of-touch trio in the middle of the Utah desert. What once was adoration is now vilification and it is fully deserved: 25,000 animals a year were sacrificed on the altar of ego, greed, and power.
As the No Kill movement continues to spread, as new leaders emerge, as communities across the United States and world end the killing of healthy and treatable animals in places people have never heard of, by shelter directors people don't know, any attempts to attack me will have no impact on the widening success of our movement. I am not the No Kill movement and the No Kill movement is not me. And that is a welcome turning point. As Ryan Clinton pointed out during his presentation at the No Kill Conference, you know you are winning when the movement you helped foster becomes bigger than you are.
Attack me and they gain nothing. It only serves to show how desperate they have become. Why do people think Wayne Pacelle is now claiming HSUS always supported No Kill and is in fact the leader of the No Kill movement? Even he has seen the writing on the wall, has seen where the future is heading, and hopes to rewrite history in a way that makes him a hero, and not the villain he has been. Yet while Pacelle and others like him escape the rapidly sinking ship, mandatory spay/neuter advocates cling to the driftwood of their old ideologies, even while the animals they claim to want to save are put to death because of them.
In fact, if you are poor and have a companion animal who is not spayed because you cannot afford it, their solution is to have the pound kill the animal, even though they claim that they are for saving lives. And they know it because their own community in Los Angeles enacted their legislation resulting in an increase in killing in Los Angeles City shelters for the first time in a decade. Almost immediately, even before the ordinance took effect, LAAS officers threatened poor people with citations if they did not turn over the pets to be killed at LAAS, and that is exactly what occurred. For the first time in a decade, impounds and killing increased—dog deaths increased 24%, while cat deaths increased 35%. Last year, it went up again for dogs, and is still higher than pre-legislation levels for cats. In the process, they also fed the backyard breeding market for more (unaltered) animals.
Despite public claims of success and the touting of the L.A. law in a bid to pass the law statewide, recently released e-mails show that they knew their much touted mandatory sterilization law was harmful to animals for another reason. According to the e-mails, after the mandatory sterilization law went into effect, veterinarians across the City of Los Angeles sought to exploit the captive market by raising their prices. Veterinarians wanted a windfall, even though cost was—and is—the primary barrier to spay/neuter. The end result was that while spay/neuter was now the law, the effect of the price increases in response to the law put sterilization increasingly out of reach for those at the bottom rung of the economic latter, forcing them to surrender their animals, which the shelters she supported put to death.
So how do they respond to the increased killing in Los Angeles they helped bring about? How do they respond to the No Kill communities achieving success all over the U.S. and indeed the world by following the No Kill Advocacy Center's No Kill Equation model? By reevaluating their approach? By working for implementation of the No Kill Equation? By fighting for more progressive leadership? Of course not. That is how ethical people dedicated to saving lives would respond. They instead choose to spend their time by claiming I am caught in a "web of corruption."
It is always the same, in every movement, no matter what the issue. But, as anyone who reads history knows, the "controversy" created by those who demand change is quickly forgotten once their goals are realized. As the biography of abolitionist William Lloyd Garrison, All on Fire, states, "The tension created by significant social movements is always resisted and condemned during the struggle and invariably forgotten afterward." We are now all abolitionists. We are now all suffragists. Soon, we will all be No Kill advocates. And no one will care or remember the final desperate death rattle of the opposition, except perhaps to marvel at the depths of their self-delusion. "Web of corruption," indeed.
As the RMS Mandatory Spay/Neuter sinks beneath the waves, as their pro-killing agenda is increasingly seen for what it is, as No Kill communities explode all over the world, no one can stop the forward march by attacking me. I am increasingly irrelevant to the widening success of this movement. As the No Kill movement increases, my importance diminishes. And do you know how that makes me feel? It makes me feel like celebrating.
———————————————–
Update: Mandatory spay/neuter has just been reactivated in the California Legislature. That is why mandatory spay/neuter advocates have started websites and twitter accounts to falsely attack me and try to undermine my credibility. Why can't they just stick to the truth? Because they would surely lose.
"Corruption" is the misuse of power for personal gain. By standing up to the bullies in the animal protection movement determined to ensure that the killing paradigm they've established is not upended, I've prevented my personal gain. You don't go after those with all the resources in your field and expect to become enriched.
As to my books, when I complain to my wife about sales, she laughs: "Why should people buy them when you keep giving them away for free?" She's right. I've given away 1,200 copies to the two No Kill Conferences, 800 copies to groups in Australia, 300 copies to Austin, on and on and on.
So exactly how am supposed to be corrupt?
Well, the anti-No Kill, pro-mandatory spay/neuter crowd in Los Angeles claim that groups they believe are corrupt are allegedly "major backers" of "Winograd's No Kill agenda." The groups include Responsible Pet Owners Alliance, the Center for Consumer Freedom, PETPAC, a woman named Diane Amble, and Brenda Barnette. Now "major backers" has a financial connotation. It implies, which is what they want to falsely convey, that I am getting the big bucks from these groups. But their own allegations don't even make that claim for good reason: it isn't true.
Responsible Pet Owner's Alliance
According to Mancuso and company, Responsible Pet Owner's Alliance "took credit for helping to pay for Nathan Winograd to visit Houston in March, 2009." I offered to do an assessment of Houston BARC for $5,000 (HSUS charges $25,000 for a boilerplate report that says nothing). Houston refused to pay for it, so a rescuer put up a fund to bring me to Houston and asked people to donate to it. Who donated to that? I have no idea. I did not administer the fund and do not know who the donors to it were. To this day, I do not know who they are, except for one, an unaffiliated animal lover who offered me her frequent flier miles for the flight. In the end, the report speaks for itself.
Diane Amble
According to Mancuso and company, a woman named Diane Amble "convinced [me] to write a column in her radical newsletter 'The Animal Herald.'" When I read this, I Googled "Animal Herald" And came across a PDF. It is dated July 2009, and though it says it is volume I, number 1, there do not appear to be any subsequent editions. I looked and lo! I do have a column in it, there was my byline, but I do not recall ever writing for the Animal Herald. As I started reading it, I realized I didn't because it was nothing more than a reprint of a blog I wrote for my own website. Whenever anyone asks if they can reprint my blogs, I always say "Yes." Did Amble ask? I don't remember, but who cares, because I would have said "Yes." So that's the toxic web of corruption? A woman who obviously hates HSUS reprinted a blog I wrote condemning HSUS for calling for the killing of all dogs seized from a dog fighter?
Center for Consumer Freedom
According to Mancuso and company, "Mr. Winograd even went so far as to sit down and grant an interview with CCF in 2007." Actually, I was already sitting down, because I was at my computer when I received an e-mail asking if I would answer a few questions about my book. I said "Yes" but on one condition: They are not allowed to change anything I write. If they edit in any way, I have the right to pre-publication review to see if it changes my meaning. If I believe it does, they can't publish it. They agreed and e-mailed the four or so questions. I e-mailed my responses and they published them with no changes. Do I agree with the agenda of CCF? I do not.
Coincidentally, HSUS—another group whose agenda I disagree with because they support killing—also asked if they could e-mail me some questions. I said yes with the same condition: They are not allowed to change anything I write. If they edit in any way, I have the right to pre-publication review to see if it changes my meaning. If I believe it does, they can't publish it. HSUS said "No" and so I declined the interview.
During the same period, I did an interview on Fox News. For those who know me, my politics are different than theirs. I voted for Ralph Nader and Dennis Kucinich in the last two presidential primaries, not exactly the candidates embraced by Fox News. But I did the interview, not because I am caught in a "web of corruption" with Fox News, but because I know that when it comes to saving dogs and cats from death in shelters, all those things that separate us as Americans don't apply. Red states or blue, rich or poor, black or white, Democrats or Republicans, we all love animals.
PETPAC
According to Judie Mancuso & Company, "PETPAC heavily promoted Mr. Winograd's book 'Redemption' as a solution to the 'killing' done in animal shelters. They urge members to purchase his book on their web site." In addition, they 'praise Mr. Winograd's no-kill approach, arguing it is far cheaper to adopt animals than to kill them.' Wow, devastating indictments. I wrote a book urging an end to the killing, showing how it is possible, and since then, communities across the world have successfully ended the killing by following its prescription. But because some group says the book is good, that makes me corrupt?
Now, they do say that PETPAC paid "for Mr. Winograd to speak to their members. According to the Pet Defense blog, PETPAC paid for Mr. Winograd to give a speech in Ventura, California during a major dog show." Actually, that isn't quite true. When Redemption was published, I sent out a mass e-mail and posted online if people wanted me to come speak, I'd go to any city and all I ask is reimbursement for air travel, one night in a hotel and that the presentation be free and open to anyone who wants to come. They offered me that and yes, I took it, inviting everyone in the Ventura community to come hear the presentation. But no, they did not pay me to speak. They reimbursed my flight (a Southwest coach fare) and one night in a hotel (I paid for the movie and potato chips from the mini-bar out of pocket). That was several years ago, I've not received a penny from them otherwise and have no affiliation with them of any kind.
Brenda Barnette
Finally, the web of corruption allegedly extends to L.A.'s new pound director, Brenda Barnette. According to Mancuso and Company: "Mr. Winograd fully backed Ms. Barnette's appointment in Los Angeles." Truth be told, I am not convinced Barnette is going to succeed. Not because she isn't capable, she is. She worked at the San Francisco SPCA, ran a No Kill shelter called Pets In Need, worked as director for Tony LaRussa's Animal Rescue Foundation, and then headed the Humane Society of Seattle-King County saving roughly nine out of 10 animals. That is why I supported her appointment.
She offers hope for animals in L.A.'s cruel and abusive pound, and when she was attacked by Mancuso and her ilk because she opposes mandatory spay/neuter (because governments don't fund them fully, causing people to surrender their animals and then be killed), I wrote a letter in support of her candidacy. But does that mean I think she can succeed at a No Kill Los Angeles? Actually, I am not so sure.
I hope so. But I am not convinced she will have the support of the Mayor to do what I believe it takes to reform that agency and redirect it away from killing and towards lifesaving. There are many entrenched and regressive employees staffing L.A.'s shelters and with the backing of their union, they are a powerful and formidable opponent to No Kill in Los Angeles. Internal, not external, factors prevent more lifesaving.
I am not convinced that the City bureaucracy that does not value accountability and good government will allow her to reform the union. And so I wrote in my letter on behalf of the No Kill Advocacy Center asking the City Council to appoint her and give her a chance, but warning them that if she does not succeed, "it will be because of a failed bureaucracy that did not give her the latitude and tools to do the job humanely."
So that's it. That's Mancuso and company's proof of my "web of corruption": A letter in support of a shelter director with a track record of success, an e-mail to a group answering four questions, reimbursement for a flight, and a reprint of my blog. I guess if you wrap mundane allegations in a lot of exaggerated and hyperbolic language, you might succeed in convincing yourself that it is worth the price of a domain name. But from the outside looking in, it reeks of desperation and just goes to underscore how much progress the No Kill movement has made.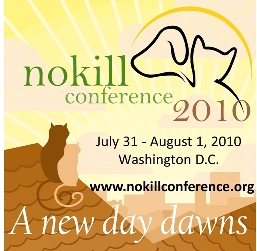 No Kill Conference 2010 brought hundreds of animal lovers from 39 states and four countries to the George Washington School of Law in Washington D.C. where the most successful shelter directors, animal lawyers, and shelter reformers nationwide shared insights and strategies to end the systematic killing of animals in our nations pounds and shelters. The attendees heard from directors of open admission shelters with save rates between 92% and 96%. They heard from lawyers who have passed laws making it illegal for shelters to kill animals in a wide variety of contexts and who have successfully saved the lives of animals who shelters were determined to kill. And they heard from reformers who have succeeded in passing laws to end the needless killing of animals in their community. In the keynote address, after a brief introduction welcoming attendees, sharing our movement's successes, the increase in No Kill communities throughout the United States and indeed the world, and laying out the vision of the conference, I talked about the future…
This conference is about the future. What it can hold if we commit ourselves wholeheartedly to building the infrastructure necessary to create and sustain a No Kill nation. To do that, we must demand the immediate implementation of the model that has ended the killing in communities across the nation so we can end the killing right now, today—the No Kill Equation. And then we must institutionalize that model to end the killing forever. That is why we are here. Not just at the No Kill Conference, but in Washington D.C., the seat of government; at a law school; in a conference that combines sheltering and law; in a room full of lawyers and law makers.
There is no doubt the No Kill movement has come into its own. The "adopt some and kill the rest" paradigm which has dominated our country for so long is being replaced. But to fully destroy it, to ensure it never rears its ugly head again; to ensure a more humane future, we must first take a backwards glance. We must put our cause in historical context in order to better understand who we are, what we should be fighting for, and how we should go about it.
We need more than leadership. We need more than directors willing to implement the No Kill Equation. Our goal is to build a more compassionate society for animals; to end their killing in "shelters" now and forever. That goal is new and different from social movements of the past, but the struggle to create a just and compassionate society is not. In that, we have a lot in common with other social movements and we can learn from them in order to achieve our goals.
The struggles they faced are often the same struggles we face. Regardless of whether your politics are to the left, to the right, or to the middle, how they overcame many of the same obstacles we face and how they achieved the ends they were seeking provides a roadmap for us to follow. History is our guide. Because all those movements shared an understanding that in order to create and sustain the changes they were seeking, they must ultimate change the legal landscape of our Republic. They must change the law.
Today, other than strays, most shelters can kill every single animal who comes through their doors. It doesn't matter if they are healthy or sick, young or old, beautiful or ugly, friendly, scared, or aggressive, the choice is up to them. If the animal was surrendered by a family, he or she can be killed within minutes of arriving. No meager holding period. No chance at adoption. No food, water, or shelter. Just a trip from the front counter to the gas chamber or to be poisoned with an overdose from a bottle marked "Fatal-plus."
If the animal came in as a stray, he or she will be held from 48 hours to 10 days depending on the state, and then they too can be put to death with no opportunity or chance for adoption. Just a one-way ticket to the morgue. In places like Reno, Nevada, and Charlottesville, Virginia, and some other communities, they'll be held until they find a home. But nationally, shelters will only find homes for roughly half of them. And except for public pressure, it all depends on where the shelter is, on who is in charge, on how much they care, on how committed they are.
We've made tremendous progress, to be sure. No Kill communities exist throughout the nation and No Kill is on the agenda of local and state governments across the country. But in too many communities, we still have this:
I tried to adopt from my local shelter, but they weren't open on the weekend, it was almost impossible to reach them on the telephone and when I did, I was treated rudely. Nonetheless, I raced down there one day after work, and the place was so dirty. It made me cry to look into the faces of all those animals I knew would be killed. But I found this scared, skinny cat hiding in the back of his cage and I filled out an application. I was turned down because I didn't turn in the paperwork on time, which meant a half hour before closing, but I couldn't get there from work in time to do that. I tried to leave work early the next day, but I called and found out they had already killed the poor cat. I will never go back.
It doesn't have to be that way. We can make that reality a thing of the past; an anachronism just like other movements have. And we do that by passing laws. The aim of every social movement in our nation's history is legislation to gain and then protect the rights of its members or the focus of its efforts, a legacy which reaches back to the very founding of our Republic.
The year is 1776. It is a time in world history when nations were governed by a privileged few. A few great thinkers dared to imagine something altogether different: a more compassionate society, a democracy, the ability to end injustice through self-rule as codified in law. Our forefathers fought a war for these ideals, and once the war ended, they sought to institutionalize those ideals with laws—great change, a revolution, codified in law.
It is a legacy that is at the core of who we are and how we effect change: a government of the people, by the people, for the people. Our system of government was designed not only to solidify the ideals of the American Revolution, but to change with the changing times. As envisioned by James Madison, the Father of the Constitution, "In framing a system which we wish to last for ages, we should not lose sight of the changes which ages will produce."
No matter what the issue is: the fight for democracy as epitomized by Madison, Benjamin Franklin, and John Adams; the abolition of slavery as epitomized by William Lloyd Garrison, Harriet Tubman, Sojourner Truth, and Frederick Douglass; the struggle for women's suffrage as epitomized by Susan B. Anthony, Elizabeth Cady Stanton, and the great Alice Paul; civil rights as epitomized by Dr. Martin Luther King Jr. and Harvey Milk; an end to child labor as epitomized by Lewis Hine; or disability rights as epitomized by Justin Whitlock Dart, Jr. and Richard Pimentel; all these movements culminated in the passing of laws.
The goal was not to get promises and commitments that we would strive to do better as a society. The focus was always on changing the law to eliminate the ability to do otherwise, now and for all time. The suffrage movement wasn't just seeking discretionary permission from elections officials to vote, an ability that could be taken away. Its goal was winning the right to vote, a right guaranteed in law. The civil rights movement wasn't just seeking the discretionary ability to sit at the front of the bus or to eat at the same lunch counters or be given equal protection and equal opportunity. Its goal was winning the right to do so, a right guaranteed in law. Because without legal rights, one's fate is contingent on who the election official is, who the restaurant owner is, who the mayor is, and in our case, who the shelter director is.
We have—and embrace—voting rights acts, environmental protection laws, and laws against discrimination based on gender, race, and sexual orientation. Ultimately, such laws are essential to ensure that fair and equal treatment is guaranteed, not subject to the discretion of those in power.
We shouldn't just want a promise that shelters will try to do better. We already have such promises—and millions of animals still being killed despite readily available lifesaving alternatives show just how hollow such promises are. We must demand accountability beyond the rhetoric. And we shouldn't simply be seeking progressive directors willing to save lives. We should demand that the killing end, now and forever, regardless of who is running the shelters. And we get that in only one way: By passing shelter reform legislation which removes the discretion of shelter directors to ignore what is in the best interests of animals and kill them.
And nothing drives home the point more than the tragedy of Oreo. As many of you already know, Oreo was abused, thrown off a Brooklyn rooftop and left for dead. But she did not die. She was "rescued" by the ASPCA and dubbed the "miracle dog." But they did not save her. She was subsequently killed by them despite readily available lifesaving alternatives; despite the offer of a sanctuary to take her, to give her the second chance and love she deserved; the opportunity to live which was her birthright.
In so many ways, it is a tragic story: her abuse, her short life, the betrayal by those who were pledged to protect her, the wasted opportunity for redemption. Tragically, we could not bring Oreo back and give to her the second chance the ASPCA denied her. But we could have lessened the futility of her death if we learned from it and altered our society in such a way as to prevent such a betrayal from ever happening again. That is what Oreo's Law sought to do.
Oreo's Law would have made it illegal for a shelter to kill an animal when another non-profit (rescue group) was willing to save that animal's life. It sought to level the playing field between the big non-profits which have all the power and the small non-profits who are prevented from fulfilling their lifesaving mission when these larger organizations refuse to collaborate with them in order to save more lives. In this way, Oreo's Law sought to reform our broken animal shelter system; to end injustice through the force of law.
The public overwhelmed the legislature with calls and e-mails of support. Some 10,000 calls and e-mails in a matter of days shutting down the New York State Assembly servers more than once. But the ASPCA ensured Oreo's Law did not pass by using their power to defeat the bill even though the public embraced it enthusiastically.
In fact, we have seen what happens when the large organizations are not involved, what happens when the public's values are not hindered. While Oreo's Law was being undermined by the ASPCA and its acolytes, another state was also considering shelter reform legislation, and they succeeded. Like Oreo's Law sought to do, the state of Delaware sought to make it illegal for any shelter to kill an animal if a rescue group is willing to save that animal's life. But Delaware reformers didn't stop there, because they went further: shelters cannot kill an animal if there are empty spaces in the shelter, if animals can share a space with other animals, if foster homes are available. The law requires them to post animals online and much more. It is the most progressive, comprehensive shelter reform legislation in the country and because not a single national group knew about it, there was no controversy. No fear mongering about hoarders. No fear mongering about dog fighting. No fear mongering about overcrowding. No fear mongering about costs. No fear mongering about notice requirements being unfair to small rural shelters. In fact, no fear mongering of any kind.
The bill mandates that animals be given every opportunity for life, and no one thought that would be a bad or controversial idea. That is why it passed unanimously in both houses of the legislature, with not one single vote in opposition. In fact when I was interviewed by the Dover Post about it, and I told them I was grateful that it passed, the reporter said to me: "Yes, well of course, who could possibly be against it?" I bit my tongue.
To the animal lovers in Delaware, to the rescue groups, to the legislators, and to the reporters, who in their right mind could possibly be against legislation to save animals? Who could be against a law mandating common sense policies the public would be shocked to learn aren't willingly being done anyway? Imagine the National Resources Defense Council opposing legislation to make sure the BP oil spill disaster didn't happen again, Greenpeace opposing a law to stop whaling, or the Sierra Club opposing a law to limit deforestation. It is unthinkable. But that is the humane movement we have inherited. Today, we have to fight the very groups founded to protect animals. And so we must fight until we prevail.
The obstacles movements in history faced were great ones. Not only did they have to fight the status quo, they also had to fight the public's prejudice which sustained it. In other words, they first needed to win the hearts and minds of the American public. And still they prevailed. This is an obstacle we do not face.
We spend more and more every year on our companion animals, topping fifty billion dollars last year. We give hundreds of millions more to animal related charities. We miss work when our animals get sick. We cut back on their own needs to meet the needs of our animal companions. Evidence of this caring is all around us:
When people who adopt rescued animals send us thank you letters telling us how much they love these animals;
When we see people at the dog park or on our morning walks through the neighborhoods;
At our veterinarian's office—the waiting rooms always filled, the faces of scared people wondering what is wrong, the tears as they emerge from the exam rooms after saying good bye for the last time;
The best-selling books about animals that touch us very deeply and very personally;
The success of movies about animals as a reflection of our love people for them; and,
No Kill success throughout the country being a result of people—people who care deeply.
More importantly, in communities which have ended the killing of savable animals, it is the public which has made the difference: in terms of adoptions, volunteerism, donations, foster care, and other community support. These communities have proved that there is enough love and compassion to overcome the irresponsibility of the few. So we need to put to bed, once and for all, the idea that dogs and cats—animals most Americans now consider cherished members of their family—need to die in U.S. shelters because people are irresponsible and don't care enough about them. People love animals. And if we give them an opportunity to express that love; if we introduce laws to end the killing, as groups like Faithful Friends, Safe Haven, and others did in Delaware, people will support them because the public is already on our side.
I am not a religious person, but that does not mean I am a man without faith. The faith I hold is in the remarkable capacity of my fellow humans for change and compassion. As a species we aspire to do better, to be better. We want to leave the darkness of the cave and come into the light. And when someone comes along who illuminates a path towards that light as the figures in history did for our ancestors, history vindicates us because we follow them into a brighter future.
I understand that my love for animals and your love for animals is not so unique as we've been led to believe. It resides in most people. Most people want to build a better world for animals. And they are waiting for us to show them how, to give them the means to do so. In our movement, the battle is not against the many, but the few; those with a vested interest in maintaining the status quo. Right now, a small handful of people—the regressive directors in our nation's kill shelters and the heads of the large national organizations—continue to hold us back. They hold us back from the great success we could achieve and the millions of lives we could save if only we find the courage to stand up to them together: loud, unified, uncompromising, demanding legislative changes that would put an end to the ruling power of the pretenders in our midst; that would force them by the rule of law to no longer kill or allow others to kill the animals they are pledged to protect.
We, the people in this room, the rescuers and reformers nationwide, and all animal-loving Americans outnumber them by the millions. As a movement, we must stop deferring to leaders who fail us and the animals time and time again. We must summon the determination to begin this vital process and the fortitude to challenge those who would dare hold us back. That is our mission and our challenge for the coming decade. And that is our most urgent and solemn duty.
As you move confidently into that future, prepared to meet the challenges, ready to fight when that is what the situation calls for, your allegiance never wavering from the animals, know that you are not alone. Know what was once called "impossible," and then "improbable," is now "inevitable." To see what the future holds requires nothing more than a motivating backwards glance to see that you are truly standing on the shoulders of giants. We are continuing the struggle to build a more perfect union. And we've already come so far.
At this bright new dawn, let us seize the day…