A Call for Regime Change in Austin
Congratulations are due for Austin, Texas No Kill advocates who have achieved a major hurdle in their fight against entrenched shelter leadership responsible for killing animals with ruthless efficiency while saying "No" to the programs and services that make ending the killing possible. The shelter director routinely ordered animals killed despite state inspection reports that found hundreds of empty cages on any given day. Simple requests—such as an end to convenience killing (killing when space is available)—were rebuffed time and time again.
Their uphill battle for decency and compassion included opposition from the ASPCA propaganda and killing machine which backed the kill-oriented director, while trying to undermine reform efforts; and HSUS, which wrote a letter of support to move the shelter from a centralized location close to where people live, work, and play to a remote "out of sight, out of mind" part of the city so that managers could get bigger office spaces.
In spite of the bureaucratic uncaring, regressive leadership at the shelter, and anti-lifesaving roadblocks from both the ASPCA and HSUS, they won unanimous passage by the City Council of their No Kill plan. The plan includes an end to travesties such as convenience killing.
But the question remains whether a director who has bitterly opposed reform of the shelter will implement the plan with integrity. This is the same question the Austin Statesman seems to be asking when it applauds passage of the No Kill plan, but says success depends on the follow through. Will leadership at the shelter be its champion? History says, "No."
There have been roughly 100,000 animals put to death since Dorinda Pulliam took over the pound in Austin, Texas. That's over 12,000 each year, 1,000 each month, 34 each day, 1 every 12 minutes the shelter has been open to the public. That is a profound failure.
It is long past time for her to step aside. The animals and the animal loving people of Austin deserve better.

Back to Basics: #1. Food
The New York City-based ASPCA's Sarah McLachlan "Angel" commercial alone expanded the ASPCA's already swelled coffers by $30,000,000 in one year. Add to that the tens of millions given to the Mayor's Alliance of NYC Animals by other funders to save and care for New York City's animals, and "lack of resources" for the animals of NYC does not seem to be a problem. So, how is it that despite a relatively low per capita intake rate, the wealthiest humane society in the country and one of the 200 richest charities overall down the street, and a coalition with over $20 million in revenue dedicated to helping NYC animals, that NYC kills healthy animals and threatens to kill them every single day if rescue groups do not take them?
And, even more insane than that, how is it that NYC shelters are running out of food?
NYC shelters have started putting out frantic appeals saying they do not have enough food to feed the animals in their care. According to one such appeal put out:
Dramatic budget cuts have forced Animal Care & Control of NYC to look to the public for food donations.
AC&C's primary source of funding is the City of New York. Due to the current fiscal environment, that support has been drastically cut. Your food donations are now desperately needed for the hundreds of animals in their three care centers. And they could be needed for months.
NYC a national model? Perhaps of greed and self-serving leadership. Hey Jane and Ed, come down from your NYC penthouses and feed the animals.
Wayne's World of Deception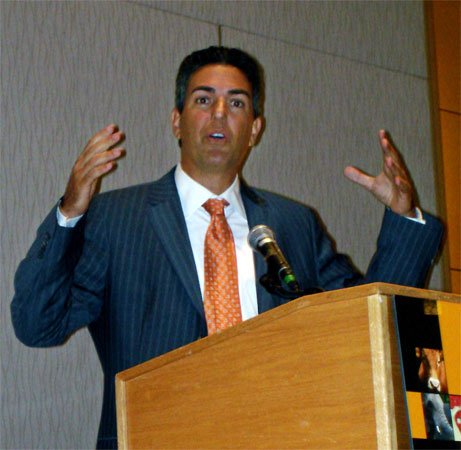 Seven out of ten Americans surveyed believe that HSUS is an "umbrella group" for America's local humane societies. Six out of ten think their local humane society is affiliated with HSUS. And the same number believe HSUS "contributes most of its money" to local organizations that care for animals. Wrong, wrong, wrong. Intentionally wrong.
This confusion is no accident. It is by HSUS-design. In addition to a pattern of deceit in its fundraising appeals, HSUS forbids shelters from clarifying the confusion. HSUS, for example, sells its donor list for one time use by shelters, but the list comes with caveats. In addition to others (such as not mailing it out until HSUS sent their appeal to those donors), the one primary stipulation is that:
In order to rent the list, you would need to submit the complete mail piece to [HSUS] for pre-approval.
Over the years, the Nevada Humane Society has learned that people are often confused by fundraising appeals from HSUS. Local residents think they are donating to the local humane society when they give money to HSUS. In fact, NHS has been told by local residents that they have already donated to them, when in fact they gave to HSUS. This confusion goes beyond fundraising: NHS was publicly criticized for "embracing Michael Vick"—which they did not—because people thought HSUS ("the humane society") was NHS. In order to clarify the confusion and to help raise funds for local programs, they tried to buy a list from HSUS to do so. And they submitted their proposed mailing for HSUS approval which included the statement that:
Nevada Humane Society is a nonprofit organization. We rely upon donations to make our lifesaving work possible. We do not receive funding from national groups or the government. Your contribution is tax-deductible. Please return this reply slip in the enclosed envelope to Nevada Humane Society. Thank you.
After doing so, HSUS denied the request, stating that unless NHS removed the clarifying statement, they could not use the list. In other words, HSUS did not want NHS informing these individuals that when they give to groups like HSUS, they are not giving money to local lifesaving efforts. Put simply, HSUS was committed to keeping its supporters in the dark as to where their money was going.
Building a No Kill Community
I recently returned from Shelby County, Kentucky where hundreds of animal lovers from eight states came to hear the message of hope and promise of the No Kill philosophy. Join me for one of the remaining seminars: an inspirational two-hour multi-media presentation followed by a book signing for Irreconcilable Differences: The Battle for the Heart & Soul of America's Animal Shelters, which is being called "excellent reading," "a real page turner" and a "grand slam" by the "voice of America's displaced pets and the conscience of the animal sheltering industry."
Melbourne, FL. April 3, 2010.
Douglasville, GA. April 16, 2010.
Jersey City, NJ. April 20, 2010.
New Zealand. April 30-May 2, 2010.
Greater Seattle Area (Whidbey Island), WA. June 18, 2010.
For more information, click here.