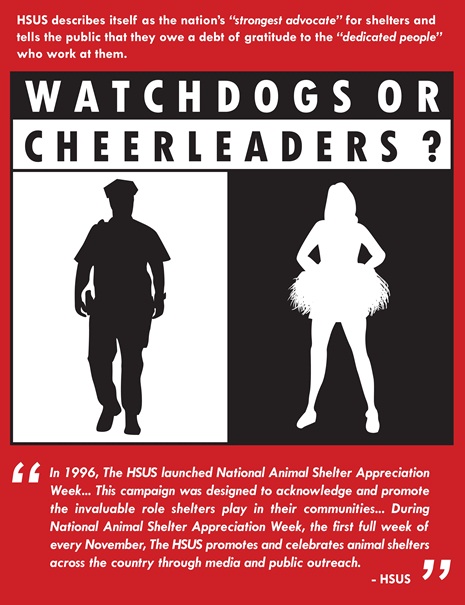 November 4 is the official kick off of "National Animal Shelter Reform Week." It is a week dedicated to educating the American public about the rampant neglect and abuse in U.S. "shelters," the systematic killing that goes on in them, and what we can do to bring this tragedy to an end. It is also a week dedicated to celebrating the many animal advocates across the country who are fighting to reform our shelters and winning, so that others can be inspired to emulate their success.
The week is sponsored by the No Kill Advocacy Center in response to the call by the Humane Society of the United States to "celebrate" those shelters and turn a blind eye to the neglect, abuse, and killing of animals in their custody. In a Memphis shelter, for example, abusive workers recently allowed a puppy to starve to death, and his littermate consumed his body to keep from starving himself. Animals lovers in Memphis and nationwide are expressing their outrage, but , as usual, there is no word of concern from HSUS, People for the Ethical Treatment of Animals, the ASPCA and the individuals who act as shelter killing apologists.
In its call to celebrate shelters, HSUS claims to be the nation's top cheerleader for shelters, rather than the animals' top advocate. And PETA has vilified those working to reform our broken shelter system, promoting and defending some of the worst abusers in the country. It is this very mentality of celebrating shelters and fighting reformers in the face of epidemic cruelty and killing that has allowed shelters to remain unregulated. Although HSUS admits, "there is actually very little oversight of sheltering organizations," they are working to keep it that way: fighting legislative reform efforts, defending abusive shelters, arguing that shelters should not be regulated, and even defending a shelter's "right"  to kill animals in the face of readily available lifesaving alternatives.  The lack of government oversight, combined with the support of groups like HSUS, has given shelters  the hubris and the ability to neglect, abuse, and systematically put to death roughly four million animals a year without a hint of remorse. The No Kill Advocacy Center seeks to right this wrong.
This  is also why my wife and I wrote Friendly Fire, exposing not only the war on shelter animals by these large national organizations, but the motivations behind their opposition to No Kill. Friendly Fire will go on sale this Thursday, November 1, just as HSUS ramps up its celebration of those abusive shelters.
From the No Kill Advocacy Center:
No Kill Advocacy Center Launches "National Animal Shelter Reform Week"
For over a decade, HSUS has promoted a campaign they call "National Animal Shelter Appreciation Week" which occurs the first full week in November. According to HSUS, which describes itself as the nation's "strongest advocate" for shelters, we owe a debt of gratitude to the "dedicated people" who work at them. They claim that leadership and staff at every one of these agencies "have a passion for and are dedicated to the mutual goal of saving animals' lives." They tell us, "We are all on the same side," "We all want the same thing," "We are all animal lovers," and criticism of shelters and staff is unfair and callous because "No one wants to kill." The fact, however, tragically and frequently tell a very different story: roughly four million animals are needlessly killed at these institutions every year, while an epidemic of neglect and abuse goes largely unacknowledged and unchecked by the very organization that has the power and resources to do something about it: HSUS. That is why we are launching "National Animal Shelter Reform Week."
Over the years, we've received reports of shelter workers burying animals alive, starving animals to death, animals cannibalizing other animals for food, shelter employees beating animals to death, using them for target practice, drowning them, and putting different species into the gas chamber to sadistically watch them fight before turning on the gas.
These incidents are just the tip of the iceberg. Rarely a day goes by that another incident of shelter mismanagement, killing, neglect, and/or abuse isn't brought to our attention, highlighting and substantiating an epidemic crisis of neglect and cruelty, followed by systematic killing, in our nation's so-called animal "shelters." In fact, the first time many animals experience abuse and neglect is in the very institutions which are supposed to protect them from it.
National Animal Shelter Reform Week is designed to confront the tragic truth about how most shelters in this country operate and to increase public awareness about how animal lovers can fight back and reform them. Despite the uphill battle many shelter reformers face, they are succeeding through ingenuity, perseverance, and because the American public, which loves animals, is on their side. The No Kill Advocacy Center would like to support their reform campaigns and honor their tireless effort.
Every day during National Animal Shelter Reform Week, the first full week of every November, the No Kill Advocacy Center will confront poor and neglectful conditions at shelters around the country and contrast them with progressive and innovative No Kill shelters. We will also honor No Kill activists working to end the systematic killing of animals, so that others can be inspired by their efforts. Finally, we will strive to give animal advocates the tools they need to succeed.
For more information and  to join the week-long discussion from November 4-10, 2012, click here.
***
For further reading:
While Rome Burns, Emperor Pacelle Strums His Lyre

Images That Will Haunt You Forever
Learn how you can fight back and win by clicking here.
—————-
Have a comment? Join the discussion by  clicking here.
My Facebook page is  www.facebook.com/nathanwinograd. Many people mistakenly believe that the Facebook pages at No Kill Nation and No Kill Revolution are my pages. They are not.