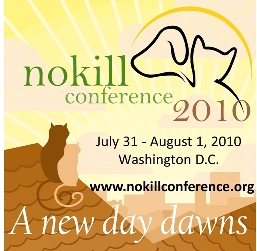 Last year's No Kill Conference was the sold out, must attend event of the year. And it is happening again!
The No Kill Advocacy Center is teaming up with the Animal Law program at George Washington University Law School, Maddie's Fund, and Friends of Animals to bring together the nation's most successful shelter directors and the nation's top animal lawyers. They will show you how to create a No Kill community and teach you how to use the legal system to save the lives of animals.
Learn from animal control/shelter directors who are now saving over 90% of all animals using the building blocks to No Kill success—programs and services that have had results in both urban and rural communities—to increase adoptions, reduce length of stay, increase redemption rates, rehabilitate animals, and much more.
Learn from animal law experts who have challenged our legal system to help animals: Whether it's drafting model laws, fighting breed specific legislation, filing impact legislation, or protecting condemned dogs, learn how to use the legal system to save the lives of animals.
Learn from activists fighting entrenched and regressive shelters in their own community as they show you how to launch successful campaigns for reform.
The only national conference that says we can and must stop the killing and we can and must do it today.
Join No Kill advocates nationwide at this ground-breaking event. A No Kill nation is within our reach!
What: No Kill Conference 2010
When: July 31-August 1, 2010
Where: Washington DC
More Information/Register: www.nokillconference.org
Some highlights:
In 2009, 9,184 Nevada Humane Society animals found homes under Bonney Brown's leadership, up from 4,539 before her tenure – an increase of 102%. That helped bring the total save rate to 90% countywide. You too can more than double your adoptions. Bonney will lead an Adoption workshop at No Kill Conference 2010.
Technology is revolutionizing the No Kill movement, allowing shelters to increase adoptions, redemptions, revenue, and volunteers. It also has the potential to find missing pets. Mike Fry will lead a workshop at No Kill Conference 2010. (For a teaser, read "Saving Lives 2.0" by clicking here.)
Shelter design can eliminate URI in cats, reducing length of stay and boosting your adoption rate. It can also help reduce and in many cases, eliminate barrier frustration in dogs. Innovative shelter architects ARQ will give a workshop on how the physical shelter can help you create a No Kill community.
What does it take to be an effective leader? Hear from the "90% Club": those shelter directors, like Susanne Kogut and Abigail Smith, saving over 90% of all animals at their open admission shelters.
And more. Click here to see a list of speakers and click here to see a list of workshops.
Please note: Last year's conference sold out months in advance. If you are considering attending, do not delay. Once sold out, there are no waiting lists and no exceptions.