Warning: Very graphic images below.
When I left the Tompkins County SPCA is 2004, I had a mission: to spread the No Kill Equation, the model of sheltering that had created the first No Kill community in the nation's history, to the rest of the country. To do that, I founded the No Kill Advocacy Center, and planned to offer seminars for shelter staff who were interested in embracing No Kill. At that time, while I understood that most shelters in the country were not comprehensively implementing the programs and services that save lives, I believed that if I could overcome the historical inertia of the large national organizations on this issue by taking my message straight to the animal control directors myself, that I would find many eager individuals ready and willing to embrace a brighter future.
Looking back, I realize how incredibly naïve I was. First, to believe that the animal sheltering industry would welcome the news of how to end the killing they had publicly been bemoaning for so very long, but also at my expectation that although our nation's shelters were killing an extraordinary amount of animals, that at the very least the managers at these shelters ensured that the shelters were clean, that the animals in their care were fed, had access to fresh water, were given medical attention, and were, during their stay, at least free of neglect or abuse.
Given the tragic reality of our nation's shelters, and given what a vocal critic I have since become, I know that it must seem almost comical that I ever held such a view. But I did. Because back then, even though I knew – in fact had experienced firsthand – the vitriol against the No Kill movement by HSUS, the ASPCA and other large, national organizations, I believed that at the very least, these organizations were regulating our shelters by promoting and ensuring basic standards of care, as they have claimed, and still claim, they do.
Sadly, as I traveled the nation visiting filthy, abusive shelter after filthy, abusive shelter, and as word of my work spread and I was increasingly contacted by activists and rescuers nationwide who were battling the cruel and regressive shelters in their own communities, I came to realize that I had as much to learn about the state of animal sheltering in the U.S. as I had hoped to teach the animal sheltering industry. And what I learned was that the reality was much worse than even I could have ever imagined.
The dirty little secret of the animal sheltering industry in the United States is finally out. Too often, our nation's shelters, in addition to being little more than death camps, are also torture chambers. Completely unregulated, and historically receiving no guidance or oversight from any of the large, national animal protection organizations, our nation's shelters are much too often places where animals are abused, routinely neglected, allowed to slowly starve to death, and go without needed medical attention. Shelters where employees beat cats to death with pipes. Shelters where employees throw live puppies into the incinerator to watch them burn. Shelters where employees throw dogs and cats together into the gas chamber so they can fight each other while they slowly suffocate. Our shelter system is broken. And in too many places, these facilities are little more than badly mismanaged houses of horrors. And I have the pictures to prove it.
They say a picture is worth a thousand words. If that is true, the pictures below speak volumes. Like nothing else, they put the lie to the claim by HSUS that we are all on the same team. They show how cowardly groups are who do not support laws to ban such disregard. And they underscore how out of touch those, like Maddie's Fund, are when they chastise us for "bash and trash" when we stand up and fight to end the abuse.
Some of the photographs were sent to me by reform advocates, but I took the majority during visits to shelters across the country from 2004-2010. They will, as the title of this blog suggests, haunt you forever. If you cannot stomach it, do not read further. If you choose to continue, click on each photograph for a larger view. Sadly, I have more photographs; a lot more.
A dead dog, atop a pile of dead animals, is teeming with maggots and blood at the Associated Humane Societies in Newark, NJ in 2009. The white specks on the floor are maggots in a pool of blood. The shelter takes in $8,000,000 a year but has a long, sordid history of animal neglect.
A puppy as he enters Memphis Animal Services. The same puppy near death from starvation after weeks in the shelter's custody. They refused to feed him.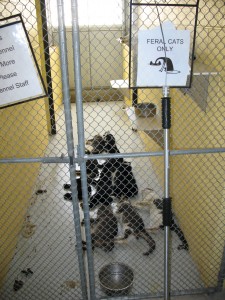 The "feral cats only" kennel in Collier County, FL's animal shelter. Terrified cats were forced to watch other cats be killed and many of them defecated in fear as staff hunted them down with catchpoles. They were then lined up dead in neat piles after a mass kill. The director did not believe in TNR because cats "might" suffer on the street.
A kitten lies near death in a filthy carrier at Houston's BARC. The shelter "lost" this kitten and found him a day or so later, near death.
This photograph is not "graphic" but it speaks volumes. An empty plate, a bone-dry water bowl, a filthy cage: A cat reaches out, begging for food and water. Staff at King County Animal Care & Control outside of Seattle, WA did not provide food or water over a three day weekend.
A 10-month old dog enters Los Angeles County's animal shelter healthy, and slowly begins to die of pneumonia and starvation. She was subsequently found dead after a period of several weeks. Staff claimed no one noticed that she was not eating.
The feral cat pen in Henry County, GA. Aside from being filthy, cats were found poisoned with antifreeze. Only shelter staff had access to the pen and advocates believed it was retaliation for demanding better conditions for them.
A kitten before and a kitten after. Yet another animal who goes unfed and uncared for while in the "care" of a shelter mandated to protect animals from harm. Sad to say, I can't even recall what shelter this was.
A rabbit furiously tries to drink water from an empty container in Los Angeles. This follows promised reforms after what has become known as "Spinal Monday." Staff did not take care of the rabbits who began cannibalizing other rabbits in the face of starvation. When they were discovered on Monday, one of the rabbits had an exposed spine as other rabbits began eating him alive.
A dog owner cries as he recounts how his dog was kicked to death by an employee of the ASPCA in New York. The dog was in the ASPCA's veterinary hospital getting care. It was not the first time the ASPCA abused an animal, which they tried to cover up.
Blood stains all over the kennel of a puppy who was beaten by an animal control officer with a baton in Devore, California. The officer was not fired or reprimanded.
A puppy left to die on her own, her body covered in urine, nothing soft to lay on, unable to hold up her head, in Houston, TX.
A dog found buried in Chesterfield, SC after staff of the shelter used him for target practice. They also used dogs for fighting and beat cats to death with pipes.
Dead animals thrown in garbage bags in Philadelphia, PA. Sometimes it took an hour for animals to die because of untrained staff and improper "euthanasia" techniques. And more than one staff member admitted that they have seen the bag still moving while en route to the landfill.
Sick puppies huddled just outside of Houston in a Texas shelter. They came in healthy, they were kept in filthy conditions right next to sick dogs, and would eventually die of or be killed for parvo caused by shelter neglect.
It looks like a nice picture: a cat in a spacious "showcase" room at the Shreveport, LA shelter. What made this so tragic is that despite killing 92% of cats and claiming to do so because of "pet overpopulation," this was the only cat available for adoption when I visited. Every other cage was kept empty so staff did not have to clean them. Even this room could have easily held a half dozen cats.
A puppy languishes in Los Angeles County. Unable to hold his head up, he lays it on filthy and cold concrete. He would ultimately die, while indifferent staff walked by and ignored his plight. He was not the first in the litter to die without care.
A dilapidated, tiny kennel, some of the most inadequate I have seen, in Houston, the fourth largest city in the nation. The dogs could not even stand in them, turn around freely, or lie down comfortably. Many of the kennels had open drains and staff admitted that when the dogs get their legs caught in them, by the time staff finds them in the morning, their legs are so swollen, they cannot be extricated. The dogs are killed on the spot before the leg is sawed off.
A dog ate half of his tail because NYC's animal shelter did not provide the care he needed for an injury.
A dog's kennel and the dog covered with fecal matter at the Associated Humane Society in Newark. In 2009, state inspectors found, among other things, "severe fly and maggot infestation," "overwhelming maladorous smell," "large amount of blood … splattered on the floor, walls, and viewing window," as well as sick and injured animals "not being treated."
In our homes, our dogs and cats are part of the family. We are devoted to them. We give them food and fresh water, a safe, warm place to sleep, needed medical care, and our love and attention.  In the "shelters" we fund with our tax-dollars and our philanthropic donations, animals are routinely denied the most basic of necessities. They are frequently the victims of neglect, and often, of cruelty. In fact, the first time many animals are neglected or abused is in the very shelter that is supposed to protect them from it.
It is time to take our shelters back. It is time to regulate them to ensure that not only are animals no longer needlessly killed at these facilities, but that they are also treated with compassion and decency. We have the right to expect that our shelters reflect our humane values.
But what we do not need are more promises that shelters will do better. We already have such promises and as the above photographs show, and as 4 million dead animals every year prove, those promises are not sincere. What we must demand are strict laws that regulate shelters; laws that force them to live up to their names and mission statements. In short, we must pass the Companion Animal Protection Act in all 50 states.
High volume adoptions, saving shelter dogs, leadership, and more. Join me this Saturday for an all-day Building a No Kill Community seminar in Houston, TX, followed by a book signing for both Redemption and Irreconcilable Differences.
The event is sponsored by No Kill Houston, with support from the No Kill Advocacy Center, Spay Houston, Alvin Friendswood Veterinary Clinic, Friends for Life, The American Dog Magazine, the Pet Studio, No Kill Nation, Urban Paws, Pets & People Alliance, Animal Wise Radio, Texas Dogs and Cats, Operation Pets Alive, Hope, and Pups Scout.
The seminar has been called,
A prerequisite for rescue groups and organizations that are serious about changing their communities to No Kill.
For more information and to register, click here.
California requires public and private shelters to release animals who are not "irremediably suffering" to nonprofit animal rescue and adoption groups with Internal Revenue Code §501(c)(3) status, as long as those groups request the animals "prior to [the animal's] scheduled killing." This "rescue access provision" is part of the Hayden Law (also known as Chapter 752, Statutes of 1998), which first went into effect on July 1, 1999. An analysis of this provision conducted by an attorney at one of the largest law firms in the world concludes that over the last ten years since its enactment, the Hayden Law has led to many concrete, positive changes for shelter animals and the rescue groups committed to saving them.
In particular, the "rescue access" provision of the Hayden Law has empowered nonprofit groups to save more animals' lives, to lower killing rates in our shelters, and also to save taxpayer money.  The law has also led to positive culture changes in shelters. In one case prior to its enactment, shelter employee hosed down the cage of a dog that had just had puppies, resulting in one of the puppies being swept down the drain and drowned. The shelter not only neglected animals, but it also refused to work with rescue groups. In fact, the shelter was a prime example of why the rescue access provision was so essential, despite the common myth that shelters would never act irrationally and immorally by wasting taxpayer money  by killing and disposing of animals that rescue groups were willing to save. Thanks to the Hayden Law, the number of cats and dogs rescued from that shelter immediately started to increase from zero before Hayden was implemented to over 1200 cats and 2500 dogs annually. And now that rescue groups have legal access and no longer fear retaliation, they have successfully lobbied for overall improvements in shelter operations.
Other species entering shelters also benefit from the Hayden Law's rescue access provision, not just dogs and cats. While rabbits are the third most popular pet after dogs and cats, most shelters in California prior to the enactment of the Hayden Law did very little for them. The Hayden Law places cats, dogs, and small animals on the same footing. Thus, the fact that the Hayden Law establishes mandatory rescue access for small animals as well as cats and dogs has helped create a more vibrant and professional small animal rescue community. As a result, more rabbits and other small animals are getting out of shelters alive.
Before the Hayden Law, there was great variation in how willing public shelters were to work with nonprofit groups: "Some are better than others, some more proactive, some more difficult… Some still think they're [role is to] house and kill [animals]." One shelter went from refusing to give any animals to rescue groups despite the highest killing rate in the state to transferring over 4,000 animals a year. Not only did this save lives, but taxpayer money as well. In fact, one analysis found taxpayer savings of nearly $500,000 a year in one community as a result of these public-private partnerships.
By contrast, in states with no equivalent of the rescue access provision of the Hayden Law, rescuers have a much more difficult time trying to save lives and improve shelters; in the absence of any legal mechanism to require that shelters work with rescue groups, rescuers are fearful of the shelters' unchecked power to retaliate against them. The result is that animals who are neglected and even abused in shelters are more likely not to be helped, and animals who would otherwise be rescued are killed instead.
Aside from the emotional toll on rescuers, the fact that many rescue organizations cannot operate effectively due to retaliation from shelters only reaffirms the need for rescue access laws in states outside of California. In New York and Washington, for example, rescue groups state that the lack of a rescue access law has caused many of them to lose rescue access because they criticized shelters publicly.
Overall, the past ten years of experience with rescue access legislation in California reveal that rescue groups can significantly increase the number of animals saved and significantly decrease shelter killing rates and expenditures. Although there continues to be resistant shelter managers, there have been many improvements as a result of the Hayden Law. Moreover, there is no evidence that the problems predicted by some when the law was considered, such as hoarding or exposing the public to dangerous dogs, has ever materialized.
Read the report by clicking here.
Learn about rescue access laws by clicking here.
Lobby to have them introduced in your state by clicking here.
Learn more by clicking here.
The Honorable Micah Kellner, protector of shelter animals, champion of shelter volunteers, has just introduced legislation to make the "rescue dog" the official dog of New York State. Laws should not only prescribe what we expect, they should not only proscribe that which causes harm, they should set a bar of what we hope to aspire to as a society.
THE PEOPLE OF THE STATE OF NEW YORK, REPRESENTED IN SENATE AND ASSEMBLY, DO ENACT AS FOLLOWS:
Section 1.  Legislative intent. Throughout history, art and literature have  depicted  humans in all walks of life and social strata with dogs, illustrating their widespread acceptance in everyday  life.  Some  religions  even incorporated them into their worship. Indeed, dogs have long been admired for the purity of their  character  traits,  with  military annals  documenting  the  wartime bravery and courage of dogs in the K-9 Corps. Closer to home, our own culture is  populated  with  examples  of  the well-established  place  dogs have found in our hearts and homes. People of all ages, but particularly the elderly and  the  young,  enjoy  their  companionship. For single people, dogs offer a welcome relief from loneliness.  For  children,  an  animal  in  the home contributes warmth and unconditional love, and teaches responsibility and consideration for the needs of another creature. Those who suffer from disease or injury experience a therapeutic, even spiritual, benefit from their presence. Dogs do so much good for the community: they give us a sense of  optimism,  safeguard  us  from depression and loneliness, and break down the barriers that isolate us from one another. Their presence  improves  our health, protects us from danger, and teaches us about caring and responsibility. And they ask for so little in return.
Sadly,  as  many as 4 million dogs enter animal shelters in the United States each year.  Over 90 percent of these dogs are savable.   Most  of  them  are simply victims of circumstance, ending up in a shelter through no fault of their own: a person moves, a couple divorces, a job is lost, someone gets ill or dies. Most of the dogs  are  healthy,  well-behaved, and even housetrained.
Unfortunately,  some  people  perceive  rescue  animals  as "damaged," concerned that the reason they are in the shelter is  because  something is wrong with them. Nothing could be further from the truth. But because of that perception, some people choose not to adopt. Tragically, roughly  half of all dogs in shelters are killed. The  deaths  of  these  innocent  animals  can  be  prevented  through  adoption. Shelter and rescue animals are eager to become beloved members of a family, unconditionally loving  and  loyal  pets,  grateful  for  a second chance.
While  some with special needs might need a little extra TLC, they can become members of loving homes, as many  of  the  dogs  saved  from  the horrific dog fighting operation in the Michael Vick case have proven. Adopting  an animal from a shelter or rescue group eases the burden on the shelter or rescue group, enabling it to continue to serve the community by taking in other  unwanted  or  needy  animals.  Generally,  dogs  adopted  from  shelters  or  rescue  groups are neutered or spayed, thus  reducing the number of homeless dogs in the state.
There are many benefits to adopting an animal from a shelter,  ranging from the ownership support services that most shelters and rescues offer to  the ability to adopt a dog that is already trained and housetrained. Many animal shelters and rescue organizations provide new owners with an  array of material concerning their new pet's  personality,  temperament,  habits  and  other  general  qualities, and relating to training, common  behavior problems, feeding, general care and more. In addition, there is  the satisfaction of knowing that  through  adoption,  a  life  has  been  saved.
As  with  the  designation  of  other state symbols, such as the state flower or state tree, designating the rescue dog as official  state  dog  will  serve  an  important  educational function. The state will promote  humane education, providing opportunities for children in particular  to  learn about adopting rescued animals, as well as about the importance of  measures  such as spaying and neutering pets, providing them with microchip identification implants, and providing responsive pet  care—all  of which have been proven to reduce the number of animals arriving in shelters.
The  legislature  hereby  finds  and declares it necessary and in good policy of the state to promote and encourage  the  adoption  of  animals  from  animal  shelters  and animal rescue organizations and to recognize  the services these entities provide.
Section 2. The state law is amended … to read  as follows:
STATE DOG.  THE RESCUE DOG SHALL BE THE OFFICIAL DOG OF THE STATE OF NEW YORK. AS USED IN THIS SECTION "RESCUE DOG" MEANS A  DOG  OF ANY  BREED OR MIXTURE OF BREEDS RESCUED AND ADOPTED FROM AN ANIMAL SHELTER OR RESCUE GROUP LOCATED IN THE STATE.
For more information, click here.
Assembly Member Linda Rosenthal has indicated she wants to introduce legislation for an official state cat and "is thinking something feral, something that runs the streets." Bravo!
Mr. Picklechips, a rescue dog, urges a "Yes" vote on A.B. 6681

The Power of Rescue Five-O is the Power of YOU!
Yesterday's announcement of Rescue Five-O resulted in over 1,000 Facebook followers in just a few hours. Clearly the time is ripe to harness the power of our democracy. The No Kill movement has always been a grassroots movement and it remains so today. We've had no leadership from any of the large, wealthy national organizations. The Humane Society of the United States is working against us. The ASPCA is working against us. The American Humane Association is working against us. The National Animal Control Association is working against us. Best Friends is working against us. And Maddie's Fund has been asleep at the wheel.
Yet even in the absence of a large, wealthy organization working to advance the No Kill philosophy, we are winning. We now have No Kill communities nationwide, in California and New York; in Virginia and Michigan; in Minnesota and Kentucky; in Indiana and elsewhere. We have tremendous public support. There are countless websites and blogs dedicated to a No Kill nation and Facebook pages for No Kill from every state. And we are defining the debate. In Wake County, North Carolina, the county is specifically looking for a new municipal shelter director "to implement animal care and welfare programs and services to achieve and maintain No Kill status at the Wake County Animal Center." And we have penetrated popular culture. In the hit movie, Hotel for Dogs, we were told kill shelters were bad and No Kill shelters were good. In a recent movie review in the San Francisco Chronicle, the reviewer described the movie as so good and touching, it made him want to go out and volunteer at a No Kill shelter. Not just any shelter, but specifically and exclusively, a shelter that does not needlessly kill animals.
Now we must harness that groundswell of support to make the changes we want to see. In the United States today, other than strays, most shelters can kill every single animal who comes through their door. It doesn't matter if they are healthy or sick, young or old, friendly or scared, the choice is up to them. If the animal was surrendered by a family, he or she can be killed within minutes of arriving. No meager holding period. No chance at adoption. No food, water, or shelter. Just a trip from the front counter to the gas chamber or to be poisoned with an overdose from a bottle marked "Fatal-plus." If the animal came in as a stray, he or she will be held from 48 hours to 10 days depending on the state, and then they too can be put to death with no opportunity or chance for adoption. Just a one-way ticket to the morgue. That is the status quo and that needs to change.
Although replacing regressive directors with progressive ones must remain one of our most strident goals, we need to transcend personalities. Because while things improve under good leaders, and that is important because it means lives saved immediately, when that director leaves the organization, the No Kill vision can quickly be doomed. That is why an organization can be progressive one day, and regressive, the next.
We have—and embrace—voting rights acts, environmental protection laws, and laws against discrimination based on gender, race, and sexual orientation. Ultimately, such laws are essential to ensure that fair and equal treatment is guaranteed, not subject to the discretion of those in power. We should demand that the killing end, now and forever, regardless of who is running the shelters. And we get that in only one way: by passing shelter reform legislation which removes the discretion of shelter directors to ignore what is in the best interests of animals and kill them.
Two states already make it illegal to kill animals if a rescue group is willing to save those animals. One of those states makes it illegal to kill animals if there are empty cages. This year, the states of Texas and Rhode Island have introduced shelter reform legislation, and New York will do so shortly. And two more states are lined up to do so soon as well. We want, and the animals deserve such legally mandated protections in every state. If we prescribe, through law, how shelters must operate by forcing them to adopt the programs and services of the No Kill Equation, then we take a huge step forward towards a No Kill nation and save millions of animals every year.
To do that, the No Kill Advocacy Center and the No Kill Nation have partnered to bring you Rescue Five-0, a campaign to pass shelter reform legislation, specifically, the Companion Animal Protection Act (CAPA) in each and every state. We are going to work with and empower animal lovers across this country to harness the power of our democracy.
First, we have softened the ground by sending 7,400 copies of my book Redemption, a cover letter explaining why CAPA is needed, a copy of CAPA, and a brochure to show how CAPA saves lives, saves money, protects public health and safety, and is popular with voters to each and every Assembly Member, each and every Senator, and each and every Governor in every single state house across the country. We also let them know that we have attorneys who are ready, willing, and able to assist.
In many states, it is too late to introduce legislation this year and our timing is by design. If the experience of Oreo's Law taught us anything, it is that there is going to be tremendous opposition by the status quo, especially in the beginning. That will decline with time, as more states introduce and pass similar laws. But if you are a rescue group, advocacy organization, or No Kill shelter that is interested in getting CAPA introduced and passed in your state (or county), you will need to mobilize against this opposition over the legislative recess and line up support so you can hit the ground running next year.
The Rescue Five-O website has a guide on how to introduce and pass legislation and a guide for legislators on the importance of CAPA, including word versions of model shelter reform legislation. Also available is an 11-year analysis of the Hayden Law and how its rescue access provision has been an unqualified success, other studies in support of CAPA type laws, a video guide to political advocacy, and much more.
In addition, No Kill Nation has a network of over 100,000 animals lovers nationwide that can be mobilized to create groundswells of public support for these laws whenever and wherever they are introduced; while the No Kill Advocacy Center has recruited attorneys who can modify legislation and draft amendments. And over the next few months, we'll be offering more resources including two more elements to this battle: A primer on how to remove regressive directors at the local level, and a guide on how to conduct effective political advocacy to influence city councils, boards of supervisors, and town commissioners.
The rest is up to you. Are you a rescue group, advocacy organization, or a No Kill shelter that is adept at getting media? Are you politically well-connected? Can you mobilize your members and supporters? If so, consider leading the charge to pass CAPA in your state. We need you to take this battle on so we can be everywhere, a decentralized, moving target that the opposition can't anticipate and therefore can't effectively oppose. While HSUS, ASPCA, Best Friends, and the others have the influence of money and a falsely earned reputation, we have the numbers and we have the truth, and with that, the hearts and minds of the American public. And that is how we will prevail. We've already neutered HSUS. They were once the main opponents of these types of laws, they now cower in their neutrality. The American Humane Association is so out of touch, they have no idea what we are talking about. To AHA, Oreo is a cookie.
But to the rest of them, especially to the ASPCA and Best Friends, if they are going to fight us, then they'll have to do so on multiple battle fronts, and risk exposing to every rescue group, every No Kill shelter, and every animal lover, what they really are and who really speaks for the animals. That will leave them only two choices: Join us, or get out of our way. Because we will prevail. Together, we will win the long overdue protections the animals entering our nation's shelters deserve, and no one is going to stop us.
——————-
For further reading:
Rescuing Animals from Death by Reforming Our Nation's Shelters in All 50 States

The No Kill Advocacy Center and No Kill Nation are excited to announce the launch of their joint campaign to create a No Kill nation: Rescue Five-O. Working with grassroots activists across the country, Rescue Five-0 will seek the introduction and passage of The Companion Animal Protection Act (CAPA) in every state, model legislation which mandates the implementation of the proven life-saving programs collectively known as "The No Kill Equation."
To launch the campaign and to inform legislators regarding the urgent need for shelter reform, Rescue Five-O has sent model CAPA legislation, a brochure explaining the need for such law, and a copy of Redemption: The Myth of Pet Overpopulation and the No Kill Revolution in America to every state legislator in the country: 7,400 in all. No Kill activists are encouraged to take advantage of this profound and unprecedented educational outreach to our nation's lawmakers by requesting that their own legislators follow the lead of Texas, Rhode Island, and New York, where versions of CAPA have already been introduced, as well as Delaware, where CAPA became state law last year after its unanimous passage through that state's legislature.
CAPA mandates simple, life-saving practices that most people would be shocked to know are not already standard operating procedure at our nation's shelters, and which, if implemented nationwide, would save the lives of millions of animals being systematically killed in our nation's shelters every year. Among other equally common sense provisions, CAPA bans the common practice of killing animals despite empty cages, and mandates that shelters must allow rescue groups to save the lives of animals they are planning to kill. In short, CAPA requires shelters to implement the programs and services which have already succeeded in creating No Kill communities throughout the nation, but which the majority of shelters in this country have refused to adopt willingly.
We have known how to end the killing at our nation's shelters for over a decade now, and in more communities than ever before, we have. Unfortunately, the vast majority of shelters in this country refuse to follow the proven, life-saving mandates prescribed by the Companion Animal Protection Act, and millions of dogs and cats are killed in our nation's shelters every year as a result. Progressive laws which reform our shelters by requiring them to operate according to the most innovative and progressive standards is the right of every animal entering our nation's shelters, and every animal loving, taxpaying citizen.
No Kill Advocacy Center attorneys will be available to assist grassroots activists through the legislative process in their states, while the vast network of animal activists created by the No Kill Nation will be mobilized to support CAPA wherever it is introduced.  In the last several years, the No Kill movement has grown at an astonishing pace.  Activists nationwide want to see an end to the killing, and are anxious for substantive ways they can make that happen. We are thrilled to offer a means to harness all of that compassion, dedication and determination. Rescue Five-O provides animal lovers with a straightforward, concrete means to assist in the creation of a No Kill nation through the democratic process.  And we will use our vast network of animal lovers to create groundswells of public support for these laws whenever and wherever they are introduced.
Rescue Five-O's Companion Animal Protection Act is part of a three-pronged approach to nationwide shelter reform: leadership, political advocacy, and legislation.
Activists, Legislators and media are encouraged to visit Rescue50.org  for the latest news on CAPA nationwide and for free downloads of model legislation, supplemental materials and a how-to legislative primer for activists, "There Ought to be a Shelter Reform Law: An Activist's Guide to Passing Humane Legislation."
For more information, click here.
All American Vegan
There are few things in life as exciting as receiving an advance copy of your book in the mail. OK, that is not really true. There is the day I walked in the room and saw Jennifer for the first time. And the day we got married. Instead of running to their mother when something happened, the first time my kids finally, finally, finally, reached out and cried for daddy. Then there was the day I got my acceptance to Stanford. The day we closed our doors on December 31 in Tompkins after achieving a first-of-its-kind No Kill year. Also, getting my driver's license. Passing the California Bar Exam. Chasing a stray dog for hours and finally coaxing him in the car.
But, still, opening the package and seeing your book, years of work, in all its published glory is really exciting. And I must say, the recent arrival of our author copy of All American Vegan did not disappoint. Is that my wife and I on the cover in a rendition of American Gothic? Why yes it is! Is that me on the "Hocus Pocus, It's Vegan!" page as a vegan wizard and my wife as a fairy? Why yes it is! Look for it December 1 in a bookstore near you, just in time for Christmas and those New Year's resolutions.
And I promise you there is nothing like it out there. Where else can you find me as a wizard, get delicious vegan versions of American favorites, and find out what on Earth the Aztecs, Julius Caesar, The Canterbury Tales, Harry Truman, Michael Buble, Ozzy Osbourne, the Theory of Relativity, Ronald Reagan, Harvey Milk, Martha Stewart, Beaujolais-sipping coastal liberals, Rube Goldberg, the Boston Tea Party, the first moon walk, and the Protestant Reformation have to do with vegan cooking. And jokes. Lots and lots of jokes. Over 90 recipes, nearly 200 illustrations, and no vegetables.
If you want sneak peeks and to stay updated, join the All American Vegan facebook page by clicking here.
Redemption
Better late than never. Next week, Redemption will become available as an e-book through Amazon, B&N, iTunes, and other booksellers for your Kindle, Nook, iPad, and other e-reader. Irreconcilable Differences is already available as an e-book.
Now when someone challenges you on No Kill, the myth of pet overpopulation, why the cages are empty, PETA's reign of terror, why feral cats have a right to live, whether we can adopt our way out of killing, saving pit bulls, and the history of the movement, you'll have it all at your fingertips.
Kill Shelter Portraits
Mark Ross' haunting images of animals in kill shelters will hit bookstores on September 6. Not only will it help change the status quo, but part of the proceeds of the book benefit the No Kill Advocacy Center.
You can preorder the book today by clicking here.
A bit of housekeeping. People have tried to reach out to me on Facebook, but they have done so on other pages such as No Kill Nation and No Kill Revolution and then claimed I never responded. Though I am grateful for the number of Facebook pages based on my book Redemption, I am not officially involved with any of them. (There are also community pages about me and my books.)
Though I occasionally comment on these pages–and my organization the No Kill Advocacy Center is partnering with No Kill Nation on a number of very exciting projects including the No Kill Conference–if you want to reach out to me on Facebook, my page is at facebook.com/nathanwinograd. (I also help administer the pages for the No Kill Advocacy Center and my upcoming book, All American Vegan.)
I wanted to make sure if people did reach out to me on Facebook, they did not think I was ignoring them as a number of people have suggested. Also, there has been some concern for positions taken on other pages and wanted to make sure people understood that any views expressed on those other pages are not necessarily mine.
Now, go to Facebook and join the discussion.
The New York Times finally has an Op Ed piece about so-called "invasive" species that is not over-the-top fear mongering with the ethically bankrupt premise that preaches mass slaughter of animals (and plants) in order to return the world to a mythical state we can never return to. Hugh Raffles writes that:
[J]ust as America is a nation built by waves of immigrants, our natural landscape is a shifting mosaic of plant and animal life. Like humans, plants and animals travel, often in ways beyond our knowledge and control. They arrive unannounced, encounter unfamiliar conditions and proceed to remake each other and their surroundings. Designating some as native and others as alien denies this ecological and genetic dynamism. It draws an arbitrary historical line based as much on aesthetics, morality and politics as on science, a line that creates a mythic time of purity before places were polluted by interlopers.
He also debunks the false underlying premise of the "Invasion Biology" school that migration of plants and animals is inherently bad, stating that "non-native plants and animals have transformed the American landscape in unmistakably positive ways. Honeybees were introduced from Europe in the 1600s, and new stocks from elsewhere in the world have landed at least eight times since. They succeeded in making themselves indispensable, economically and symbolically. In the process, they made us grateful that they arrived, stayed and found their place."
Today, a species's immigration status often makes it a target for eradication, no matter its effect on the environment. Eucalyptus trees, charged with everything from suffocating birds with their resin to elevating fire risk with their peeling bark, are the targets of large-scale felling. Yet eucalyptuses are not only majestic trees popular with picnickers, they are one of the few sources of nectar available to northern Californian bees in winter and a vital destination for migrating monarch butterflies.

Or take ice plant, a much-vilified Old World succulent that spreads its thick, candy-colored carpet along the California coast. Concerned that it is crowding out native wildflowers, legions of environmental volunteers rip it from the sandy soil and pile it in slowly moldering heaps along the cliffs. Yet ice plant, introduced to the West Coast at the beginning of the 20th century to stabilize railroad tracks, is an attractive plant that can also deter erosion of the sandstone bluffs on which it grows.
Finally, he shows why trying to stop it is to propose a slaughter with no end as "efforts to restore ecosystems to an imagined pristine state almost always fail: once a species begins to thrive in a new environment, there's little we can do to stop it. Indeed, these efforts are often expensive and can increase rather than relieve environmental harm."
Read "Mother Nature's Melting Pot" by clicking here.
For further reading:
There Are no 'Alien' Species on Planet Earth
Rescue Group: Our group is ready, willing, and able to save animals in your shelter.

Shelter: No.

ASPCA, Maddie's Fund, HSUS: You should collaborate.

Shelter: No.

Rescue Group: We want to collaborate, but they refuse to do so and kill the animals we are willing to save.

ASPCA, Maddie's Fund, HSUS to Rescue Group: No one wants to kill so stop bashing and trashing!
Defenders of shelter killing often argue that we should all get along. But how can rescue groups get along when shelters refuse to collaborate with them, choosing to kill the animals instead? Moreover, rescue groups must endure hostile and abusive treatment by shelter employees and directors who undermine and fight their lifesaving efforts every single day; efforts at collaboration and cooperation that fall on deaf, defiant ears.
That is why laws making it illegal for shelters to kill animals who rescue groups are willing to save are important and a key aspect of achieving and sustaining a No Kill nation. Thankfully, despite the fact that groups like Best Friends, the ASPCA, and the Mayor's Alliance for NYC Animals fear monger about hoarding in order to maintain their power, several states, such as Texas, Rhode Island, and New York, are following the lead of California and Delaware by taking up legislation to give rescue groups a legal right to save animals shelters are determined to kill.
In the No Kill movement, our mission is two-fold. First, we must reform our nation's broken animal sheltering system so that the animals who enter them will get the chance at life millions are now so cruelly denied. But reforming a shelter, wearing down the opposition, forcing the replacement of a regressive director with one dedicated to saving lives—all of these things take time. And time is one thing that animals entering shelters today do not have. To help these animals, we need to offer something more immediate. They need a way out. They need rescuers who want to save them to have the power to do so even when a director says, "No." And they need that now, because tomorrow will be too late.
The second goal of the No Kill movement is therefore to arm those who want to save animals with the power to do so. Like the network of "safe houses" which protected runaway slaves as they fled north to freedom, the thousands of rescue groups, No Kill sanctuaries and No Kill shelters throughout our nation are our movement's own safe houses. And they must be supported, and empowered through law. That goal is, in fact, fundamental to what our movement is all about, because that is what the animals most desperately need. And not only will doing so save animals today, but it will save them in perpetuity since the power of one director to say "Yes" to saving lives can be taken away by the next director who says "No," absent a law to the contrary. That is why a shelter can be progressive one day, and moving in the opposite direction the next. Animals should be saved regardless of who is running our shelters and legislation like rescue access laws give rescuers the power to do so.
Rescue Access Laws save animals
A 2010 statewide survey of rescue groups in New York State found that 71% of non-profit animal welfare groups have had at least one NYS shelter refuse to work collaboratively and then turned around and kill the very animals they were willing to save. This is inhumane and bad public policy. Rescue Access Laws would make it illegal for a shelter to kill an animal when a qualified non-profit organization is willing to save that animal. This maximizes the number of animals who are saved, while reducing the numbers killed.
Rescues Access Laws save taxpayer money
Most rescue access laws are modeled after a similar law which has been in effect in California since 1998. An analysis of that law found that sending animals to non-profit animal rescue organizations saved the City and County of San Francisco $486,480 in publicly funded animal control costs. These laws save taxpayer money by mandating public-private partnerships that not only reduces expenses associated with having to care for, then kill and dispose of an animal, but transfer expenses from taxpayers to private philanthropy. Under some of these laws, shelters can also charge the cost of an adoption to those groups, thereby bringing in needed revenues and defraying any costs associated with implementation.
Rescue Access Laws provide whistleblower protections
A 2010 statewide survey of rescue groups in New York State found that 43% of groups have been the subject of retaliation by shelters after they expressed concerns about inhumane conditions which they have witnessed in New York State shelters, while over half (52%) who have witnessed such conditions  did not express concerns—and simply looked the other way—because they were afraid if they did complain, they would no longer be allowed to rescue, thus allowing those inhumane conditions to continue. By giving non-profit organizations the legal right to save animals scheduled to be killed, these laws remove the power to condition lifesaving on silence as to inhumane conditions, and sometimes criminal behavior, witnessed by rescuers.
Rescue Access Laws level the playing field
All non-profit organizations have identical rights and responsibilities before the law. Rescue Access Laws seek to protect those rights by leveling the playing field between the large non-profits which have all the power and the small non-profits who are prevented from fulfilling their lifesaving mission when these larger organizations refuse to collaborate with them in order to save more lives.
Rescue Access Laws improve the emotional well-being of shelter staff
Studies show that staff members responsible for killing animals in shelters are vulnerable to emotional trauma, exhaustion, and burnout. These laws would spare staff from killing animals, when those animals have readily available lifesaving options.
Rescue Access Laws protect public health and safety
Rescue access laws specifically exclude dangerous dogs and irremediably suffering animals.
Rescue Access Laws protect animals from harm
In New York, the legislation specifically excludes organizations with a volunteer, staff member, director, and/or officer with a conviction for animal neglect, cruelty, and/or dog fighting, and suspends the organization while such charges are pending. It also allows shelters to inspect the group when probable cause exists to believe an animal would be put in harm's way. In California, the law requires rescue organizations to be incorporated as non-profit public benefit corporations under Internal Revenue Code Section 501(c)(3), which improves oversight of rescue groups. Moreover, a 2010 NYS survey revealed that 70% of organizations performing animal rescue which are not incorporated would do so if rescue access was mandated by law. This would require them to file articles of incorporation, to recruit a Board of Trustees, and to subject themselves to both state and federal mandates, and place them under the supervision of the Attorney General's Office.
Furthermore, in a New York Times interview, the ASPCA conceded that dog fighters do not seek animals from shelters and hoarders have other available sources of animals. Not only is it highly unlikely that they will make themselves known to shelters, for example, but there is no adoption screening at Animal Care and Control of New York City, the state's largest volume shelter system. Any person can adopt from ACC. If hoarders and dog fighters wanted access to animals, they are more likely to adopt than go through the expense of having to become incorporated and then seek to get animals via a rescue access law, that only contains provisions for inspection.
Rescue Access Laws improve shelter operations
Rescue Access Laws reduce the number of animals shelters kill. It reduces costs for killing. It brings in revenue, through adoption fees.  And it transfers costs from taxpayers to private organizations, funded through philanthropic dollars. While some rescue access laws require shelters to notify non-profit organizations of animals they are going to kill, this can be accomplished through computer programs that do this automatically which are available at no cost to shelters.
Rescue Access Laws are good bipartisan policy popular with voters
Rescue Access Laws pending in NYS, Rhode Island, and Texas are based on a similar law in California which was passed in 1998 with overwhelming bipartisan support in California—96 to 12. It made no sense to California legislators that taxpayers were spending money on killing animals when non-profit organizations were willing to spend their own money to save them. Legislators also found that public shelters that killed animals when those animals have a place to go did not reflect the humane values of their constituents. And despite concerns raised by shelters while that law was pending similar to those raised in other states, none of the fears expressed have materialized. In addition, the State of Delaware recently passed similar legislation. The bill, mandating collaboration between shelters and rescue organizations, passed both houses of the Delaware Legislature unanimously.