There is No Such Thing. 
The No Kill Advocacy Center defines "irremediable physical suffering" as an animal who has "a poor or grave prognosis for being able to live without severe, unremitting pain even with comprehensive, prompt, and necessary veterinary care," such as animals in fulminant organ system failure. But some shelters and their allies have suggested that the definition is too narrow as it does not allow for mental suffering.
Several years ago, for example, the ASPCA authored legislation in New York which would have allowed shelters to kill animals, with no holding period of any kind, if those animals were deemed to be in "psychological pain." The killing of these animals, it was argued, was morally justified because it was ostensibly being done in their best interest. Even if we assume this was not dissimulation, although it most certainly was, the argument rested on a premise that has never been properly vetted—whether or not there is such a thing as "irremediable psychological suffering." Moreover, there were no standards on how the shelter would make that determination, no objective measures on how it should be applied, no mandatory training or credentials on the part of the staff to do so.
Under the ASPCA-sponsored bill, if any two shelter employees—including the janitor, the receptionist, or a kennel attendant—believed that an animal was in "psychological pain," that animal could have been killed immediately, before the animal's family came to look for him, indeed, before anyone even knew he was missing. In essence, this bill was designed to allow for the killing of animals by people unqualified to make such a determination, and in the absence of any measurable, objective criteria to do so.
Since then, others have tried to do similar things in other states. But even if the bill (and subsequent ones) did not have these procedural defects; if it had been written with more rigor—strict criteria, mandated training of personnel, tested tools and evaluation strategies, the involvement of people who understand the science of animal behavior and have an in depth knowledge of the data, the concurrence of a veterinarian board certified in behavior medicine—would that change the primary defect? Can dogs, cats, and other animals be so traumatized that they should not be—indeed would not want to be—alive? In short, is there such a thing as "irremediable psychological suffering"?
No. There is no such thing as an animal who is irremediably psychologically or behaviorally suffering.
Read my article explaining why in The Huffington Post by clicking here.
————–
Have a comment? Join the discussion by clicking here.
Today is the six year anniversary of the ASPCA's killing of Oreo, an abused dog, who a No Kill sanctuary offered to save. Oreo was a one-year-old dog who was thrown off the roof of a six-floor Brooklyn apartment building in 2009. She suffered two broken legs and a fractured rib. Several of the neighbors in the building reported having heard the sound of her being beaten. The ASPCA nursed her back to health and arrested the perpetrator. They also dubbed her the "miracle dog" and fundraised off her plight, reportedly raising millions. But the miracle was short lived.
According to then-ASPCA President Ed Sayres, when Oreo recovered from her injuries, she started to show signs of aggression. After the money was counted and safely deposited into ASPCA bank accounts, Sayres made the decision to kill her. (Although there were videos taken of Oreo, the ASPCA has refused to release them and the only public documentation of Oreo is photographs of ASPCA employees standing next to and hugging her—their own faces inches from hers—which do not demonstrate any aggression).
If it was true that Oreo was still traumatized and untrusting, who could blame her? She needed time. Although the ASPCA could have cared for Oreo as long as it took to get her to trust again, Sayres refused. But others came forward to offer what the ASPCA would not: time and space to learn that not all humans are abusers. A No Kill sanctuary near the ASPCA which specializes in rehabilitating aggressive dogs (and, if that proves impossible, safely caring for them for the rest of their lives), contacted the ASPCA to ask if they could assume responsibility for Oreo. They made numerous telephone calls and sent numerous emails. They were ignored, hung-up on and lied to. Two volunteers of the group even went to the ASPCA but were escorted out after Sayres and others in charge of Oreo's fate refused to meet with them.
On a cold, Friday morning on November 13, 2009, Oreo was killed; not by her abuser, but by those whose mission it was to protect her. The kennel that the sanctuary readied in anticipation of her arrival lay empty and unused that day, filled with a soft bed, a pool of water and several toys for her to play with. Instead, Oreo's body was discarded in a landfill.
After Oreo was killed, "Oreo's Law" was introduced in New York which would have made it illegal for shelters, including the ASPCA, to kill animals who rescue groups were willing to save. It was estimated that if the law passed, roughly 25,000 animals a year would be saved.
Sayres made it his personal mission to ensure that they would not be and succeeded in killing the law every year it was introduced. Tragically, national and local organizations rallied behind the ASPCA, including Best Friends, HSUS, PETA, and the Mayor's Alliance for New York City Animals. Shelters, we were told, should not be second guessed. Thanks to them, instead of being sent to rescue, an estimated 150,000 animals have been killed since.
It is not easy to conceptualize 150,000 dead dogs and cats, animals who would have been saved had Oreo's Law not been defeated. But if you were to weigh them, they would weigh 3,375,000 pounds, the equivalent of four Boeing 747s. If you were to put a dead body in each seat at Yankee stadium, they would fill the entire stadium… three times. If they were lined up end to end, the trail of dead bodies would be 45 miles long. It would take you 15 hours of walking to see them all.
Instead of enjoying the second chances and loving new homes rescue groups would have guaranteed them, they are dead, their bodies rotting in New York State landfills. Since then, Sayres left the ASPCA and, no surprise, took a job as a lobbyist for the puppy mill industry. He no longer has to pretend he actually cares about animals. His supporters have been silent about his new career, quietly distancing themselves from him.
Unfortunately, Sayres' replacement Matthew Bershadker continues the tragic legacy. Bershadker put out a statement last month saying shelters should "not [be] required, to seek placements of animals being considered for euthanasia with partner 501(c) (3) animal rescue organizations."
Meet the new boss, same as the old boss.
Oreo would have been seven years old today.
————–
Have a comment? Join the discussion by clicking here.
People familiar with my work know I disagree (at times vehemently) with some of the positions taken by the large, national groups such as the Humane Society of the United States, the ASPCA, and PETA when it comes to companion animals in shelters.
I know this often leads to confusion, with people unsure of whom to believe, as if the right or wrong position comes down to personalities, rather than values or the outcomes resulting from them.
I would like such people to think about the issue this way: You don't have to believe either of us; what is right or wrong does not come down to who is advocating a particular position, but which position is most likely to foster the kind of outcome you, as an animal lover, would like to see. In fact, your duty to animals requires that you make up your own mind, rather than relying on any one person or organization to tell you what to believe or to do. Humans are fallible. They are also capable of being manipulated. People who we respect can get it wrong. They can also change, become corrupted by power or their proximity to power, causing them to shift priorities so that we while we may believe it is safe, given their history, to defer to them, their calculations and allegiances are no longer in line with ours, and in deferring to them, we err. Because we can never truly know another's heart, we must come to rely on the only person we can ever fully know and trust: ourselves.
We owe the animals an open mind and thoughtful deliberation of those views that contradict our own, but we also owe them the determination to stand up for what we, in the end, determine to be the correct course of action, rather than abdicating that responsibility in order to defer to "leaders" through cultish devotion. Our duty, first and foremost, lies with the animals who face needless suffering and whose very lives are often at stake. It does not lie in allegiance to "leaders" of the animal protection movement who might be embarrassed, offended, or threatened by others challenging their wisdom or authority. And it doesn't lie with activists who regurgitate the pronouncements of those "leaders" without first thoughtfully deliberating their validity for themselves.
My hope is that, eventually, the animal protection movement will evolve to welcome rather than shrink from points of view that challenge the views of those in the greatest positions of power within our movement, not because all points of view are of identical merit, but precisely because they are not. We need more voices, not fewer, arguing, debating, innovating, and challenging tradition so that the best one can be heard and can prevail, thereby protecting animals better than would otherwise have occurred in a movement characterized by censorship and blind deference to authority. Some in the animal movement call this "divisive." I call it democracy. It is what we owe the animals in a movement of conscience.
Photo courtesy of Eileen McFall, Central California Pets Alive
————–
Have a comment? Join the discussion by clicking here.
2014 was a very good year for the No Kill movement. Here are five of some of the most significant achievements this past year:
—We're here to save animals. And so the most important achievement is the fact that they are being saved. How far has the movement come? My walk through an airport a couple of months ago on the way to New York tells the story. On layover, I noticed one of the gate monitors for a flight going to Marquette, MI, a community with a 97% save rate. At the next gate was a flight going to Duluth, MN, a community with a 95% save rate. Then I passed another: Saulte Ste. Marie, MI, with a 97% save rate. From my arrival gate to my departure gate, I walked by five gates of flights traveling to communities with save rates of 90% or better, with Ithaca, NY and St. Paul, MN, at 90%, rounding them out. (If you also include Cortland, that is six.) A couple of decades ago, that number would have essentially been zero. Today, there are hundreds, with over seven million people living in those communities.
—Of course, while we celebrate shelters that have achieved save rates of 90% are more, we can no longer accept the fiction that it signifies the achievement of a No Kill community. Admittedly, I have been guilty of commingling the two—90% and No Kill—and we shouldn't. The goal is to end the killing of all animals who are not suffering, and that includes all the animals still falling through the safety net in those communities with a 90% plus save rate, often large, exuberant dogs, shy cats, wildlife, and species of companion animals who are not dogs and cats such as rabbits, rodents and reptiles. But in 2014, shelters claiming the No Kill mantel are increasingly recognizing that the individual is paramount and are embracing a No Kill policy for all species of animals entering shelters, undoing the movement's singular preoccupation with only dogs and cats.
—In an announcement to attendees at its annual conference, the Humane Society of the United States admitted pet overpopulation is a myth, that we can adopt our way out of killing, and that shelters need only change their policies to do so. Since so much of the killing in shelters flows from shelter intransigence, pitiful adoption efforts, and the excuse of pet overpopulation, HSUS' admission brings that killing one step closer to oblivion.
—With the announcement of campaigns like the Million Cat Challenge, No Kill firmly enters the mainstream as not only are more voices jumping on the No Kill train, but formerly critical voices are, making it even easier for historically regressive shelters to do the same. As I wrote 10 years ago, "the more successful this effort is, the more No Kill will shift from being personality based (a result of the efforts of individual leaders) to becoming institutionalized." We are seeing that happen.
—No Kill is Love hits the nation. With dozens of cities and more than 5,000 people reached, Redemption, the film, changes hearts and minds across the nation. Look for its release on DVD/Amazon download in a couple of months: www.nokill.org
Of course, with any year, it also had its down sides. Here are some of the most notable ones: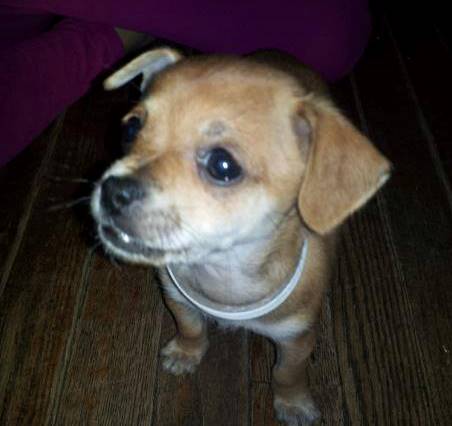 —While their mass slaughter of healthy animals is not new, PETA was caught on surveillance stealing a "healthy and happy" beloved dog in order to kill her. If there is a silver line, it is the hope that this is the beginning of the end for PETA's systematic slaughter of animals.
—Former ASPCA CEO Ed Sayres, the architect of killing over 100,000 animals since his own killing of Oreo, an abused dog, is hired as the mouthpiece of the puppy mill industry. We ignore pretenders in our midst at the animals' peril.
—HSUS
defeats the Minnesota Companion Animal Protection Act
. Sadly, though 2014 was the year of rhetoric change for HSUS, they still continue to put the limited professional interests of their colleagues before the lives of those they are pledged to protect. Though HSUS has now publically expressed support for rescue rights access and other lifesaving programs, they continue to oppose attempts to legally mandate that shelters embrace them. Statistics revealed that the 2010 Delaware Companion Animal Protection Act helped reduce killing by 78% in that state, yet Minnesota CAPA—mandating, among other things, that rescue groups be given the right to save animals on death row at shelters—was unsuccessful after HSUS privately lobbied for the defeat of that bill at the behest of a resistant Minnesota shelter director with whom HSUS had a long association.
—It's always one step forward, two steps backward for HSUS. On the issue of farmed animals, they've taken an enormous step backward, going so far as to celebrate and pay for people to kill and eat animals.
Despite these setbacks, all in all, it was a remarkable year and marks a major step forward. Let's work to make 2015 even better. Together, not only will we save lives; but we will create a future where every animal will be respected and cherished, and where every individual life will be protected and revered.
Happy new year.
————–
Have a comment? Join the discussion by clicking here.
And pays people to eat them.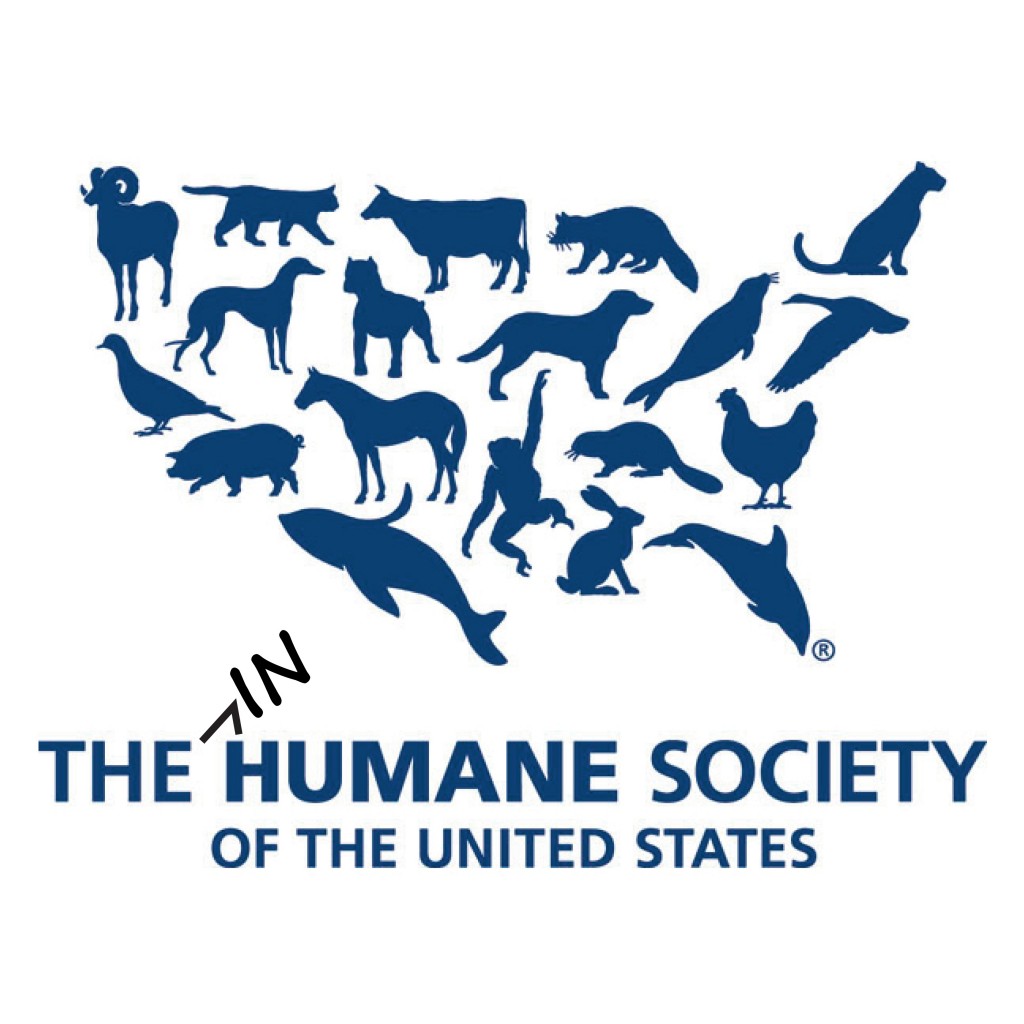 Nearly 25 years ago when I decided to dedicate my life to the cause of animal rights, I was faced with an important decision: where to focus my attention? Given my concern for
all
animals, it was a tough choice and one I weighed very carefully. Should I focus on animals used in research? Animals raised and killed for "food"? Animals in captivity? Wild animals? Both then as now, the list of issues needing attention was a long one and as a young law student at Stanford, I focused on all these issues through the campus animal rights group I founded. But several experiences helped me to answer the calling I eventually chose after graduation: working to end the killing of companion animals in American shelters.
First, I was influenced by a mother who was the neighborhood cat lady. Second, I was fortunate to have life-altering experiences working with two local No Kill shelters while attending law school. Third, I was deeply troubled by the animal protection movement's philosophical embrace of the killing of companion animals. Finally, I was inspired by the legal and societal precedent-setting potential for all animals embodied in the concern and love most Americans already have for companion animals. As a result, I decided to focus most of my time and energy on an issue which I saw almost no other activists with an animal-rights orientation addressing: shelter killing.
Over the last two decades, that is precisely what I have done. As a former director of two of the most successful shelters in the nation and the current Executive Director of the No Kill Advocacy Center, a non-profit organization working to bring an end to the systematic killing of animals in shelters, companion animals are the animals on whom I have focused most of my professional time and energy. But that doesn't mean I don't care about the suffering or plight of other animals any less. And that is why I have always lived my life according to a simple ethos: do no harm; a maxim that is reflected in what I eat, what I wear, how I spend my consumer dollars, how I respond to the animals in need who cross my path, and how I am raising my children, among other things. It is also why my wife and I authored All American Vegan, a vegan primer and cookbook that seeks to inspire other No Kill advocates and everyday dog and cat lovers to likewise embrace a compassionate way of eating.
Nonetheless, in spite of these efforts to promote veganism and my long, personal identification as an animal rights activist, some people—often those new to my Facebook page or the cause of No Kill—have certain preconceived notions about who I am or should be, and what I should be allowed to say on my own Facebook page (a form of censorship with which they would no doubt take great offense were similar limitations to be dictated to them about permissible content on their own page). And often, that means not only surprise and frustration but sometimes even anger when I post about other animal related issues that matter deeply to me but do not concern the plight of companion animals.
Sadly, it seems that there will always be a portion of the followers on my page who I cannot please: animal rights activists who accuse me of not caring about other animals beyond dogs and cats simply because I have chosen to focus most of my effort on those animals (a criticism I doubt they would ever make of other animal rights activists focusing exclusively on more traditional animal rights issues such as animal agriculture or fur), and on the flip side, No Kill advocates who attack me for expressing concern about other animals beyond dogs and cats, such as a pit bull advocate who called me an "extremist" for a comment I made on the Facebook page of a No Kill colleague in defense of chickens after other No Kill advocates defended their killing. To the latter group, the fact that I do not wish any animal to experience pain, suffering or a premature death, instead of limiting my compassion to dogs and cats labels me an "extremist." My response? To thine own self be true.
And that is why when I see the nation's large, so-called "animal protection" groups—most notably, the HSUS, the ASPCA and AHA—behaving as unethically towards cows and chickens as they have historically behaved towards dogs and cats, I must say so. Not only do the animals these groups are throwing under the bus in deference to those who systematically abuse and kill them deserve a voice, too, but there is value in exposing the hypocrisy and philosophical rot that permeates these corrupt institutions at every level. Often, people want to compartmentalize the malfeasance of these groups: to argue that their different divisions are separate and distinct from one another and that an institutional culture which allows for the thwarting of shelter reform efforts, which defends shelter killing and even celebrates shelter directors who oversee facilities where animals have suffered horrible abuse and senseless deaths, is none-the-less capable of a morally consistent and effective agenda for wild animals, animals abused and killed in agriculture or in other spheres. As several recent campaigns by these groups to promote the lie of "humane" meat clearly demonstrate, not only is this view ill-informed and naïve, but dead wrong.
A couple of weeks ago, Jennifer and I ate at one of the newest locations for a chain of vegan restaurants whose food we absolutely love: Veggie Grill. And like virtually every other time we have eaten at Veggie Grill, we were thrilled to see the restaurant not only packed, but filled with a broad array of people from all possible demographics—old and young, male and female, entire families, businessmen in suits and tattooed hipsters. This popularity is also reflected in the expansion of Veggie Grill which has opened 25 locations since its debut in 2006. With delicious, faux meat sandwiches that mimic the real thing, Veggie Grill is proof positive that if you make it delicious and familiar tasting, vegan food can have tremendously broad appeal, especially among an American public that is becoming increasingly conscious about the animal suffering and killing enabled by their consumer choices.
Perhaps it was this awareness that compelled the pizzeria next door to attempt to compete by advertising itself in two ways. On one side of the door was writing upon the window advertising its wide array of vegetarian offerings. I was happy to see a pizzeria using its meatless options as a possible selling point. But my enthusiasm for the pressure Veggie Grill was obviously placing on the pizzeria was immediately eviscerated when I noted what was written on the other side of the entry door, a statement so oxymoronic as to make my head spin: "cruelty-free meat."
Although the number of companies that disingenuously refer to their meats, eggs, and dairy products as "humane" has rapidly increased over the last several years, I had yet to encounter such a blatant co-option and misappropriation of that particular term and certainly never before to describe meat. Historically, the term "cruelty-free" has been used to describe products made without animal testing. It was coined by a vegan who never would have imagined it would someday be used to describe animals killed for food. But sadly, as more and more companies scramble to respond to a public that is increasingly weighing the moral implications of their food choices, lies like this are becoming more common. Enabling its spread are corrupt "animal protection" groups such as HSUS, the ASPCA, and the American Humane Association which not only pay lip service to the lie of "humane meat," but get rich in the process of doing so. There is a lot of money to be made partnering with the people who harm animals, and these groups are feeding at their troughs.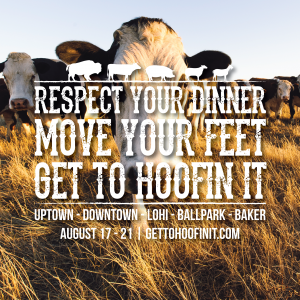 Case in point: two weeks ago, HSUS unrolled its "Hoofin' It" campaign, sponsoring a week long event in Denver celebrating the killing and eating of animals. "On Sunday you can get bison; Monday 'sheep is the star'; Tuesday is pig night; Wednesday it's cow".
The catch: HSUS claims they were raised and slaughtered "humanely." But these claims are untrue by definition. There is no such thing as "humanely" killing an animal who does not want to die, and killing animals is an inherent part of the production of meat, eggs and dairy products, as are confinement, reproductive manipulation, social deprivation, and physical mutilation, all ending with getting their throats slit. Indeed, on the Hoofin' It website, they boast of some animals being killed—or what they euphemistically call "harvested and processed"—after living only 24-30 months despite a natural lifespan of 25 years. We're told that the methods they use are important for one primary reason: they make the animals more "delicious."
Not to be outdone, the ASPCA gave money—$50,000 in donations given to them to save animals—to a for-profit company so that they can kill more chickens. And AHA, the long the ignored stepchild of the "big three," decided to top them all: awarding Foster Farms the American Humane Association's "Humane Certified" label which now appears on the package of every dead Foster Farms chicken sold in America, in exchange for an undisclosed sum of money and agreement to standards which often do little more than codify cruel industry practices. Like HSUS and the ASPCA, AHA lulls people into a false sense of complacency that supporting a company which abuses and kills millions of animals a year is consistent with a belief in animal protection. And what, exactly, do they mean by "humane"?
Does AHA prevent animals from being kept in crowded indoor cages in warehouses? No.
Does AHA require chickens to be allowed to go outside, to get fresh air and sunlight, to be able to act in accordance with all of their instincts to ensure their happiness and psychological as well as physical well-being? No.
Does AHA prohibit beaks from being cut off? No.
Does AHA prohibit the use of masticators—giant machines in which unwanted, live baby chicks are ground up while alive and fully conscious? No.
Does AHA prohibit chickens from being hung upside down by the legs and feet (legs and feet that are often suffering from terribly painful joint diseases), being electrically stunned, and having their heads cut off? No.
Does AHA prohibit the cutting of the teeth of piglets? No.
Does AHA prohibit cutting off the tails off pigs? No.
Does AHA prohibit the use of electrical shock on cows? No.
Does AHA prohibit the use of restraints to forcibly inseminate a cow or a pig? No.
Does AHA prohibit the use of a gas chamber to kill despite calling it "inhumane to all animals"? No.
Does AHA prohibit the castration of newborn calves by a rubber band being placed around their scrotums to cut off blood supply? No.
Finally, under what warped definition of "humane" can a process that ends with animals having their throats slit possibly qualify? The kind where AHA is paid to say it is.
Whether it packaged as "humane meat" or "pet overpopulation," the idea that killing animals is acceptable if done for the right reasons, by the right people or under the right circumstances are merely different manifestations of the same insidious lie that permeates and hinders the animal protection movement at the beginning of the 21st century: that killing animals who are not suffering can ever be humane. It can't. It isn't. And if HSUS, the ASPCA, and AHA are going to claim to speak on behalf of animals and raise money off their plight, then morality and integrity compel them to challenge and stand up to this pernicious idea, not perpetuate it, even if it upsets their donors, their corporate handlers, or the people on their Facebook pages.
————-
Have a comment? Join the discussion by clicking here.
Former ASPCA President Becomes Puppy Mill Spokesperson
Ed Sayres, the former president of the ASPCA, has been hired by the Pet Industry Joint Advisory Council, an industry lobbying group that supports puppy mills and fights animal protection legislation to curtail the abuse and sale of puppy mill dogs. They fight efforts to allow people to receive sentimental damages when their companions are negligently, recklessly, or intentionally injured, such as in veterinary malpractice cases. When tainted pet food from China peddled by their members injured and killed animals, they fought efforts to ensure that families were fully compensated and that the industry was rigorously regulated. And they fight efforts to ensure that anti-cruelty enforcement provisions apply to puppy mills. To call them "anti-animal" would be an understatement. In the case of puppy mills, they embody it.
As anyone who has been following my work and therefore my cataloging of Sayres' malfeasance over the last decade and a half can attest, this news, while sickening, should come as little surprise. As head of the St. Hubert's Animal Shelter, he killed healthy dogs and cats, as Director of the San Francisco SPCA, he dismantled the programs he inherited from his predecessor that once made that city the safest community for homeless dogs and cats in America, and as head of the ASPCA, among many other sordid things, he,
Sayres current job as a lobbyist for the puppy mill industry merely continues his long tradition of undermining the welfare of animals for a handsome paycheck, with one crucial difference: he no longer has to pretend he actually cares about animals in the process. What a relief that must be for him.
In light of this news, there are many animal lovers who are expressing shock and anger. For those who know little about Sayres' actual history in this movement beyond reasonable assumptions about what the former President of the nation's largest animal charity should stand for, this response is understandable. Outrage is certainly called for. But shock? Not if you know his history. Indeed, a little reading about Sayres' sordid past will resolve any nagging confusion about how he could possibly do such a thing. He is merely behaving as he always has. The most pressing and important question is, How was he allowed to get away with doing the things he did for all those years when he clearly didn't care about animals?
For not only did Sayres suffer no professional repercussions for his actions (and his breathtaking professional incompetence), he was, in fact, rewarded for them. Not only was he continually promoted to ever more powerful and financially lucrative positions during his career, ending with his tenure as the President of the ASPCA where he took home $550,000 a year, but he continually enjoyed the political cover of other powerful "leaders" in the animal protection movement who time and again came to his defense, treated him as a legitimate colleague, shielded him from accountability, and, in some cases, even did his nefarious bidding. The ASPCA Board of Directors, Best Friends Animal Society, Maddie's Fund, HSUS staffers, the Mayor's Alliance for NYC Animals, and many other groups, aware of his betrayals, none-the-less partnered with, defended, gave legitimacy to, or celebrated Ed Sayres, while maligning his critics who had every right to expect better. In the case of Best Friends' Gregory Castle and Francis Battista, they helped him to defeat legislation that would have saved the lives of tens of thousands of animals a year by calling the supporters of a New York rescue rights bill and asking them to withdraw their support in deference to Sayres' opposition. Battista went so far as to say he would never support legislation opposed by Sayres, even one that promised to save tens of thousands of animals every year (ever the chameleon, Battista was shamed into doing exactly that one year later).
This sort of behavior which benefited and no doubt emboldened Sayres again and again helps explain exactly how he got away with the things he got away with: those in positions of power within our movement let him get away with it. Nor is Sayres an aberration. He is merely one of many symptoms of the disease that continues to ravage the animal protection movement at the beginning of the 21st century: a failure of authenticity and our movement to stand for inviolate principles rather than the ego- or cash-driven ambitions of those in positions of power. For the fact that Sayres will now use the power and position afforded by his title as the former President of the ASPCA to openly champion the cruel, abusive puppy mill industry, mislead the American public about that industry, and fight efforts to regulate it, we not only have Sayres and his dark, uncaring heart to blame, but his legion of enablers as well. Straight out of a Mary Shelley novel, he is the Frankenstein's monster of our movement's own creation, come back to haunt its creator.
What will these other so-called "leaders" of the animal protection movement take away from this teachable moment? Are they wringing their hands or searching their souls? Feigning shock or feeling dirty and complicit? Staying the course or finally recognizing that when a person's actions show you who they really are, you ought to believe them and act accordingly? In other words, will they now fight rather than defend individuals like Wayne Pacelle who likewise sabotage, rather than further, our cause?
Like Sayres, Wayne Pacelle of HSUS is another "leader" who works against the cause he is paid to promote, another man who sends animals to their needless deaths, who fights shelter reform efforts while celebrating those who harm animals (including rescuing from financial and professional oblivion the infamous animal abuser, Michael Vick, while simultaneously lobbying for his victims to be killed), and who works to defeat rescue rights bills and other animal protection legislation. Like Sayres, Pacelle is another emperor with no clothes, surrounded and enabled by colleagues who refuse to admit to the inconvenient truth about Pacelle for fear of jeopardizing their own ambitions, the animals be damned. Like the movement did with Sayres, will it continue to allow him to take actions that harm animals simply because he works for an organization that calls itself humane?
Here is a short list of some of Pacelle's more egregious actions:
Read more: The Indictment of Wayne Pacelle
————-
Have a comment? Join the discussion by clicking here.
A Look at HSUS' Embrace of "Open" Adoptions
When it comes to HSUS betraying animals by enabling shelter killing, I often hear from their defenders that "HSUS is changing." In fact, it is a retort I've been hearing now for better than a decade. Aside from being an admission of guilt, or at the very least, an admission of a pressing need for change, this statement, of course, begs the inevitable questions: Are they truly changing? How long is it going to take? Instead of a perpetual process of "changing," why don't they just change? And what are they changing into?
Here's a case in point. For decades, HSUS defended shelters that killed animals despite rescue groups ready, willing, and able to save them. In fact, in the 1990s, HSUS specifically told shelter directors to kill the animals rather than transfer them to rescuers, stating it "would not recommend the transfer of animals to another facility for adoption… Transport and changes in environment are stressful for animals that are already experiencing stress from the loss of their home." In 2003, for example, volunteers from a high-volume Virginia-based adoption rescue group offered to save dogs being killed in their county shelter. In a series of meetings with the county administrator and then-shelter leadership, they demonstrated not only how the group could save the lives of dogs in the shelter (by transporting them to private foster homes and then placing them up for adoption in more populated areas of Virginia), but save the county money as well: they offered to pay for the veterinary exam, vaccination, sterilization, transport, and adoption of these dogs. They had just one request: pre-killing notification to let them know which dogs faced death so that they could come and save them.
With their efforts meeting resistance at the local level, the group naively turned to HSUS assuming that they would help. Instead, HSUS sided with the shelter. In a meeting between the rescue community and local officials, HSUS' representative argued that the rescue groups were trying to hold the shelter "hostage," that their request for a "euthanasia list" was unreasonable, and that the partnership should not be implemented.
It is no surprise then that HSUS also opposed a 1998 California law making it illegal for shelters to kill animals when rescue groups were willing to save them. Thankfully, that law was passed over HSUS objections, saving over 45,000 animals a year—animals who would be dead had legislators listened to HSUS "experts."
HSUS now says it has "changed" and supports rescue rights. But what does this mean in terms of HSUS policy and action? It's not so clear-cut. For one, they've only championed such a view in California, where it has already been the law of the land since 1998; a law they long opposed and which was passed over their objection. Their alleged "embrace" of rescue rights in California is, oddly, a defense of the status quo. In other words, since it has been the law for over a decade and their friends who run kill shelters accept these provisions because they are well-settled, HSUS can support the law without angering those who run the kill shelters in that state. Because their allegiance is to those people, rather than the animals those people kill, and despite their claim to have "changed" their views on rescue rights, they continue to oppose it in other states to this very day. Several months ago, HSUS lobbyists killed a similar provision in Minnesota, helping to condemn thousands of animals there to needless death. Why did they oppose it? As HSUS itself admitted, they did so because a Minneapolis kill shelter, with which HSUS has long had a cozy relationship, asked them to. This policy regarding rescue rights shows how incomplete, disingenuous, and schizophrenic "change" at HSUS can be and it is not an aberration.
Late last year, HSUS released a "White Paper" that ostensibly told California shelters, among other things, that they should not take in healthy cats only to kill them. If they are going to kill them, HSUS wrote, it is better not to take them in. They have since repeated this view in other publications. As it relates to "feral" cats, they write, "When euthanasia [sic] is performed on healthy but unsocialized cats, it can be characterized as unnecessary, calling into question whether their deaths are actually humane." Killing these cats does not "call in to question" whether it is inhumane, it is inhumane. Their language may be an improvement, but it remains cowardly, though prototypically HSUS. Moreover, given that they once called rounding up and killing these cats "the only practical and humane solution," there was nowhere to go but up.
Nonetheless, given that they are telling shelters not to take in healthy cats, regardless of whether they are social or not social with humans, this would appear to be a welcome change from past HSUS positions and, at the level of rhetoric, it certainly is. But here's the rub: after the White Paper was released, HSUS killed a law that would have mandated this and other "recommendations" in the White Paper when introduced in another state. Further, the White Paper focused on how to reduce the amount of work shelters had to do. In other words, rather than recommend shelters find homes for all healthy (and treatable) cats they take in, as successful shelters across the country do, HSUS simply told them not to take them in so they would not have to work to do so. In addition, they introduced legislation that would have eliminated holding periods for stray cats without identification, removing any right of reclaim for families whose cats ended up at the shelter. And finally, HSUS told shelters that they should feel free to continue killing the animals if that is what they wanted to do, or, in their own words, that HSUS recommendations "remain at the discretion of each community to choose whether and how to implement." To HSUS, shelter directors have the right to continue killing animals in the face of alternatives if that is what they would prefer to do which most, tragically, do. Once again, it appears that HSUS wants to be all things to all people, giving to No Kill advocates with one hand what they take away at the behest of shelters with the other. Here's how it plays out in the adoption arena.
One of the most dramatic changes in HSUS rhetoric involves new adoption recommendations, promoted in a joint presentation with the ASPCA to sheltering officials at their recent animal sheltering conference. The goal was laudable: getting more animals into homes and putting fewer into garbage bags. But, once again, the implementation fell short.
The ASPCA went first. After the ASPCA speaker admitted that she herself is not current on her resident animals' vaccinations, she further stated that she once lied on an adoption application to acquire a dog from a shelter, including providing the shelter false documentation to do so. As I was watching the presentation, I could not help but wonder what the anti-No Kill zealots would say if I admitted to what the ASPCA speaker admitted to: lying on an adoption application, falsifying answers, committing fraud in order to acquire a dog from a shelter. Don't get me wrong, I am glad that dog got out and I am glad, as the ASPCA speaker indicated, he died over 10 years later in her arms rather than 10 years earlier in a barren cell at the hands of cruel dogcatchers. And, of course, the larger lesson is more important: shelters do turn good homes away based on arbitrary and wholly unreasonable adoption criteria, while needlessly killing animals and the ASPCA, along with HSUS, are finally admitting that their prior positions defending those arcane policies have cost animals their lives.
Indeed, for decades, the ASPCA and HSUS defended shelters that did a paltry number of adoptions and had high rates of killing by vilifying No Kill advocates who were demanding better by saying that doing so would reduce the "quality" of the adoptive homes and put animals at risk. As far back as the 1970s, these groups, along with the American Humane Association, were telling shelters that only certain kinds of people were worthy of having pets. In a statement reeking with racial overtones, the groups claimed that past adoptions in "ghetto areas" were a failure, and that these dogs were now doing little more than "attacking children in schoolyards."
As recently as 2009, HSUS was still telling shelters not to adopt out animals during the holidays, effectively condemning a million animals a year to certain death. And in 2011, they launched a campaign to help shelters "educate the public" about adoption policies by creating a poster for shelters to hang in their lobbies. The poster featured a chair beneath a light in a cement room. The tagline reads: "What's with all the questions?" Rather than ask shelters to reexamine their own assumptions which turned good homes away, HSUS produced a poster of what looked like an interrogation room at Abu Ghraib, instructing potential adopters to simply put up with it and further perpetuating the stereotype among shelter directors that the public is the enemy, rather than the solution. Three years later, they have swung the pendulum completely the other way, telling shelters that people who have made a decision to adopt from a shelter should not be turned away for three reasons: 1. Most people can be trusted, 2. Animals are being killed and they need homes, and 3. Those turned away will buy an animal instead; fueling the mill industry and, for some, putting the animals they acquire beyond the reach of spay/neuter, vaccinations, and other care.
You can watch the video here.
While I think the third argument can only be carried so far—a shelter has a responsibility to protect animals in its care—the truth of the matter is that shelters—and many rescue groups—do have unreasonable adoption criteria, which I noted in my second book, Irreconcilable Differences. In a chapter entitled "Good Homes Need Not Apply," I wrote:
[M]any shelters go too far with fixed, arbitrary rules—dictated by national organizations—that turn away good homes under the theory that people aren't trustworthy, that few people are good enough, and that animals are better off dead. Unfortunately, rescue groups all-too-often share this mindset…. People who do rescue love animals, but they have been schooled by HSUS to be unreasonably—indeed, absurdly—suspicious of the public. Consequently, they make it difficult, if not downright impossible, to adopt their rescued animals…

And, the number of people shelters turn away because of some arbitrary and bureaucratic process proves it. Like this experience shared with me a few years ago: "I tried to adopt from my local shelter… I found this scared, skinny cat hiding in the back of his cage and I filled out an application. I was turned down because I didn't turn in the paperwork on time, which meant a half hour before closing, but I couldn't get there from work in time to do that. I tried to leave work early the next day, but I called and found out they had already killed the poor cat. I will never go back."

Shelter animals already face formidable obstacles to getting out alive: customer service is often poor, a shelter's location may be remote, adoption hours may be limited, policies may limit the number of days they are held, they can get sick in a shelter, and shelter directors often reject common-sense alternatives to killing. One-third to one-half of all dogs and roughly 60 percent of cats are killed because of these obstacles. Since the animals already face enormous problems, including the constant threat of execution, shelters and rescue groups shouldn't add arbitrary roadblocks. When kind hearted people come to help, shelter bureaucrats shouldn't start out with a presumption that they can't be trusted.

In fact, most of the evidence suggests that the public can be trusted. While roughly eight million dogs and cats enter shelters every year, that is a small fraction compared to the 165 million thriving in people's homes. Of those entering shelters, only four percent are seized because of cruelty and neglect. Some people surrender their animals because they are irresponsible, but others do so because they have nowhere else to turn—a person dies, they lose their job, their home is foreclosed. In theory, that is why shelters exist—to be a safety net for animals whose caretakers no longer can or want to care for them.

When people decide to adopt from a shelter—despite having more convenient options such as buying from a pet store or responding to a newspaper ad—they should be rewarded. We are a nation of animal lovers, and we should be treated with gratitude, not suspicion. More importantly, the animals facing death deserve the second chance that many well intentioned Americans are eager to give them, but in too many cases, are senselessly prevented from doing so.
It is no surprise then that some shelter advocates are applauding HSUS'/ASPCA's turn around on adoption policies. Certainly viewed in light of past policies, the presentation was revolutionary on the part of HSUS and the ASPCA and a welcome rejection of a nearly old century excuse that enabled shelter killing. But there are problems.
For one, I have never advocated "open" adoptions if we are going to define "open" accurately, instead of having it mean whatever we want it to mean at any given time. The closest I came was five years ago in Houston, Texas, where I had just completed a multi-day and ultimately 200-page assessment of the pound and found it rife with neglect, cruelty, and systematic killing. Here's what I wrote,
BARC basically does "open adoptions," meaning there is virtually no screening of any kind.

Successful high volume adoption shelters have proved that the notion that one needs to reduce quality of homes in order to increase quantity is one of the anachronisms of old-guard, "catch and kill" shelters who needed a way to justify a paradigm of high impounds, high kill rates and low adoptions. In fact, some of the most successful industries in the United States have excelled in a consumer market demanding high volume coupled with increasing consumer awareness, information and requirement for quality. These agencies are able to meet demand for both quality and quantity. Quality and quantity are not, and have never been, mutually exclusive…

At BARC, by contrast, screening is perfunctory, there is no real counseling, good matches are not considered as kennel attendants spend no time with the potential adopter or the animal, customer service representatives have limited information in which to match animal with lifestyle, and the cost is not inexpensive in an era of pet shops, "free to good home" ads, backyard breeders, and BARC's poor location, facility, and bureaucratic procedures.

This is an area where volunteers have repeatedly suggested some form of screening to make sure animals are not just going into homes, but "good" homes. This suggestion has some appeal. And while it should ultimately be BARC's goal, in the larger cost-benefit analysis, I think it would be a mistake to do so at this time…

BARC is not capable of adoption screening and the end result will mean the needless loss of animal life.

At this point in BARC's history, the goal must be to get animals out of BARC where they and others are continually under the threat of a death sentence. And given the problems with procedure implementation at BARC, my fear is that the process will become arbitrary depending on who is in charge of adoptions. There is simply too much at stake for the types of staff I observed to hold even more power over life and death.
That is the choice BARC, by virtue of its rampant and systematic embrace of neglect, abuse, and killing, forced. It is not, however, the real or only choice. The choice is never any home or death. The choice includes a reasonably screened home which offers protection to the animal. In fact, I would go on to say:
When BARC has high quality staff, is consistent in applying sound policies and procedures, and has achieved a higher save rate—when BARC animals do not have a daily choice between life and death—it can revisit the issue of thoughtful screening to provide homes more suitable for particular BARC animals.
That is not, however, what HSUS is advocating. In a blanket embrace of "open" adoptions, they potentially leave the animals with no protection of any kind. Admittedly, this is a lesser risk, as most people can be trusted, and especially in light of a death sentence, but "either-or" is a false choice. Ironically, too, while HSUS now wants shelters to basically give animals to anyone, they continue to fight efforts, as they did in Minnesota this year, to allow incorporated, non-profit rescue groups, to have access to them. In other words, they would say "yes" to anyone off the street—including as they have to dog abuser Michael Vick who HSUS CEO Wayne Pacelle said "would do a good job as a pet owner"—but give shelters the power to say "no" to non-profit SPCAs and rescue organizations that are dedicated to protecting animals and have never committed abuse.
Nor do they stop there in failing to embrace simple, common sense protections for shelter animals. In 2013, Michigan lawmakers introduced legislation which would have made it illegal for shelters to adopt out animals to those convicted of animal abuse. By knowing the right lies to tell and which truths to omit, convicted animal abusers can acquire animals even from those who may be dedicated to their protection but are currently forced to operate in a state of ignorance simply because they lack access to valuable information that would help them make better, more informed choices about the animals in their care. The Michigan law, giving shelters access to a database of those convicted of cruelty, would have stripped abusers of this advantage and prevent future animal abuse with nothing more than a few simple strokes of a keyboard. HSUS opposes these laws, arguing that we must balance the rights of animals with the rights of their abusers, and tragically, the Michigan bill failed to pass.
A Lobbyist for Kill Shelters, Not the Animals Shelters Kill
Why? What is the cause of this seemingly schizophrenic type of policy? These types of contradictions only makes sense in the context of HSUS' overriding philosophy that they are, first and foremost, a lobbyist for kill shelters, rather than for the animals those shelters kill. When you consider each of their actions in this context, the logical contradiction disappears. With shelters under increasing pressure to reduce killing, HSUS is now realizing they cannot stem the move towards No Kill, despite their best efforts to do exactly that. Their advice to shelters as to how they can appease critics by reducing killing without actually having to increase their workload becomes simple: don't take in cats if all you are going to do is kill them and, as it relates to the instant case, don't bother putting in place comprehensive adoption programs and thoughtful screening protocols, simply give the animals to virtually anyone who walks through your doors. Once again, like they did with the White Paper, they refuse to ask shelters to live up to their responsibilities by doing the (sometimes hard) work necessary to save lives in earnest.
That said, I do not want to be too cynical, because some of what HSUS (and the ASPCA) advocate in the video is actually good, quite good in fact, even if none of it is "new" as they pretend, given that many of us have been promoting those things for over 15 years over their objections. This includes, for example, an embrace of "fee waived" adoptions which have been shown to double and, in some cases, triple adoptions, without impacting the quality of the home (given reasonable screening). In terms of kill shelters, HSUS has a bigger bully pulpit and getting the animals the hell out of those facilities continues to be the prime directive in sheltering, as these shelters are the leading cause of death for healthy dogs and cats in the United States. If looked at in the context of the Houston recommendations, and putting aside the defense of convicted abusers and opposition to rescuers, the HSUS turnaround—with caveats—is enormously beneficial to animals and does, in fact, represent significant progress.
HSUS Admits Demand Exceeds Supply
It should also be noted that in that presentation, HSUS also admits that pet overpopulation is a myth; that there is a huge market for shelter animals that vastly exceeds the number of animals killed for lack of a home. More than anything else in the video, this is the most revolutionary change, striking as it does, to the heart of the killing, though it has received scant mention by anyone.
Though the supply-demand imbalance is actually even more pronounced in favor of the animals (they are using old data), nonetheless, HSUS says that it isn't a question of "too many animals, not enough homes," but the need for shelters to overcome two primary hurdles (there are actually more): the false belief that shelter animals would not be in the shelter unless there was something wrong with them and, more to the point, that shelter adoption criteria tends to be unreasonable. Once again, that is progress, a departure from the intentional blindness they have operated under for decades in order to defend the fact that shelters were needlessly putting animals in their graves. (The other reasons are that shelters do not keep animals alive long enough to get into those homes, they do not aggressively market the animals, animal lovers find it difficult to go to kill shelters because they are depressing places, that customer service is often poor, the shelter is located away from where people live, work, and play, and that public access hours are often inconvenient or non-existent.)
What has not changed, however, is their willingness to hold shelters accountable at the level of policy making. Responding to the pressure, HSUS is giving shelters a false choice: kill them or save them by doing nothing more than swinging the doors to the shelter wide-open. If that were the choice, I'd go with the latter. If those in attendance were as regressive as the Houston pound was the year I wrote my assessment, I'd embrace it for them, too. But HSUS goes further than ethics allow: HSUS doesn't want any protections at all, including potentially adopting them to those who have committed the most egregious and wanton cruelty.
To achieve No Kill, to save more lives, that isn't what we should do. There's a reasonable middle ground between their "Abu Ghraib" approach in 2011 and their "free-for-all" of 2014. But that requires a smart, reasonable, and thoughtful balance between the need to adopt out more animals and the need to protect animals from harm—neither of which are mutually exclusive but should, in fact, go hand in hand. To fail to hold those accountable who portray them as separate and distinct, who claim that to end one harm we need to potentially enable another, is to not only allow animals to needlessly be placed in harm's way, but to sacrifice the only thing that has ever pushed HSUS to a more progressive position: holding them accountable when they get it wrong, as they so often, and tragically, do.
————-
Have a comment? Join the discussion by clicking here.
From the No Kill Advocacy Center:
In September 2013, the No Kill Advocacy Center issued a position paper in response to the California Sheltering Report written by the Humane Society of the United States, the ASPCA, and other shelter lobbying organizations and shelters, warning of the dangers associated with many of those recommendations: http://bit.ly/184Rlm9. That report, while at long last finally admitting to the efficacy of various lifesaving programs which these organizations opposed for many years, stated that whether or not shelters chose to implement alternatives to killing should be left up to the discretion of the individual shelters; in their own words: they "remain at the discretion of each community to choose whether and how to implement."
At the same time, these groups made several recommended changes to current, widespread shelter policies such as the reduction and, in some cases, elimination of holding periods which, without the lifesaving infrastructure and philosophical reorientation of shelters away from killing in favor of lifesaving, would prove deadly. We predicted that many shelters would cherry pick which recommendations issued in the report to follow, choosing to implement those which expand their powers and discretion to kill while entirely ignoring those which would save lives. Specifically, we wrote,
Communities are not free to cherry pick some while ignoring others, as to do so leaves particular groups of animals entering shelters with no protections or alternatives to killing… As a result, regressive shelters are likely to adopt only those provisions, like the licensing scheme, which empower them to impound even more animals. After being told they need not also implement the programs that provide an alternative to killing for the additional impounded animals, this proposal has the potential to exacerbate, rather than lessen, shelter killing; while shielding shelters from public scrutiny as they acted within the guidelines of the stakeholder group.
Tragically, this dire prediction has come to pass.
Right now, and as a direct result of the California Sheltering Report, shelters nationwide are seeking to eliminate or reduce holding periods for cats, one of the report's recommendations, even though holding periods are often the one and only protection cats have in shelters. Ignoring those parts of the report which suggest the implementation of lifesaving policies and procedures, shelters are seeking not to include them, as we describe in a subsequent report: http://bit.ly/1kgJNxK.
Although billed as an effort to get cats adopted faster, experience proves it would have the opposite effect: allowing more cats to be killed and to be killed quicker. In fact, cats would be killed before their families actually begin looking for them; in some cases, before a family even knows he/she is missing. Nothing in the proposal requires shelters to make cats available for adoption after the shortened (and in some cases eliminated) holding period, but it will give the shelters full authority to kill them and that is what it will do. How do we know they will do this? Because that is what these shelters are already doing to animals who are not subject or no longer are on holding periods such as cats surrendered by their families and stray cats after their holding periods expire. Eliminating this protection would not only seriously limit and even eliminate the opportunity for people to reclaim their lost animals, for many animals, it would mean quicker and often immediate killing the moment they enter a shelter. This is not only a betrayal to animals, but to their families and to the taxpayers who fund these institutions in order to provide a safety net of care for stray and lost animals.
Holding periods are important. They allow people the opportunity to reclaim their missing animals, one of the primary purposes of shelters. Nationwide, animal lovers are seeking to lengthen, not reduce, their state's mandated holding periods, on the understanding that doing so is vitally important to protect lost pets. Indeed, it is a fundamental precept that holding periods should never be shortened. To the contrary, they need to be longer in many states. However, we can address the professed rationale of quicker adoptions by making holding periods more flexible without simultaneously placing cats in greater mortal peril. By bifurcating holding periods, cats can be adopted out more quickly, without eviscerating the minimal protections cats and their human families have in holding periods.
We also suggest additional language that would give shelters the discretion to transfer animals to a rescue group immediately upon impound, with the same rights of reclamation for the "owner" as if the animal was still in the shelter. This frees up scarce kennel space, without giving pounds a "quick kill" provision as current proposals do. It also shifts the cost of care from taxpayer to private philanthropy. In other words, the animals would remain in the "constructive" custody of the pound while being held in a foster home, private shelter, or rescue group during the reclaim portion of the state mandated holding period; but taxpayers would incur none of the cost. Finally, we suggest that the holding period not come into play in cases where cats are taken in for purposes of sterilization and are then returned.
Excluding laws imposed by health departments regarding the use of controlled substances, the disposition of rabid and potentially aggressive animals and mandated holding periods, shelter directors in this country have essentially unlimited discretion as to how they operate their facilities. If a shelter director decides to kill each and every animal even if there are empty cages, it is legal for him to do so. If a non-profit rescue organization wants to save an animal on death row at a shelter, the shelter director has the authority to deny the group the ability to do so, and they frequently do. Likewise, shelter directors can kill orphaned kittens and puppies rather than work with volunteers who want to provide foster care. They can ban volunteers from walking dogs and socializing cats. And they can limit the number of hours they are open to the public for adoptions, or have hours that make it difficult for working people to reclaim their lost animals or adopt new ones. In short, there are very few checks and balances to ensure that our shelters are run in line with the most up-to-date sheltering policies and procedures. Instead, our shelters are run on the honor system, and it is a discretion shelter directors abuse time and again by failing to implement readily available lifesaving alternatives or to work cooperatively with those who want to help them save lives. To shorten holding periods in this environment is a death sentence. In many shelters, holding periods are often the only thing standing between life and death for an animal.
A mandated, bifurcated holding period, by contrast, will help increase reclaims, rescues, and adoptions. Combined with a very narrow exception for irremediably suffering animals, rigorously defined, it will accomplish the stated goals, without also imperiling the lives of animals. In fact, it would save lives and it would save money—a "win" for taxpayers and a "win" for the animals. In other words, it would solve problems rather than just create new ones.
That these shelters are rejecting these compromises suggests that they are not sincere in their desire to save more cats. Without protective language, these proposals should be opposed.
Legislation:
The required holding period for stray animals shall be five business days, not including the day of impoundment: animals shall be held for owner redemption during the first two days of the holding period and shall be available for owner redemption, transfer, and adoption for the remainder of the holding period. The holding period expires once the animal is redeemed, transferred or adopted, except as follows:
(a) The requirements of this provision do not apply to cats who are impounded for purposes of sterilization and are then returned.
(b) Shelters may transfer animals at any time after impound to a non-profit rescue group, a private shelter, or an organization formed for the prevention of cruelty to animals as long as potential owners are afforded the same rights of reclamation as if the animal was still in the shelter.
The required holding period for an owner relinquished animal impounded by public or private sheltering agencies shall be the same as that for stray animals. The holding period expires once the animal is redeemed, transferred or adopted as follows:
(a) The animals shall be available for owner redemption, transfer, and adoption for the entirety of the holding period.
(b) The requirements of this provision do not apply to cats who are impounded for purposes of sterilization and are then returned.
To download a copy, click here.
————–
Have a comment? Join the discussion by clicking here.
Here is my story: www.nathanwinograd.com/?p=11902

And this is my vision: http://vimeo.com/48445902
To some animal protection groups our relationships with our animals don't matter; only theirs do.
This is our cat, Kenny. He is the Mayor of Kenny Town, our home:
He was found on the streets of Oakland as a 10-day old kitten and we bottle fed him:
I'm his mama. In fact, all I have to do is say "come to mama" and he starts purring, wraps his paws around my neck, and sticks his little face into my chin. I love him. I love him. I. Love. Him.
Many of you have your own Kenny, too. A cat who means the world to you. Now imagine that through carelessness or accident or a small child, a door to the home or yard where you live is left open and your cat gets out and somehow ends up in the shelter. Now imagine that you get home from work and immediately go to the shelter to look for him, only to find out that she or he has been adopted to someone else and you can never get him back. In fact, you will never be allowed to see him again. Why? Because the law in the state where you live has been changed to allow shelters to adopt them out right away, with no redemption period whatsoever to allow you the time to notice your animal is missing, and to go to the shelter to get him safely back home.
Think about it, before you are even afforded the opportunity to realize that your cat is missing, indeed before you even got home from work that day, your cat is no longer yours. That is what Maddie's Fund, HSUS, the ASPCA, shelters across California, and even some rescue groups are proposing in this state. That is what Maddie's Shelter Medicine Program is proposing for a Florida community. That is what Dr. Kate Hurley of the UC Davis Shelter Medicine Program is advocating. And other shelters are picking up the call to deny you the right to reclaim your animal from the local shelter, as well.
That this is an obvious threat to the deep and meaningful relationship between people and their cats must be pointed out to groups which have grown astronomically wealthy trumpeting the value of the "human-animal bond" adds another layer of absurdity to the already bewildering necessity of this discussion. Yet here we are.
David Duffield started Maddie's Fund as a way to honor the love and companionship of his little dog, Maddie. If you asked the head of the other organizations, they would also offer similar stories about their own animal companions. We all have our Maddie's. Animals who mean the world to us. Animals who help us through difficult or challenging times. Animals who teach us the meaning of unconditional love and who's passing will leave us with an empty hole we can never fill. But to them, our relationships with our animals don't matter; only theirs do.
HSUS, Maddie's Fund, the ASPCA, UC Davis, the Maddie's Shelter Medicine Program, and other cat "protection" groups and cat "advocates" believe your love and your relationship with your cat are meaningless and are not worth even a single day to find him/her if she gets lost. It is obscene, tragic, and wrong.
There is a parallel effort to shorten holding periods to kill them quicker. Here are their proposals: http://bit.ly/1kgJNxK
————–
Have a comment? Join the discussion by clicking here.
Here is my story: www.nathanwinograd.com/?p=11902

And this is my vision: http://vimeo.com/48445902
The first time many animals experience neglect and abuse it at the very shelter that is supposed to protect them from it. Our shelters are in crisis. Why? Killing is an act of violence. And not only do people in shelters work at a very place that commits this violence, they have, in fact, been hired to do exactly that. Can we really be surprised when they don't clean thoroughly, don't feed the animals, handle them too roughly, neglect and abuse them, or simply ignore their cries for help? How does shoddy cleaning or rough handling or skipping meals compare with putting an animal to death? Because shelter workers understand that they have the power to kill each and every one of these animals, and will in fact kill most of them, every interaction they have with those animals is influenced by the reality that their lives do not matter, that their lives are cheap and expendable, and that they are destined for the garbage heap. Where there is no right to life; there is no regard for welfare.
Read "Animal Lovers Need Not Apply," my latest article in the Huffington Post, by clicking here.
————–
Have a comment? Join the discussion by clicking here.
Here is my story: www.nathanwinograd.com/?p=11902

And this is my vision: http://vimeo.com/48445902