Ah! well a-day! what evil looks
Had I from old and young!
Instead of the cross, the Albatross
About my neck was hung.
— Samuel Taylor Coleridge, The Rime of the Ancient Mariner, 1798.
The ASPCA runs one shelter in New York City. Despite an adopter base of about 8 million people, the largest in the nation, it adopts out less animals than the Nevada Humane Society with its 425,000 residents. It adopts out less animals than many shelters in communities with 100,000 residents. In fact, it adopts out less animals than some rescue groups. And yet it takes in over $100 million a year because people think that it is adopting out animals all over the country.
In fact, many people think they are donating to their local shelter when they donate to the ASPCA. And they think that way, in part, because that is what the ASPCA wants them to think. Not long ago, the ASPCA went door-to-door in Seattle, Washington, trolling for donations. ASPCA solicitors were told to bring a dog, and they were given an "Adopt Me" vest to put on the dog. The purpose was clear: confuse people into thinking the agency was local and its mission was to save lives locally. The volunteers were given a very specific script and they were told not to deviate from it. Like the dog with the "adopt me" vest, it was designed to obscure the fact that the ASPCA was not in Seattle, did not save lives in Seattle, but ran one shelter in New York City that saves very few animals given its $100,000,000 a year revenue stream. When one of those hired suggested it was misleading, she was asked to leave. The fundraising continued. The Seattle Humane Society, of course, objected, writing in the local newspaper,
Right now, solicitors hired by the American SPCA (ASPCA) located in New York are knocking on doors and approaching people on the streets of Seattle asking for donations to help save the lives of shelter pets. Some of these solicitors have been accompanied by dogs wearing jackets that say "adopt me." The Seattle Humane Society is not affiliated with the ASPCA in any way. The ASPCA is a large organization located in New York City. The ASPCA does not provide any financial support to local agencies nor do they provide shelter or adoption services in our area: Every donation made to the ASPCA goes out of town.
But this type of duplicity isn't limited to Seattle. Nor is it limited the ASPCA. And at least two large organizations—the California State Humane Association of California (SHAC) and the Massachusetts SPCA—have complained, with the former asking the Attorney General of their state to open an investigation. The ASPCA will likely weather the storm, as they are no strangers to investigations by attorneys general for fraud. It happened, for example, when the ASPCA and HSUS defrauded donors during their Katrina debacle, with HSUS being the worst offender, raising over $20,000,000, spending only $4,000,000 before Wayne Pacelle stood on his own version of an aircraft carrier, announced "Mission: Accomplished" and then headed out in his own Flyboy outfit, leaving behind thousands of animals in need and sticking the rest of the money in HSUS' already bloated coffers. But even if they survive the investigations, even if nothing comes of it, even if the Attorneys General find that there is no law violation that can be proved beyond a reasonable doubt, make no mistake about it: the fraud and the deception are intentional. (It is no coincidence that HSUS has chosen the name "humanesociety" rather than "HSUS" for their twitter name.)
For a significant fee, HSUS sells its donor list for one time use by shelters, but the list comes with caveats. In addition to others (such as not mailing it out until HSUS sent their appeal to those same donors), the one primary stipulation is that: "In order to rent the list, you would need to submit the complete mail piece to the list owner for approval."
Over the years, the Nevada Humane Society has learned that people are often confused by fundraising appeals from HSUS. Local residents think they are donating to the local humane society when they give money to HSUS. In fact, NHS has been told by local residents that they have already donated to them, when in fact they gave to HSUS. This confusion goes beyond fundraising: NHS was publicly criticized for "embracing Michael Vick"—which they did not—because people thought HSUS ("the humane society") was NHS. In order to clarify the confusion and to help raise funds for local programs, they tried to buy a list from HSUS to do so. And they submitted their proposed mailing for HSUS approval which included the statement:
Nevada Humane Society is a nonprofit organization. We rely upon donations to make our lifesaving work possible. We do not receive funding from national groups or the government. Your contribution is tax-deductible. Please return this reply slip in the enclosed envelope to Nevada Humane Society. Thank you.
After doing so, HSUS denied the request, stating that unless NHS "remove[d] 'national groups' from this copy," they could not use the list. In other words, HSUS did not want NHS informing these individuals that when they give to groups like HSUS, they are not giving money to local lifesaving efforts. Put simply, HSUS was committed to keeping its supporters in the dark as to where their money was going. (In fact, when SHAC sent a letter to legislators informing them that HSUS and ASPCA are not umbrella groups, HSUS CEO Wayne Pacelle sent SHAC a letter condemning them for it.)
Surprised, the leadership at NHS sent the following message to the HSUS representative:
Does HSUS really wish to use the sale of their mailing list to control the messages of smaller humane organizations—those that are doing the work on the ground and struggling under the public misperception that if they give to a large national group that they are helping animals locally?
The answer was "yes." Notwithstanding the take it or leave it response, NHS decided to remove the offending message and resubmit the fundraising appeal. But that was not enough. It did not matter if it was just on the appeal being used with the HSUS list, HSUS was insistent that this factually clarifying language had to be removed from all NHS mailings, even to those not involving HSUS mailing lists. Furthermore, NHS was told they had to agree to refrain from using it in any future communications to anybody, something NHS would not agree to do: "Are you are asking us not to mail factual information that we are not funded by large national organizations to our own supporters?"
Once again, the answer was "yes." Conferring with HSUS officials, the HSUS list manager replied that it did not matter if the appeal involved HSUS lists or not, or if the appeals were "going to our names or otherwise—because you are mailing language that we do not approve, [HSUS] will not approve you.   For that reason, NVHS has been denied."
NHS went ahead with its mailing and continues to let its donors know it is not affiliated with HSUS or its draconian policies. But some local humane societies don't do themselves any favors financially, even if they themselves agree with and practice the same regressive, pro-killing policies as the ASPCA and HSUS. When I arrived to take over the Tompkins County SPCA in Ithaca, New York, it was a killing shelter with a shelter manager who fully embraced the ASPCA's 19th Century policy orientation. In fact, the lobby was filled with literature from the ASPCA, which quickly found its way into the recycling bin the day I arrived. Why assist groups like HSUS and ASPCA steal money meant for their organization. They do a fine job themselves even without the help of local shelters.
HSUS did it during Muttshack's Hurricane Gustav rescue. In 2008, MuttShack Rescue completed a large-scale rescue of animals in New Orleans because of Hurricane Gustav. Instead of supporting the effort, HSUS claimed the rescue as their own. According to MuttShack:
[We] just completed the largest animal evacuation in the history of New Orleans. After its completion, HSUS drove their trucks up in front of the whole deal, shot some footage and has posted it [on their website] as their own rescue.
HSUS then sent out another deceitful fundraiser asking people to donate to them because of another organization's rescue.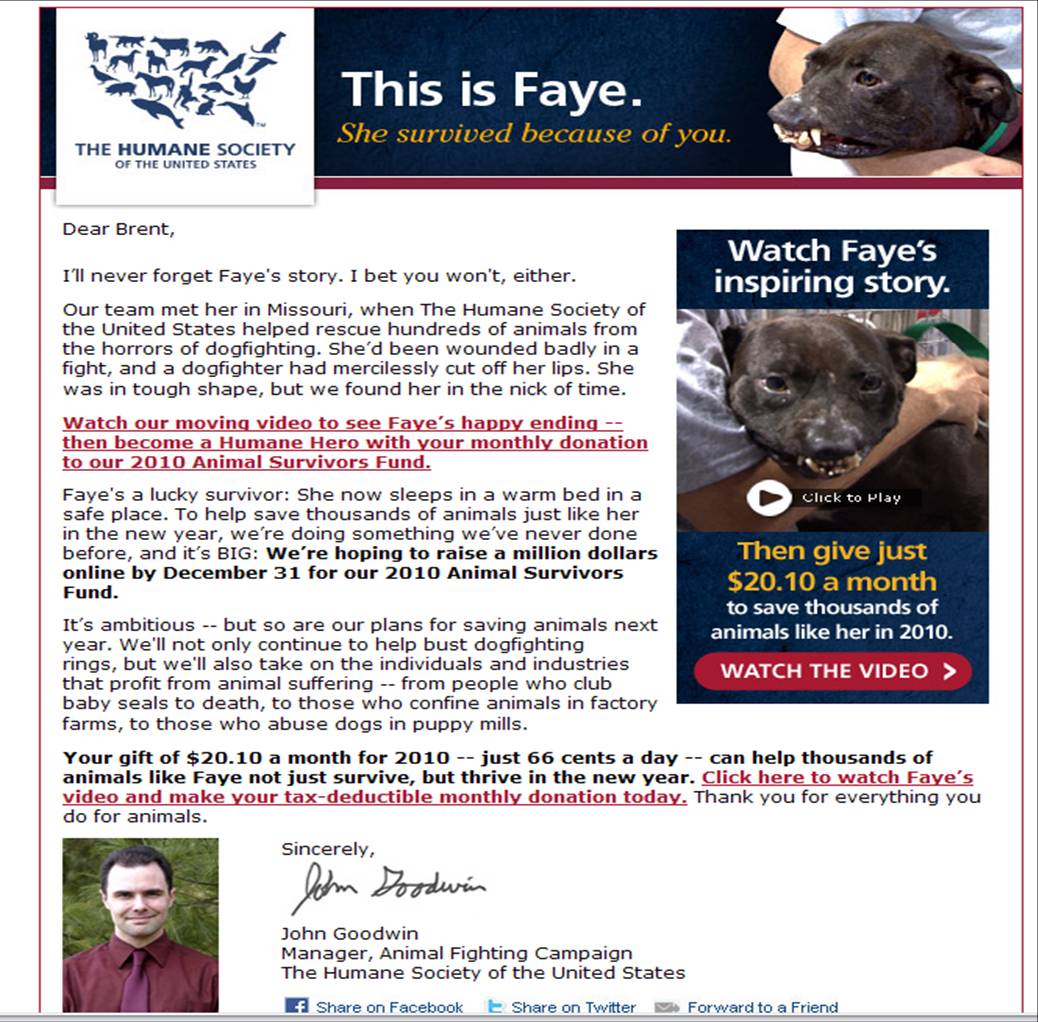 They did it with the rescue of an abused dog named Fay in 2009. The goal was to raise one million dollars in one month on the back of an abused fighting dog rescued in the largest bust of a dog fighting ring in U.S. history. According to the HSUS fundraiser, 'Faye' was now safe, in a loving home, recovering thanks to HSUS. But none of it was true: HSUS was not involved in caring for Fay. HSUS, in fact, suggested that Fay should be killed. In further fact, they could not even get her name right. And while Fay was being cared for, and needed surgery, the costs and care were being provided by a small rescue group.
In response to the criticism and condemnation of HSUS fraudulent fundraising appeal—on blogs, on twitter, including calls for a criminal investigation of HSUS—and with the memory of an investigation for fraud by the Louisiana and Mississippi Attorneys General for Hurricane Katrina fundraising still fresh, HSUS announced that they were going to give $5,000 for Fay's surgery, ½ of 1% of what they hoped and expected to raise from the appeal.
In fact, these two fraudulent appeals followed Wayne Pacelle's lobbying to have all the surviving dogs abused by Michael Vick killed, despite the fact that he was fundraising off of them and lying to donors about it. Shortly after the case broke, HSUS contacted the U.S. Attorney prosecuting Vick and asked if they could be "involved" and see the dogs (then being held at six animal control shelters in Virginia). The U.S. Attorney agreed but only on condition that they take no photographs and not publicly talk about the dogs (citing fears of compromising the case, sensitivities involved in the prosecution, and issues surrounding rules of evidence). HSUS agreed and then promptly violated that agreement. HSUS staffers took photographs of the dogs with people wearing "HSUS" shirts to make it appear that HSUS was directly involved in the case and their care.
They then sent out an appeal for money containing a photograph of someone wearing an HSUS shirt with one of the dogs. In the appeal, HSUS asks for money "to help The Humane Society of the United States care for the dogs seized in the Michael Vick case" and promises to take the money and "put [it] to use right away to care for these dogs." A caption underneath the photograph states: "This dog was one of 52 pit bulls seized from Michael Vick's property—dogs now being cared for by The HSUS:"
Wayne Pacelle himself reiterated this in his July 18, 2007 blog in which he stated that HSUS was "working with federal authorities from the start, and assisting with the care of 52 dogs taken from Vick's property." It was a lie. HSUS was not caring for the dogs as they claimed, they were not going to use the money to care for the Vick dogs, in fact, they were lobbying to have them killed.
The fact is, the truth about the ASPCA and HSUS doesn't sell, so in order to continue filling their already over bloated coffers, they must rely on fraudulent misrepresentation, on keeping the lie going that they are somehow affiliated with local humane societies and SPCAs and that when you give to HSUS or the ASPCA, you are saving lives locally. In a three year period, over $10,000,000 flowed from Massachusetts donors to the ASPCA's bank account in New York City, with some donors complaining that they did not realize that the ASPCA was not the local SPCA. That, of course, was the intention.
And that is one reason why the Marquette, Michigan decided to do something about it. The Marquette, County Humane Society is a success story. And part of the reason is that it is no longer the Marquette County Humane Society. YesBiscuit describes the transition:
During the period from 1999-2006, the private open-admission shelter was killing 60% of the pets in their care.   Their administrator had been in place for decades and was very resistant to change.   The shelter operated under policies rooted in myths and fallacies.   Numerous complaints were brought before the Board.   In the summer of 2006, they were very close to ceasing operations when a longtime volunteer introduced the Board to Nathan Winograd's book Redemption.   The Board decided to implement some major changes to the shelter and things started to improve dramatically.   From a recent letter sent by the Board President Reva Laituri to the No Kill Advocacy Center: "Although we were still fearful, the results spoke for themselves and we realized we could save lives and do it without condemning animals to fates 'worse than death" as we had been routinely warned. As more animals went into homes instead of garbage bags, the direction we had chosen to take was validated and many of the fears and premises we had based our policies on were proven to be invalid."

The letter outlines the changes at the shelter over a 2 year transition period (2006-2008).   During that time, the Board began investigating complaints and made greater use of volunteers.   The shelter torched their blame-the-public philosophy, replacing it with a let-us-help-you-find-the-right-pet, adopter friendly attitude.   The administrator and some staff members who could not get on board with the changes were replaced by people dedicated to saving lives.   A new manager expanded shelter hours as well as the foster program.   Rescue groups were welcomed, Petfinder and social media sites were utilized, offsite adoption events were held and interactions with the public were significantly improved.
Today, the shelter is saving 93% of all animals. And the staff, volunteers, and community feel—and have the right to feel—very proud of what they have accomplished. But changing the way they operated wasn't the only changes they implemented. They also changed their name. Good-bye Marquette County Humane Society. Hello Upper Peninsula Animal Welfare Shelter! Their Board President explains that there was a widespread misconception "that we are a part of, or in some way affiliated with The Humane Society of the United States (HSUS).   This leads to two problems.   First, they think we receive funding from our 'parent' organization and second, they believe we subscribe to all the same views and stances taken by HSUS.   Neither of which is true."
Those views, of course, are the very practices UPAWS has rejected. While HSUS and the ASPCA continue to support killing, continue to fight progressive legislation to end the most egregious practices of local pounds (HSUS fought a law to end the gas chamber in Texas; the ASPCA killed a law to make it illegal to kill animals who a qualified rescue group was willing to save), UPAWS is now a member and supporter of the No Kill club. Indeed, their Board President will be speaking at this year's No Kill Conference in Washington, D.C.
Too many shelters are afraid that if they give up the name "humane society" or "SPCA," they will lose donations. In fact, UPAWS explains that they almost went bankrupt with the name "humane society" because donations meant for them were ending up in the coffers of HSUS. But legally, one can keep that name and not use it, or downplay it, or ad it as small print in their fundraising appeals. They can still cash the checks made out to "humane society" or "SPCA" by long-time donors.* The good news is that when people now write checks to support their local shelter, they write them to "UPAWS" because there is no confusion as to who it is meant for and what it should be used for. And that is something UPAWS can take to the bank.
————
* The albatross comes in other forms. Recently, Best Friends Animal Society put out an article highlighting the work of Austin advocates who succeeded in fighting off the ASPCA, who succeeded in fighting off the regressive-kill oriented pound director who was protected by the ASPCA, and who succeeded in getting the save rate up to about 90%. The timing of the article begs a whole host of questions: Why now? Where was Best Friends when the fight was on? When the animals were being killed and the ASPCA was trying to keep it that way and they needed national allies? Of course, they were nowhere to be found, an implicit endorsement of the ASPCA (which they do not mention at all in the article). But worse than the timing is the content. Aside from ignoring the fact that the success in Austin was a result of a fight against the ASPCA, at the beginning of the article they call the campaign in Austin a "No More Homeless Pets" campaign, creating the illusion that Best Friends was and is somehow involved, when nothing could be further from the truth.
Water, water, every where,
And all the boards did shrink;
Water, water, every where,
Nor any drop to drink.
Precisely because the water is being siphoned off by the large, national organizations, diverting money meant for local shelters and local efforts to their already bloated coffers.